How to Heat Gun
Ever wondered how to heat gun?
"It's no delay to stop to edge the tool
~Irish saying"
---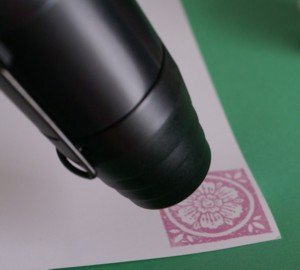 Have you been a little intimidated about using a heat gun? Let me help you understand a little more about this useful tool and maybe you will want to add one of them to your craft supplies!
What are they?
Heat guns are pretty much essential tools for papercrafters. They are slim tools that are built with the safety features of a hair dryer, having a safe plastic body to hang on to and a nozzle for directing the super hot air.
They remind me of the shape of an electric drill tool or a straight hair dryer.
Incidentally, you can buy a Heat Tool from me if you live in Australia. Quote item no 106586. They cost $49.95 plus $5.95 postage and handling. Contact me to order yours.
Basically, if you can use a hair dryer then you can use one of these craft tools. The temperature generated is higher than that of a hair dryer though so please don't try drying off the family dog with it after you have bathed him or accidentally directing it at someone's face or eyes.
What can they be used for?
Having a nice, hot, dry stream of air to focus on your papercraft projects can be extremely useful at times.
The most common way to use a heat gun is probably for heat embossing. This technique is one of my favourites, as I am sure you have discovered from browsing this site.
Other Ways to Heat Gun are:
Softening the glue behind your rubber stamps, for when you want to take them off their wooden blocks and use them as clear mount ones
Drying things out on your papercraft project when you are in a hurry (such as when you have glued your faux silk to some cardstock. Be careful not to get the heat source too close to the tissue or it might change colour or scorch
drying other things such as distress inks, glitter glues, watercoloured images, shimmer paint, etc
For shrinking some shrink plastic images. When you use it for this purpose, make sure you hold your image down with a pair of tweezers or a wooden stick to avoid burning your fingers or allowing the image to be blown away of course
How to Heat Gun
It's pretty simple:
First, plug it in and if it has a stand, set it on that.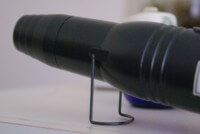 Next, prepare your papercraft project to the point where you need to melt or dry something out
Now pick up the heat gun and turn it on. Allow it to run for a few seconds so it is properly heated up.
When it is hot, hold your papercraft project securely in place with tweezers or a wooden stick or similar and bring the hot stream of air onto your project. Hold the heat gun about 2cms (1") from the object you want heated and move it slowly over the surface of the item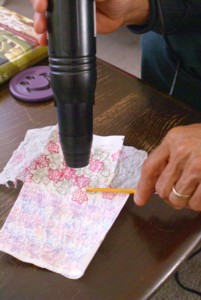 When you have achieved the effect you want, turn off the heat gun and replace it on its stand. Turn off the power source and unplug the gunSafety Note: It will stay hot for a little while so don't burn yourself
You can apply glitter with this tool and also paint the cooled adhesive
You're done! Now you know how to heat gun!
---
Return from How To Heat Gun to Papercraft Tools | Return to PaperCraftCentral Home Page