Paper Punches
" Paper Punches: devices or machines for cutting holes or notches
(as in paper or cardboard)
~Merriam-Webster Dictionary"
---
Using them to finish your bleached image card
Here's how I used paper punches to finish my bleached image card. I thought this techniques really added something to my project without taking away from the technique used for the stamped image. See if you agree.
Here's What To Do:
Use a slit punch (I used to have one of these but Stampin' Up! has retired theirs now and I sold my last one before I realised!! Wish I had kept it) to enhance the corners of your image and the cardstock mat under it. You can make your image square or rectangular of course, as long as it has corners to embellish. Maybe consider a star shape for Christmas cards?

Use your Crop-a-dile tool to make holes in both the corners of your image and mat papers so you can insert split pins or brads in each corner. Gems or buttons would also look nice.

Stamp a greeting on a white piece of cardstock (I used Whipser White, naturally) and cut it out with a circle punch, then make a hole in the top with the Crop-a-dile.
Thread ribbon through this and tie it around your main image and its mat. You can use twine, thread or cord instead if it suits your card idea better.

Decorate the card base with some Whisper White cardstock and designer series paper

Layer your main image, its mat, ribbon and extra stamped image to the front of your card base with some strong double-sided tape or Stampin' Dimensionals

Now your card should be complete, but do continue to embellish till you like the effect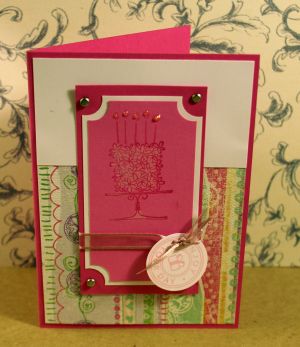 Learning about and using Stamps Craft Techniques really do add to the enjoyment I get from cardmaking and I do appreciate being able to use my tools and stamps in so many different ways.
I hope you will let me know how you use stamping with bleach or have a novel way of using paper punches to make a card. Do share your project with me and give me more ideas about how to get the most from paper crafting.
Enjoy!
Do You Have A Favourite Handmade Card to Share?
Do you make greeting cards? Please do share it with me.
---
Return from Paper Punches to Card Making | Return to PaperCraftCentral Home Page