Quilling Cards
Quilling cards can be very satisfying and impress your friends too!
"Quilling is a paper artform that dates back hundreds of years.  It is the art of taking thin strips of paper, of varying widths, and rolling, gluing and shaping them into different shapes.  You then take these little shapes and glue them together to create awesome quilled masterpieces (or whatever)."
~Sweet SpotCards

---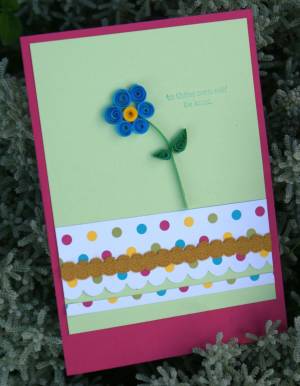 Instructions for Quilling Cards

The process of quilling cards or making paper filigree is deceptively simple. You roll a strip of paper onto your tool, then ease it off. You can either use a tiny bit of glue to tack down the end of your paper before you allow the coil to relax, or you can let it go on the table and allow it to become a loose coil before you glue it to stop it unfurling any more. Quilling guides provide a place where coils can be allowed to unfurl to a given size, thus allowing you to make uniform sized coils.
A coil can then be shaped further by pinching part of the circle to form leaf, tear drop and eliptical shapes. Those are the shapes I started with.
Hint: Scroll down past the place where you can share YOUR card to see my quilled wedding card as part of a slide show.
The Tools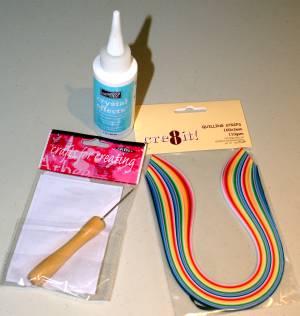 Hint: Try Stampin' Up!'s  Fast Fuse to adhere your ends down. You can order it by clicking on the catalogue in the right hand bar.
The tools and papers can be bought from some craft stores and it is worth searching online for them as well for cheaper options. You can use any kind of clear glue. Here I show how I use Stampin' Up!'s Fine Tipped Glue Pan (it's a very strong glue, not just a dimensional or glazing product) but you can use any other kind of adhesive, as long as it dries clear.
You can also see the specialty rainbow coloured papers I used. All of these thin paper strips are joined together at the top and bottom with adhesive. Just select a strip in the colour you want and carefully remove it from the whole to start.
The quilling tool I show in the picture is a basic one that is not slotted like a darning needle or split like a brad. You can purchase tools with those sort of 'needles' and you can also buy them in different sized bores so you can make different sized coils with smaller or larger centres in them.If you need a quilling kit, I recommend one on the Papercraft Supplies page.

I put together a little video showing you how I made my flower for the card in the picture. I will be publishing it for subscribers soon, so look for a notice in your inbox about that. If you are not yet a subscriber to Paper Twists it's not too late! You can opt in to receive free papercraft information right now.
Making a Quilled Flower
I trust you are now ready to start quilling cards at your own craft desk. And when you do, please share your card on PaperCraftCentral. I am so inspired by your work.
Do You Have A Favourite Handmade Card to Share?
Do you make greeting cards? Please do share it with me.
What Other Visitors Have Said
Click below to see contributions from other visitors to this page...

A Valentine Card

This is an example of very basic quilled shapes to create a lacey looking heart. Quilling is awesome and so versatile. * Oh Patricia what …
Whimsiquills Valentine Card Not rated yet
I made the roses on this card using 3/8" wide quilling paper. Each petal is from a separate piece of paper which is cut, curled and glued. They look so …
---
Return from Quilled Cards to Cardmaking | Return to PaperCraftCentral Home Page
---