Paper Butterfly
Making a Paper Butterfly is easier than you might think! And at the same time it does not use much paper, so save your scraps to make more later.
There are some great decorating opportunities for these little flutterbys. You can string them singly and make a curtain of them, or make a banner out of them, or make a pretty mobile. Use them to decorate a special gift or the top of a box. Put a magnet on the back and you have a beautiful fridge or metal filing cabinet decoration....
---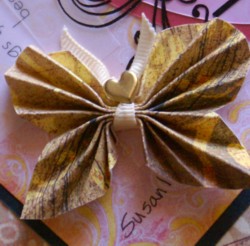 To make a paper butterfly, you will need the following:

Designer series paper or thin cardstock. The thinner the paper is the easier it is to get lots of little folds and the butterfly looks better
Ruler
Compass to trace a shape that is basically a square overlapped by a circle
The pattern shown below. The smaller you make your pattern, the smaller your finished embellishment will be (and the harder to fold!)
Some scissors to cut it out
A bone folder helps to get the creases sharp
A length of ribbon. Thin ribbon is better, or use wire, Baker's Twine or thread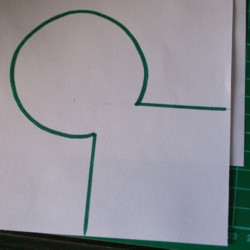 Here's what to do:

Cut out your pattern, then trace it onto the patterned paper you chose
Cut out the shape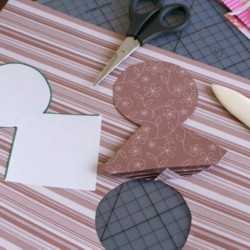 Pleat the shape up as finely as you can, using the bone folder to make the creases sharp. Keep going until the whole paper butterfly shape looks like an accordion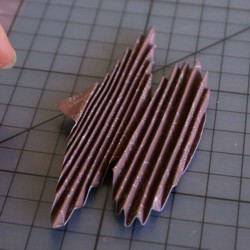 Now take some ribbon and tie the shape in the middle. The ribbon ends will become the antennae and head
Next, spread out the folds to make wings. I used my bone folder again to make the wings fold upward and downward the way I wanted them to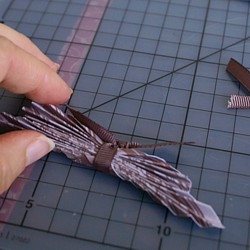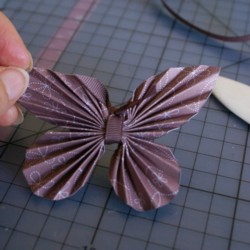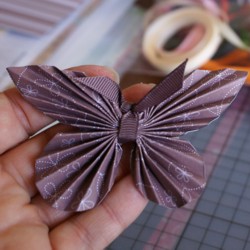 Sometimes I use the scraps on my desk to make these when I have finished another project. I always have a couple in my embellishment bag in case one will look nice on something I make. It also reminds me that I know how to make them, so I can remember to whip one up in the right colours when I am looking for a way to add a little whimsy to a project.

In case the written instructions are a little hard to follow, here's a video I made for you that shows how I make my own embellishments:

Other Ways to Use Your Paper Butterfly:

Be sure to let me know if you make one of these little pretties, and also how you use them in your papercraft projects. I am sure there are many more ways you could use them and you will be limited only by your own imagination. I hope they bring you some happiness!
Remember you can always make paper punch and Big Shot butterflies. Stampin' Up! has a great choice of punches and dies to make them in all sorts of sizes. Here are some I found on Pintrest to inspire you.

Do You Have A 3-d PaperCraft Project To Share?
Do you make 3-d PaperCraft items? I'd love to see your work. Please do share below.
---
Return from Paper Butterfly to 3-d Papercraft | Return to PaperCraft Central Home Page