Friendship-Scrapbooking-Ideas
Written and Created by PaperCraftCentral Susan


Friendship-Scrapbooking-Ideas are very useful fro helping to forge new friendships and maintain old ones.
This form of scrap booking can be a great way to send some memorable pictures and quotes to someone who needs some encouragement, or just because you feel like telling that person how special they are, or in my case, to farewell an online friend whose husband was going to move them overseas.
"Yesterday brought the beginning,
tomorrow brings the end,
and somewhere in the middle we became the best of friends".
~Author Unknown
---
It's really amazing how we can use our creativity to put love into a special page for a good friend. If you have ever done this, especially when gifting to another crafter, you know the way you have touched their heart.
Crafting friends especially know the time, effort and intention behind our creative work. I save all my special supplies for friends who appreciate crafting.
A person does not have to be a crafter to appreciate creative work, so do think about how you could touch a friend's life by gifting them a page about your friendship. There are so few opportunities for expressing our feelings and reminding people of how important they are in our lives. Scrapbooks for friends is a beautiful way to show your appreciation of them.
If you are not sure what to put in a friend's scrapbook album, maybe you would like to start with finding a quote about friendship that sums up your relationship with your friend. This can be the start of your theme  for what you are about to make. Maybe one quote could be the title for your page or for the whole album.
You can make a scrapbook for your friend on your own, or you can enlist the help of mutual friends to create a really special gift like the one I am about to tell you about below.

How I used my  Friendship-Scrapbooking-Ideas to farewell a friend

One day I found out a friend was going to move away because of work. She would no longer be able to join us for crafty get togethers, coffee and shopping dates. We all wanted to do something for her to help her remember our group and express our appreciation of her friendship. 

Several of us crafty friends decided to band together to make a special book for a friend, with each of us completing one 6" x 6" page for her to take away with her and remind her of us.
Apart from the fixed size for the pages, the only guidelines for this project were that we had to do the following:
Put a picture of yourself on your own page

Add a friendship quote or poem somehow
Keep it a secret from our friend until we presented it to her

I decided to add to my page by making a scrapbook tag to hide behind my layout. It had my contact details on it and a personal note to encourage my friend that we could still be friends online, no matter where she and her husband would be living.
To make this page:
First I cut out my photo with an oval die shape and then cut out a slightly bigger oval from coordinating cardstock, and mounted the photo onto it

Then I made the background piece out of patterned paper (also known as designer series paper or DSP), inking or sponging the edges in brown, yellow and pink tones to fit in with what I was wearing in the photo

Next I shaped the edges of the patterned paper with a punch and mounted the oval shaped picture to the right

I placed the vellum friendship quote on the left and layered the clear frame over the picture and the quote

Using the crop-a-dile I punched holes where I wanted to place the flowers and handmade butterfly

I ran some ribbon through a Xyron machine and attached it to the lower right

I placed split pin brads through the flowers and added them to the layout, then pushed a split pin heart brad through the butterfly's ribbon and attached that

I added some little crystal gems to the flowers on the clear frame
When we gave our friend her parting gift, the entire album was very thick and wonderful. Our friend was touched by our efforts and felt honoured to have been the receiver of such a heartfelt project.
I am sure she treasures the memories of our time together and can remind herself of them by looking at our scrapbook, many years late.
Have you ever used your time and creative talent to make a friend feel special? I would love us to share our ideas. Anything to strengthen friendships that combines our skills as crafters is wonderful, right?
Tell me about your Friendship-Scrapbooking-Ideas below. I would love to see a photo of your project as well.

Do You Have Scrapbook Page to Share?
Please do share your scrapbook layouts and projects below.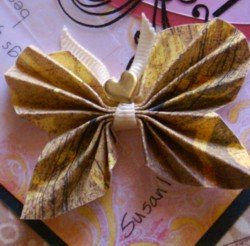 ---
Friendship Scrapbooking

---