Christmas Scrapbook

Written and Created by PaperCraftCentral Susan

A Christmas scrapbook is one of the nicest albums I have made. This holiday is the one where my family and friends come together most often. I love making mementos of the time we share during December. Does this idea appeal to you? Is it too hard to think about though, since the season is such a busy one? Do I have an idea for you? You bet! Say hello to the December Daily!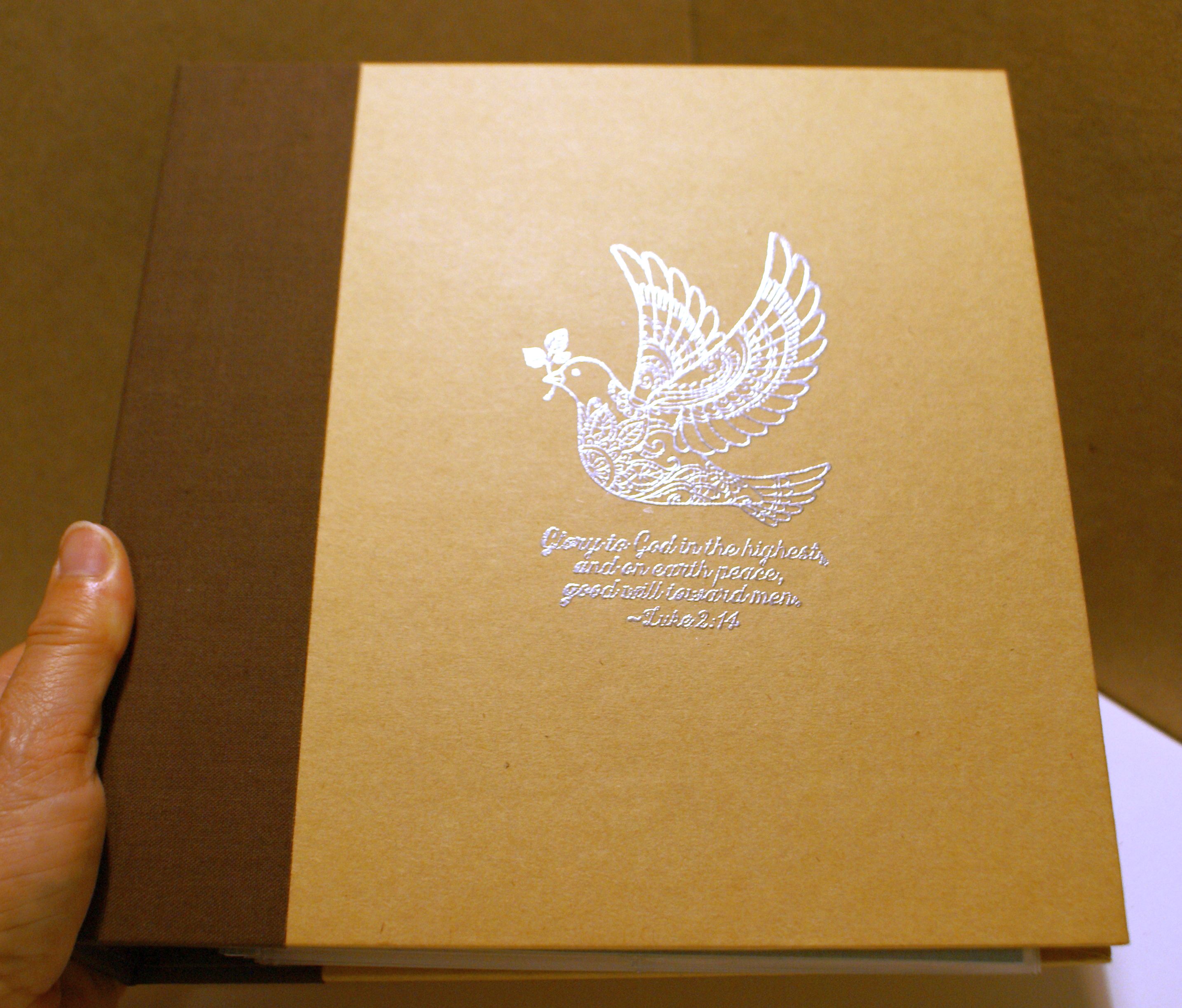 TIP: This album came to me in a raw state, ready to be embellished. I decorated my album cover with a my favorite seasonal heat embossed image and later added ribbon, sequins and a gold memento from a Christmas cracker. You could cover the buff color with designer series paper, dry embossed elements, wooden elements, etc.

---
My December Daily Christmas Scrapbook

My December Daily album is such a pleasure for me to look through. I easily forget the good times and how it felt to be together with everyone unless I have a visual reminder and a little bit of journaling to read. It's hard to do traditional scrapbook pages in December / January though. I needed a simpler solution that I still loved. Enter Becky Higgins!
Becky Higgins made it simple for me to put together a great little album that tells the story of the whole month of December. Her system is called Project Life and she has partnered with Stampin' Up! to make kits in their colour palette. I was immediately attracted to the idea as I knew I would have plenty of cardstock and designer series paper in my stash that would automatically match and Stampin' Up! Project Life kit. That meant I could extend a kit very easily! That got me a little excited.
I liked the look of the picture of some of the accessories for the kit in the Stampin' Up! 2015 Seasonal Catalogue. Here's some of what I saw: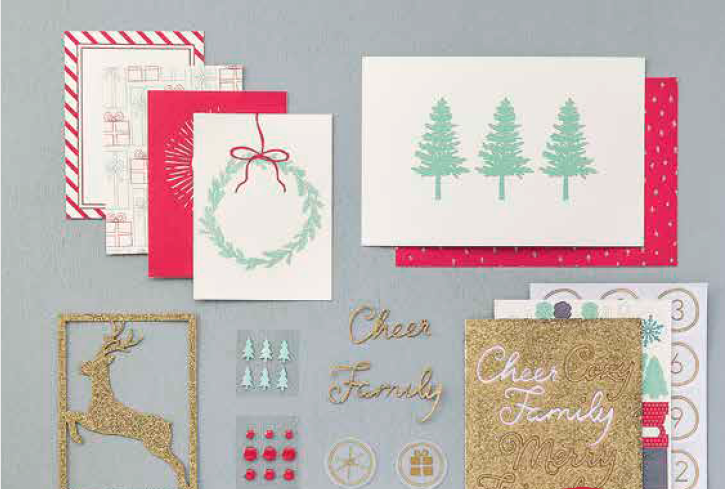 What is Memories and More?
Becky Higgins moved on to create other partnerships, so Stampin 'Up! developed their own range of scrapbooking and memory products called Memories and More.

The product offering includes Pocket pages and prepared cards and embellishments to fit into those pages. You can just slip a card in here, a decorative element there, a journaling spot or a photo wherever you want on the page. The pockets are crystal clear so you have the same spaces on the back of the page to tell more stories. So I would buy the album and kit and get started.
The idea is to put your cards in the album before December, and to embellish it too. Just leave spaces for your photos. That way, you just have to remember to take a photo and write a note each day in December. After you have lived your December memories, after all the excitement of the Christmas season has passed, just slip in your photo and note and your album makes itself. Your prepared album all but makes itself.

Here's an example of a December Daily album. I made this my first page: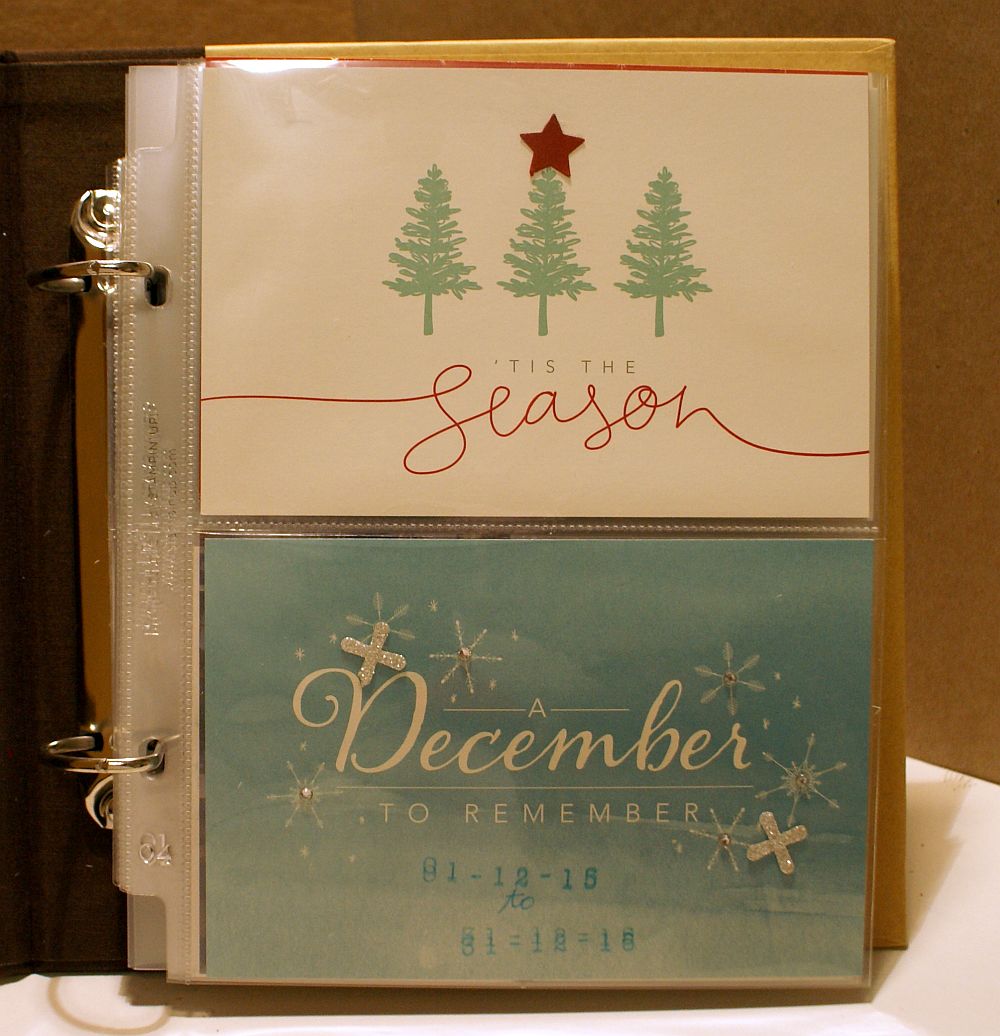 I continued to add cards, journaling spots, and little bits I knew I wanted to include. The pages without photos looked good to me. 
Maybe you would like to see more about the process of making a Memories and More Scrapbook? I just happen to have a Stampin 'Up! video available that will show you how!

Remember to click on the Stampin 'Up! catalog to see what Memories and More products are currently available.

Do You Have Scrapbook Page to Share?
Please do share your scrapbook layouts and projects below.
---
Return from Christmas Scrapbook to How to Make a Scrapbook | Return to PaperCraftCentral Home

---