google.com, pub-5059501654592326, DIRECT, f08c47fec0942fa0
My papercraft works
by Nashydha
(Maldives)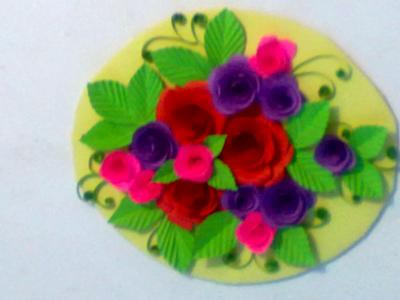 Handmade paper flowers by Nashydha
Hi Susan

Making things out of paper is my hobby. And I love to make paper flowers. Here are some of the paper flowers I made to decorate my room. :)

Nashydha


*************************
Hi Nashydha
What beautiful paper flowers you have made! I can almost imagine you surrounded by colour and your own beautiful creations. They must make your home very cheerful and pretty.
Do you make different flowers for different occasions of the year? I would love to see more of them. They would make quite an impact all massed together, too.
Thank you for stopping by to show me some of your work, Nashydha. I hope you keep making paper flowers :) Come back again and show me some more of your work soon.
Happy papercrafting
Susan
PS: You may like to see these paper flower ideas:
How to make
paper flowers
from all sorts of things
How to make
Paper Roses
How to make
flatter flowers