Page Protectors
Written and Created by PaperCraftCentral Susan

Page protectors are nifty things that can help preserve your special layouts from being disarranged, accidentally stained or mishandled by enthusiastic viewers (like our sweet children!)
"Scrapbooking is cheaper than a therapist".
~Author Unknown
---
---
How to Use Page Protectors

If you are like me, once I have made a lovely new scrapbook, I want to show it off, and it helps my peace of mind tremendously to have sheet protectors in place. They can keep fingerprints and smudges off your photos and stop delicate embellishments from being rearranged or damaged. Memorabilia is more secure behind them as well.
These days page protectors come in many sizes, from the 12" x 12" page protector down to 6"x 6" ones, plus the Memories and More 6" x 8" Photo Pocket pages are also very effective.

A problem often arises when you are finished your 12" x 12" layout and at last try to put the covering sheet on your page. There is a tendency for it's edge to catch on your photos and embellishments, especially when you have decorated both sides of the page. This can undo some of your good work and be very frustrating.
What can you do? Don't worry! Help is at hand!
Other scrapbookers taught me this simple tip and I want to pass it on to you.
You will need:
Two page protectors the size of the page you want covered. NOTE: You are going to sacrifice one

A pair of scissors or craft knife
A completed layout that you want to cover
A metal ruler or straight edge
A cutting mat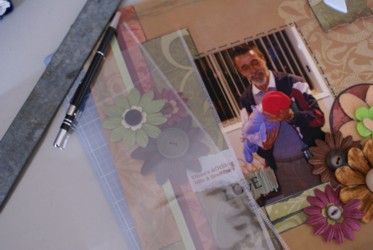 Here's what to do:
First be willing to sacrifice one of your page covers so you can use it every time you want to put a sheet on a page this size in the future. You can add the altered sheet to your tool kit afterwards.
Carefully cut or slit open one of the sealed sides of one of the sheets with your craft knife and metal ruler and cutting mat, or use your paper snips. Make sure the page is able to be opened up all the way down that side and the sheet can be opened right up. It does not have to be perfect but it helps to stick as close to the sealed edge as possible when you are opening up the sheet. (I think I need a better metal ruler. That one in the picture is a disgrace! I had temporarily mislaid my good one.)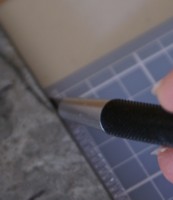 After it is opened up, mark your cut sheet with a permanent black pen so you can always tell this is your tool for covering layouts easily. Marking also helped me show you how this works.

Open out the cut sheet
Lay your decorated page inside the cut sheet with the still sealed edge enclosing the right hand side of your layout.

Close the cut sheet back up again, covering your page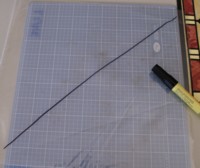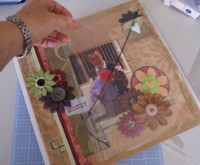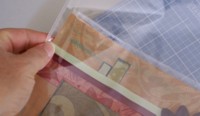 Now slip the uncut sheet over the covered page. See how easily it slides over the sacrificed sheet? 
TIP: Remember to remove the protective sheets when you want to photograph your layouts for the web. Otherwise light bounces off the shiny surface and makes your pictures very hazy.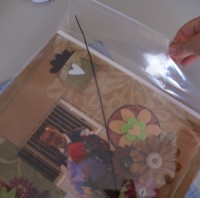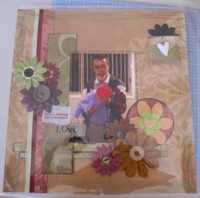 More tips:
Be sure to store the cut sheet with your papercraft tools for next time you want to quickly cover a completed page without tears
Use your cut sheet to temporarily protect layouts you are still working on, to avoid having to remove an uncut sheet over and over again. I find this keeps my layouts nicer until I actually get them into an album
Remember you can use this tip for any sized layout as long as you are willing to sacrifice one of your protectors for each sized album layout. I used a 12" x 12" layout here, but it would work for an 8" x 8" or a 6"x 6" sized page as well if you have sheets in that size too, Or you can cut a larger sheet down to the size you need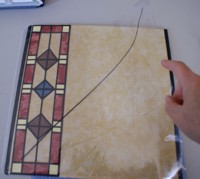 Now you can let people enjoy your albums without being concerned that they will be marked or accidentally damaged because you cleverly used page protectors!
You might also like:
How to make paper butterflies
How to use brayers
Make your own Rub Ons

---
Return from Page Protectors to Scrapbooking Tips | Return from Page Protectors to PaperCraftCentral Home Page
---