Recycled Battery Art
by Ronell
(South Africa)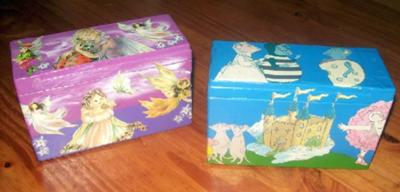 Recycled Battery Art
Attached are some decoupaged (12 V) old batteries. I have 7 various decorated batteries that are scattered all over the house.

The black/gold one is what I made recently with the Tokreen (a textile hardener). I took a photo of the 'new one' as well as one of the old batteries. Lucky for me, my brother installs burglar alarms and on the odd occasion I would have an old battery. Crafters can never get rid of something - use not abuse?

Enjoy your weekend.

Ronell


******************
Hi Ronell
What a clever use for old 12v batteries! I never would have though to use them this way. They make great decorative elements and I especially like how you decoupaged some photographs on one of them.
Besides being pretty, I think I would use one of these on tablecloths out of doors, to stop the wind blowing it away, or as a book end, or as a paper weight for anything I didn't want moved. They could even be a door stopper. You could use them on window ledges where lighter objects might get blown down.
Thank you for sending me such a unique recyclable idea, Ronell. I love your clever ideas.
Happy crafting
Susan
PS:
Readers may also like to try these ideas: