Thanksgiving Art Projects
Written and Created by PaperCraftCentral Susan

Some Thanksgiving art projects for cardmakers and papercraft decorators are here on this page for you.

"Remember God's bounty in the year. String the pearls of His favor. Hide the dark parts, except so far as they are breaking out in light! Give this one day to thanks, to joy, to gratitude!"
~Henry Ward Beecher

When I think of Thanksgiving art projects, I first of all think of pumpkins. Do you do this too? Roasted pumpkin, pumpkin pies and pumpkin bread all featured largely in my childhood holiday meals. I seem to remember a pumpkin peeking out behind pictures of the Horn of Plenty too. Yep, pumpkins made me feel thankful for all my blessings, for all those wonderful meals and precious family times, so when I decided to make a handmade greeting, I decided I had to use a pumpkin theme.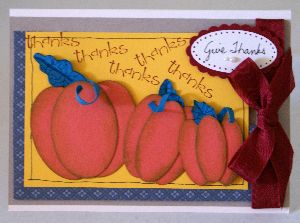 ---
Thanksgiving Art Project Instructions

It took me awhile to think of a way to make a convincing looking pumpkin with my paper punches and cardstock. Finally I decided to play with punched oval shapes and came up with this idea shown on the card above.
Here's How I Made My Card:
First I chose my cardstock and inks. I decided to use Calypso Coral for the pumpkins and Lucky Limeade (retired) to sponge them. Then I needed to find the following:
A card base of Very Vanilla
Some Going Gray designer series paper (retired)
Cherry Cobbler cardstock and some Very Vanilla too to make the greeting tag
A piece of Daffodil Delight cardstock for the first layer and a piece of Crumb Cake cardstock for the second layer
Cherry Cobbler bias binding ribbon
Island Indigo cardstock for the leaves
Pearls, black journaling pen
The 'thanks' stamp (retired)
Large oval, medium oval, small oval and scallop oval paper shaper punches or use Big Shot framelits in these shapes

To make the pumpkins, I punched two small ovals and one large oval from my Calypso Coral and sponged the edges with Lucky Limeade ink. Then I made the small ovals to be the outsides of the pumpkin and the large oval to be the middle. I just made the top of the pumpkin a bit wider than the bottom. I made two different sizes of pumpkin by using different sized ovals.
To make the leaves and twirly bits, I folded a piece of Island Indigo cardstock in half and cut out my leaves, and made a small thin strip of cardstock too. I added scoring and details to the leaves with a Stampin' Write! marker. I curled the thin strip with the edges of my scissors then adhered the leaves and twisty bits to the tops of the pumpkins with Tombow glue.

Then I placed the trio of pumpkins on my Daffodil Delight cardstock, popping the middle one up with a couple of Stampin' Dimensionals.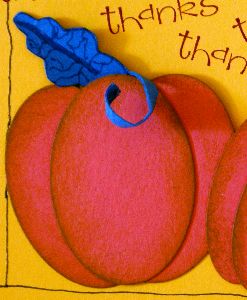 I then finished my card with all the other elements.
Other Pumpkin Inspired Ideas:

The pumpkins would look cute grouped together on a scrapbook page, don't you think? They would be good for any autumn inspired layout.You could replace a group of flowers with your pumpkins.
You could make some pumpkins for gift tags or hand decorated gift boxes.
Add them to a hand decorated notebook

Now I know there are plenty more Thanksgiving art projects out there with turkeys on them, and horns of plenty, and good company or good food on them, and praises too, so if you have an idea to share with me, please do.
Hmm. Turkey. Maybe 'll try making one of those next...
Happy Thanksgiving :)
Do You Have A Favourite Handmade Card to Share?
Do you make greeting cards? Please do share it with me.
---
Return from Thanksgiving Art Projects to Special Occasion Cards | Return to PaperCraftCentral Home Page
---