Bon Voyage Cards
Written and Created by PaperCraftCentral Susan

Bon Voyage Cards can be made to fit the occasion. Here are some to inspire you.
"bon voy·age (bôɴˌ vwä-yäzhˈ) interjection Used to express farewell and good wishes to a departing traveler".
~yourdictionary.com
---
Yes, I know that's a birthday card above, but you can just imagine how appropriate that image of the ship is for sending someone off on a special trip! Bon Voyage Cards make people feel special, help them to see they will be missed even though they may be going away to relax and have a lovely time. Of course there are others reasons for going away - for a season, to move to another home, to work somewhere different. Having a few ideas for how to approach this type of hand made greeting may be useful to you for these purposes.
To farewell someone who has just joined the Army, I made the following card. I thought about the font, embellishments and colours to fit in with the theme of joining the armed forces.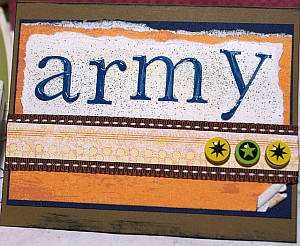 One Way to Make Bon Voyage Cards:

Here are the Stampin' Up! and other materials I used to make the Army card shown above:
Inks:
Old Olive
Not Quite Navy
So Saffron
Cardstock:
Soft Suede
Whisper White
Designer series paper
Rubber Stamps:
Schoolbook Serif Alphabet
Tools & extra elements:
Colour Spritzer
Stampin' Write Markers
Black journaling pen
Crystal Effects NLA
Non Stampin' Up! Resin Thumbtacks, shanks removed with wire cutters
Stitched ribbon
Scallop edged envelope die
I wanted to include a little cash gift for the recipient so I made a pocket from the scallop edged envelope die. I thought it looked a little too feminine with the scalloped edge (I was giving this to a young man) so I altered the envelope shape by trimming away the scallops and adding a soft suede coloured, hand cut arrow to the edge of the flap, like so: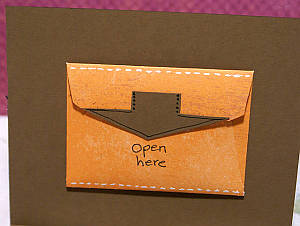 I attached the little die cut envelope inside the front of the card so that it would be safe. I also wrote some directions on the body of the envelope so there would be no mistaking it for a pocket.
Now maybe you will think of ways to custom make special cards to suit your own life occasions, the very next time you want to help someone celebrate their impending journey. You have the power! Lol!
And remember to check out the Cardmaking and Special Occasion pages if you need inspiration to make a handmade greeting for any other reason.
---
Return from Bon Voyage Cards to Special Occasion Cards | Return to PaperCraftCentral Home Page
---