Christmas Recipe Cards
Written and Created by PaperCraftCentral Susan

Christmas Recipe Cards are so much fun to make and to receive! Find out how to stock up your recipe book with a Recipe Card Swap.
"Christmas Gift Suggestions: to your enemy, forgiveness. To an opponent, tolerance. To a friend, your heart. To a customer, service. To all, charity. To every child, a good example. To yourself, respect".
~Oren Arnold
---
Do You Like to Receive New, Free Christmas Recipes?
I know I love to receive Christmas Recipe Cards! One way to make sure you receive some lovely ones is to take part in a swap. That's what I did one year and I received  ten new favourites, all from scrapping buddies. They are very special to me indeed.

By the way, there's a 'recipe' for what materials were used to make these cards at the bottom of the page. Scroll down to see!
And if you are interested in delving deeper into a family recipe book idea perhaps, I found an article about that on the Family Tree Magazine. You can adapt your Stampin' Up! scrapbooking supplies to these types of projects with ease!
You could start making these as a gift idea for Christmas, beginning in January!

How to Run Christmas Recipe Cards Swaps

This kind of swap can be organised via your scrapping friends that you see in real life or via an online scrapping forum where you may know a variety of people from all over the world. All you need is someone to coordinate the swap (why not you?) some ideas about the size/type of cards you want to make, and a deadline or two.

Just for fun, another form of swapping is when you start a Circle Journal. Now back to how to run the Christmas Recipe Card one.

Ask for people to agree to take part in the swap. Set your terms. For example:
what kind of recipes do you want?

How large should the cards be?

Then when you have enough people who have joined in, ask them to name the recipe they are going to send and record what each person is going to do.
Set a time for when you would like them to be done. Give people plenty of time to get them done and be prepared to extend your deadline to allow for life events that delay swappers. Life happens, right?
One of my swaps was started in the month of September and only in mid December were we all getting our cards to our swap coordinator! Life just gets in the way of scrapping sometimes, doesn't it. :) I find that swaps work out better if participants are forgiving of each other when there are delays, especially when people are communicating with the coordinator about the delay and are working on their contributions.

Now make a card for each person in the swap, including yourself. You can make them all the same or you can vary the decorations, as long as everyone gets the recipe you chose to send.
These little gems don't have to be very complicated, and you don't even have to include a picture of your dish if you don't want to. Even simply made cards will definitely be more beautiful than a scrappy piece of paper in a tatty binder, which is how I keep most of my recipes!
I've participated in other types of recipe swaps too. You can customise the swap to your own theme.

It is nice to decorate the back of your card too, and to sign and date it.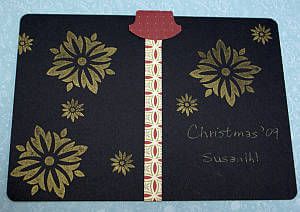 Check in with people if you are the coordinator, asking how they are going and if they will need the deadline to be moved out. Let everyone know what is happening.
If you are a participant, let your coordinator know when you are sending your completed cards, or if you need more time to complete them.
Once you have finished your cards, carefully wrap them if you are mailing them (I always put mine in a plastic zip lock bag in case the mail gets wet. What a shame if your hard work gets warped in a mailbox that gets drenched!) and post them off to your coordinator.
If you are taking part in a 'real life' swap, take them along to your next crop and give them to your coordinator, or collect them from everyone. It's still a good idea to have a nice protective bag for your cards.

If you are mailing your cards, include a stamped, self-addressed envelope in your mailing envelope to help the coordinator out with postage and handling.
Now just wait for your lovely, new, free Christmas Recipe Cards to arrive!
You are bound to receive some lovely scrapbooking ideas as well.
Enjoy!
Materials Used in these Christmas Recipe Cards:

Cardstock: Stampin' Up! Basic Black, Crumb Cake
Inks: Stampin' Up Chocolate Chip and Gold (retired)
Designer Paper: Retired Stampin' Up! Christmas paper
Stamps: Stampin' Up! Baroque Motifs (Retired)
Accessories: Stampin' Up! retired Curly tag punch, computer generated recipe on stationery, gold pen, red crystals

Remember you can order Stampin' Up! products from me if you live in Australia :)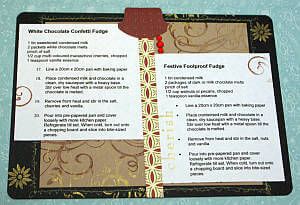 If you like the idea of making Christmas Recipe Cards, you may like to check out these other ones I made for more everyday culinary memory keeping:
---
Return from Christmas Recipe Cards to Scrapbooking | Return to PaperCraftCentral Home Page
---