Decorating a Candle
by Olivia
(Lakewood, CO)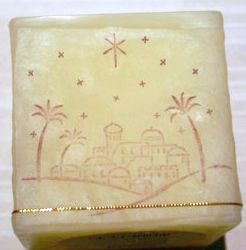 Hand stamped and decorated candle
I bought some pillar candles that turned out to be the wrong shade of the color I wanted (darn see through wrapping)...they are non-returnable as they were on sale...my question is...

Can they be covered in tissue using Modge Podge...I don't plan to burn these candles, they are simply for show...or do you have any other ideas for changing the color of these candles...

thx...

Olivia


***************************
Hi Olivia
Good news! Mod Podge can certainly be used to apply tissue paper to a candle that you aren't going to burn. I would paint the candle with Mod Podge first, then layer on the tissue and cover it with another layer of Mod Podge. I would let that dry then add another layer or two of Mod Podge, allowing the layers to dry thoroughly in between.
Different coloured tissue could be torn and added to the layers as you go to make an interesting pattern. Or you could choose to use patterned tissue paper in the first place, or make a paper serviette layer using the image on a pretty serviette.
You could also press some fresh flowers or leaves (they don't have to be completely dry. They just need to be flat) and add them as decorative elements as you layer. Use a foam brush to add the glue to the flower layer, carefully sponging around the flowers to make sure they are all sealed in with glue.
You can do the same with ribbon, lace, small shells, etc. Paint the candle with Mod Podge first then position the decorative element on the candle while the glue is still wet, and cover the candle with another layer of Mod Podge. Allow to dry thoroughly in between coats.
If you want glitter on the candle, add this to a fresh layer of Mod Podge and allow to dry thoroughly before covering with more Mod Podge to seal it in. Or you can leave the glitter uncovered if you like that look better.
Here is a way you can burn your candles yet still keep the decorated outside shell for a long time (IMPORTANT SAFETY NOTE FOR ALL READERS: NEVER burn candles you have altered unless you do the following. Altering materials like tissue and even flowers can catch fire!):
first choose a large-ish candle that will burn down in the centre only, leaving the outside layer intact.


Light the candle, then enjoy it as you allow it to burn down far enough to make room for a tea light candle to be placed inside the hole. Snip off the exposed burnt wick so the cavity surface will be flat (and so that no one will burn the candle down lower).


Place a tea light candle inside the melted candle. Now you can safely burn your tea light candle. Just replace the tea light as it is used up.
Don't you just love being able to alter things so they can be the way you want them to be?
I hope you will show us your completed decorated candles, Olivia. I'm really interested in seeing what you do.
I hope I have helped :) Have fun!
Susan
P.S.
Here is how to
rubber stamp an image on a candle
.