Faux Suede Technique
by Virginia
(LA Ca)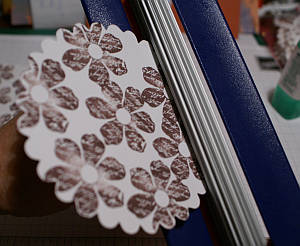 Paper crimping
I used to make cards with African and Native American themes and the card stock felt like suede. I've forgotten how to do this technique. I didn't buy the paper that way but did it myself.

Can you help?

Virginia


*****************************
Hi Virginia
I think what you are after is the
Faux Suede
technique. You wind up with soft, suede-like material with this technique. It's easy to make!
In the pictures above I show a piece of white cardstock that has been stamped. I wanted to make a layered flower out of the cardstock, with some of the layers being soft-to-the-touch layers.
What I did was this: I sent the stamped cardstock through my
paper crimper
first. You do not have to have a paper crimper in order to work your paper enough to allow it to separate into layers, but it helps. I sent the cardstock through the crimper several times, changing the direction of the crimping each time in order to break down the stiff fibres in the cardstock.
You can go directly to step two if you do not have a paper crimper. In the second photo, it shows me balling up the cardstock and really crumpling it as hard as I could without tearing the cardstock. Crumple it several different ways, unfolding it and refolding it in different ways, till you notice the cardstock is softer and the edges of the cardstock are starting to separate into layers.
Next you need to smooth your piece of cardstock out as flat as you can.
Then carefully separate the two layers, using a
bone folder
to help encourage the layers to come apart where the layers aren't coming apart very easily.
NOTE:
If the cardstock layers won't separate from one another pretty easily, go back to step two and work the paper a little more before proceeding to smooth and peel it. Otherwise you will wind up with holes or tears in your cardstock.
Once your cardstock is separated, you will have two smooth, stamped sides, and two sueded sides.
There are more instructions on the
Faux Suede Flowers
page.
I hope this is what you wanted for your craft work and you will come back and post a picture of project or two for us all to see.
Happy crafting
Susan