Announcing the First Challenge 2011 Winner!
Congratulations to the First Challenge 2011 Winner! It took me a few days to make a picture of the prize, upload it, roll up individual papers with the names of the card topper challenge enterers on them, find a time when my husband could draw out a winning entry (so I could remain impartial about who won of course!) and be ready to announce the news to you all. But now you will be glad to know I am ready to announce the winner.
First I want to sincerely thank each and every one of you who took the time to enter the Creative Challenge. It was so good to get a glimpse of your talents and enjoy your different card topper styles. I appreciated your photos, enthusiasm and comments, to me and to each other, so much.
And there will be more Creative Challenges! I hope you will enter the next one, and the next.
Second, I want to show you the prize I have chosen for the winner. At first I was going to put together a little RAK, but in the end I thought you deserved a slightly bigger prize. I finally decided to send the winner a whole new stamp set.
The prize is one of the new Sale-A-Bration limited edition stamp sets released just this year (2011, so now retired). This prize is something not everyone will be able to earn, so I think it is a special one.
And here it is: Punch Bunch!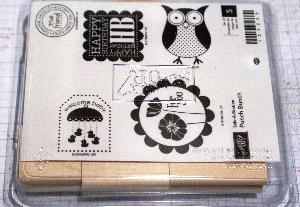 ---
---
First Challenge 2011 Winner
Without further ado, I am happy to announce the person who has the honour of being the Winner this time here at PaperCraftCentral.com.
Drum roll please.............................
The winner is........
Jaimie!

Your entries were beautiful, Jaimie, and I love the stamp set you used. You made each card topper look very different and they will look wonderful when made into full cards. I love the butterfly, heart and flower you made. And the bling just finishes everything off so nicely.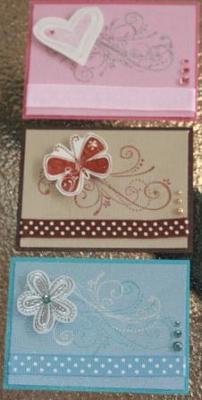 Warm congratulations to you again, Jaimie. Please contact me about how I can send you your prize, using the Contact Me page on PaperCraftCentral.com 
I will get your prize in the mail as soon as I receive your details.

PS: Do stay alert for the second Creative Challenge of 2011!
---
Return from First Challenge 2011 Winner to Creative Challenge | Return to PaperCraftCentral Home Page
---