The First Challenge 2011 - Card Topper Challenge

Written and Created by PaperCraftCentral Susan

PaperCraftCentral's First Challenge 2011 is all about Card Toppers!
"Treasure every moment in life"
~Betty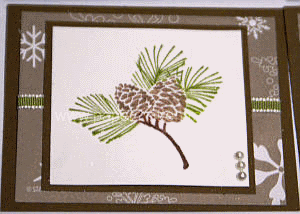 ---
The first challenge 2011 (or Cyber Crop) is a fun one. It takes remarkably little time in comparison with creating full scale handmade greeting cards.
All you need to do is create some card toppers.
There was a little RAK in store for the winner of this 2011 Challenge. Find out who won it on this page.

What Is a Card Topper?

A card topper is simply the main focal image of your cards.
It is the pretty image you make to draw the eye to your card and give people such delight.
It is the part of a card that usually takes the most time to prepare.
Having some prepared card toppers on hand means you can finish making a greeting card whenever you wish, and it can take a lot less time to make a complete card if you have already completed the part that takes the most time. Hence, treasure the moments of life by being able to whip up a card at short notice, with card toppers on hand to do so.
Above you can see my example of a card topper using the 'Autumn Days' rubber stamp set from Stampin' Up! displayed on page 72 of the Stampin' Up! 2010-2011 Australian Ideas Book and Catalogue. This set is now retired.

(The Supplies list is at the bottom of this page. Scroll down to see!)
I used some Designer Series paper as a background, then stamped my pine cone image onto Whisper White cardstock, using the Stampin' Write markers Chocolate Chip (NLA), Soft Suede and Old Olive.
I spritzed the image with some shimmer mist I made with a bit of rubbing alcohol, water and Frost White Shimmer Paint (NLA).
Then I mounted my image and my designer paper to pieces of Soft Suede cardstock, finally finishing off with some 1/4" grosgrain ribbon in Old Olive, and some Basic Pearls.
Now I can use my card topper for all sorts of occasions. I don't have to know the occasion I want to use it for yet. It could be a thinking of you card, or a birthday card, or an I'm sorry card, or any other sentiment I want to use at the time.
To finish my card I could simply mount the topper to a card front and stamp a sentiment. It would be that easy!
And the good thing is that I am prepared for those unexpected occasions when I want a card in a hurry, just to show someone I care enough to give them something handmade.
Details of the First Challenge 2011:

Your Turn!
Now it is your turn. Here is your challenge:
Make a series of three card toppers, all the same or different, but use the same coordinating colours and papers.
Upload your card toppers using the form below.
NOTE: If I can see that you have used Stampin' Up! products on your toppers, you will get extra credit! Please do list the Stampin' Up! products you use when you upload your entry.
That's it! Go ahead and enjoy The First Challenge 2011!
Submit Your Challenge Entry Here
Please do show me your entry for the Challenges, with a picture or two or three, and a few words about how you made your creations.
What Other Visitors Have Said
Click below to see contributions from other visitors to this page...

Stampin Up Bird Punch

The Stampin up Bird Punch is the handiest punch I have ever owned. So many things can be made with it. Marti ***** Marti you sure made …
Card Toppers Challenge

Hi Susan, Here are my card toppers, I have made 4 as they fitted with the stamps I wanted to use. I have used Purple and Black co-ordinations cardstock, …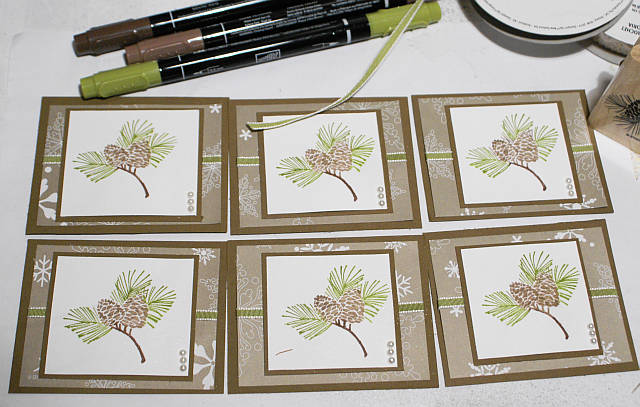 Supplies List for the First Challenge 2011
Many of these Stampin' Up! products are now retired as they were listed in 2011, but some may be available. Australian residents only are able to buy from my SusanSalutations website
119167 Autumn Days wooden mount stamp set (NLA)

120000 Autumn Days clear mount stamp set (NLA)

116854 Shimmer Paint Frost White (NLA)

119247 Basic Pearls (150)

120973 Soft Suede Stampin' Write marker

100071 Chocolate Chip Stampin' Write marker (NLA)
100079 Old Olive Stampin' Write marker 
111368 Old Olive 1/4" grosgrain ribbon (13.7m) (NLA)

106549 Whisper White A4 cardstock (pack of 40) 
119982 Soft Suede A4 cardstock (pack of 24) 
117401 Christmas Cheer designer series paper (NLA)
Here are some more toppers made with cupcake stamping supplies:
---
---