Stampin Up Bird Punch
by Marti Bibeau
(Marion, IN United States)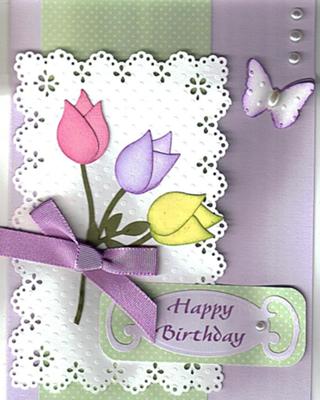 Bird is the Word
The Stampin up Bird Punch is the handiest punch I have ever owned. So many things can be made with it.

Marti


*****************************
Marti you sure made a pretty card with that bird punch. It's gorgeous! I like how you used punched wings to make the tulip petals and the stem and leaves punch to make tulip stems and leaves. It really is a versatile punch alright.
It's a pity the Stampin' Up! bird punch is now retired. I don't think I will part with the one I have.
Thank you for taking the time to share with all of us :) I wish more people would share their ideas too!
Happy Punching!
Susan
PS: If readers now want to see how to make some other paper punching projects featured on papercraftcentral.com, try these pages:
Papercraft Bears
Papercraft Ladies
Paper Flowers
Paper Punch Pumpkins
And of course, if you have other punch art ideas, please feel free to submit your own project pictures and tell us what supplies you used to make them.
There is so much that you can make with punches and it is very inspiring to see other people's ideas for how to use them. Thinking outside the original use for your punches can really extend the use of your tools and allows you a creative outlet as well. You really get your money's worth when you bring your imagination to the table and use your punches in clever new ways.
I love to see everyone's projects too. So please take this as my personal invitation to you to share!
I will continue to share projects I create by using my punches with you as well. In fact, I found a few Youtube clips about how to use the Bird Punch differently:
1. This one is great for showing you how to customise the punched shapes to make birds that might live in your garden, including how to make baby birds. Great inking and sponging techniques:
Making Birds using the Two Step Bird Punch
2. This one has a range of ideas for you to consider:
SU Bird Punch Ideas
3. This one is a little long but it shows how to make a spectacular flower using the bird wing shapes:
Bird's Wing Flower