Papercraft Ladies
Written and Created by PaperCraftCentral Susan

Get out your punches and make some papercraft ladies!
"I have bursts of being a lady, but it doesn't last long"
~Shelly Winters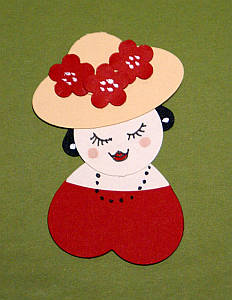 Do you have a secret yearning to make paper dolls? Or are you an aspiring fashion artiste perhaps? Maybe you are looking for a papercraft idea and would like to make a special set of character ladies for your next scrap swap or get together? Maybe you could use these girls to fund raise for breast cancer awareness??
If you already have a punch art idea for making little characters, please do share! Scroll to the bottom of the page for a place to show it to me?
Whatever you would like to use them for, making Hearty Ladies can lead to lots of laughs and conversation, and who doesn't like that?
I made a couple of papercraft ladies to show you how to make them. The first was this demure creature you can see above, then I decided I would make a slightly less demure damsel. Here's how to make your own.
---
How to Make Papercraft Ladies

You will need the following punches or dies. Most of these are available from Stampin' Up! if you need to order them. Click on the catalogue in the right hand column if you want to explore the catalogue punches and dies:
Two big Heart shapes of equal size, one for the body (I used Very Vanilla cardstock) and one for the bodice (I used Bravo Burgundy cardstock. The heart shaped punch I used is now retired, but you could use a nested Big Shot heart framelit. Choose the second smallest perhaps?), and a tiny heart for the sunglasses. I used the heart from my Owl Punch for that.
An Oval for the hat brim. I used the Small Oval punch.
Two sizes of Circles, a 1" one for the head and 1/2" one for the hat crown
Flowers if desire. I had a small punch from the retired Itty Bittys punch set.
You will also need some rhinestones or other embellishments and a few Stampin' Write markers, some sharp scissors, adhesive and a flower shaping tool, though pressing a punched circle with your thumb or the top of your green Tombow Glue into the palm of your hand may do just as well.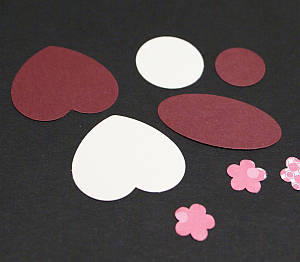 Here's What to Do:
First, cut or tear the coloured large heart shape to make a bodice for your lady. I chose to tear mine and roll/distress the neckline a bit more. I then shaped both pieces a little with my flower shaping tool and thumb in the palm of my hand.
Adhere the top to the other intact, upside-down heart shape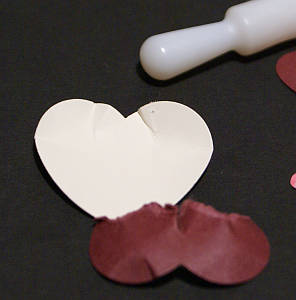 Then shape the body a little and adhere the decorated bodice and the 1" head circle thus:
Now shape the oval into a hat and distress/tear the edges. I cut a slit in the hat to allow the placement of the crown which was made with my 1/2" circle punch: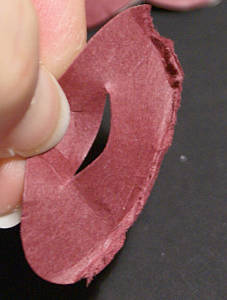 I adhered the hat together then glued it to the head. After that I cut out a small heart and sliced the pointy end off to make her sunglasses, and added them: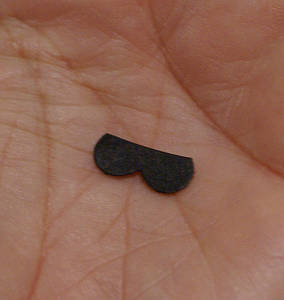 Add some accents with a white gel pen to make the glasses look shiny, (make them even shinier with Crystal Effects), and draw in the lips and a few other little details with your Stampin' Write! markers: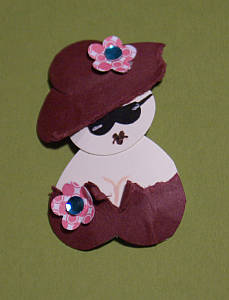 And there she is, my Hearty Lady in sunglasses! She would make a lovely card topper or accent for a layout, don't you think?
In fact, if you would like to purchase a Hearty Lady or two, you may just find one in my Etsy Shop, though maybe not as they have been so popular I may be sold out.
But if you make your own papercraft ladies, I would just love to see them. I hope you will share your punch art with me :)
Do You Have A Favourite Handmade Card to Share?
Do you make greeting cards? Please do share it with me.
---
Return from Papercraft Ladies to Card Making | Return to PaperCraftCentral Home Page
---