Iris Folding
"Iris Folding is a paper craft technique that involves folding strips of colored paper in such a way to form a design. The center of the design forms... -- a shape reminiscent of the iris of an eye of of a camera lens". Wikipedia

Making a card with the Iris Folding Technique can give you a spectacular result. If you have never made a card using this paper folding technique, it looks a lot more complicated than it actually is. It's pretty easy to learn how to do this. See below for step-by-step instructions.
---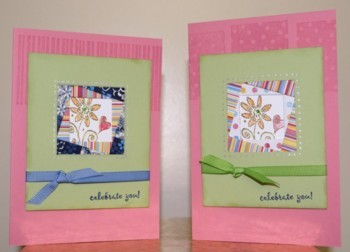 How to Do Iris Folding

In this example, I have used a square shaped aperture, but there are many other patterns. I will provide a link to some for you at the bottom of the page.
You will need:
A card blank with a window aperture
(create the aperture with your paper trimmer or with a craft knife and steel ruler)

A craft knife and cutting board or a large square punch or a paper trimmer


A plain piece of cardstock to punch or cut a slightly smaller square aperture from to use as a frame inside the main aperture


A square pattern for your folds


Repositionable adhesive for the pattern


Adhesive for the paper strips


Some clear packing tape for the completed design


Some backing paper or cardstock for the completed aperture


Four different types of thin paper to make your folds (or you can use unfolded cardstock, ribbons, origami paper, etc - as long as it is thin) in contrasting or coordinating colours and/or patterns


A bone folder can be handy if you are going to be folding your strips of paper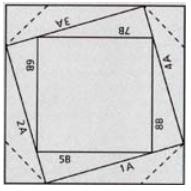 What to do:
Cut or punch your main aperture, and make a smaller aperture from the second piece of cardstock. Adhere the two layers together


Position the pattern over the right side of the aperture so you can see it from the wrong side. Use the non permanent adhesive to fix the pattern in place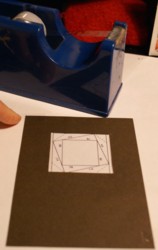 Cut 1" strips out of the thin paper (or 1/2" strips of cardstock) - four of each colour. Fold the 1" papers in half and make sharp creases of the folds with the bone folder. You can use ink to edge the 1/2" piece strips of cardstock if you like. Glue the fold in the paper strips so they lie flat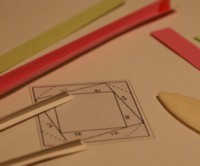 Using the pattern guide, start placing the strips of paper around your aperture and adhere them in place. Trim the ends of the paper to a reasonable length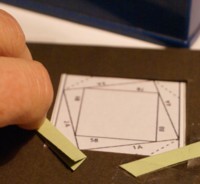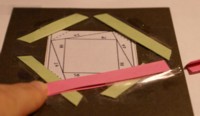 You can keep going till you completely fill the aperture, or stop short of filling it and place a special image in the middle (like a small picture or a stamped image), or glitter paper or other embellishment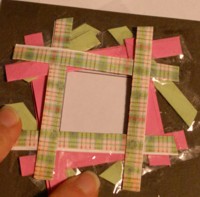 Do You Get Your Free Copy Of Paper Twists?
To get more free paper crafting ideas, subscribe to Paper Twists! You'll be among the first to know when there are new ideas at PaperCraftCentral.com when you subscribe. You'll get news about:
Papercraft hints and tips

New ideas in the papercraft world

Reviews of new products and tools. What works….and what doesn't!

How to save money on paper crafting supplies



Subscribe today! It's Free!

Now For The Next Card Making Steps:

Use the packing tape to fix your folds firmly to the cardstock from the back of your design


Adhere the backing cardstock to the design

Use your amazing image on a card front any way you wish but be sure to find someone to 'wow' with your lovely iris folds when you are done.



Other ideas

Use foils or glittery papers in your design
Try using origami papers or rice papers to make your paper folds
Use vellum strips to make a translucent design

Incorporate this technique into your scrapbook pages

Use embossing powder on the edges of the paper folds to add interest, or stamp and emboss the stamped images as I have done in the series of Iris Fold Fan Cards in the slide show at the top of the page.

If you have tried this technique and have a project to share, please do. I would love to see your projects.


Do You Have A Favourite Handmade Card to Share?

Do you make greeting cards? Please do share it with me.

---

Return from Iris Folding to Card Making | Return from Iris Folding to PaperCraftCentral Home Page

---