Paper Chain


Written and Created by PaperCraftCentral Susan

A Paper Chain is a quick and easy project to try. You could even try making some with your children to decorate your home for a special occasion.

"The weakest link in the chain is also the strongest.
It can break the chain."
~Stanislaw Jerzy Lec

You can make your own decorations for your next party with some of these.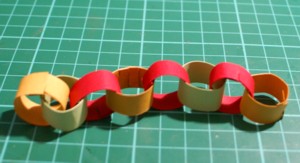 ---
Maria from Pakistan asked me to show her how to make them without using any adhesive. That almost stumped me till I remembered how to make slotted joins. They work well in this type of project and if you learn the technique, you can probably apply it in many other papercraft situations.
You can actually make your links with or without adhesives. The links will be stronger with tape or glue and may even be necessary if you plan to use your decoration where the wind will blow them apart, but really it depends on the type of paper you choose and how careful and accurate you are with slotting the links together.

TIP: Using cardstock weight or construction paper will work well. Thin paper won't work as well in holding its shape or in staying linked together.

How to Make a Paper Chain

You Will Need:
Coloured construction paper or cardstock. Choose a couple of colours for a more festive look

Scissors, pencil & ruler

Staples or tape if you want the chains to stay together well

If you like this project, you may like to make some pretty paper balls to hang from your chain as well.
Here's What to Do:
Cut out rectangular strips of construction paper or cardstock in the width and length you want the individual links to be. Make sure your strips are all about the same width and length. Mine are 7cm (2 3/4") long and 1cm (1/2") wide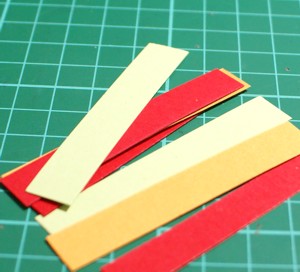 Measure back from the end of each strip. I measured back 5mm or 1/4". Also lightly mark the middle of each strip with a pencil.

On each end of your strips, draw a horizontal line from the edge of the strip to the middle of the strip.

Make a similar line on the other end of the strip, only on the opposite side as shown below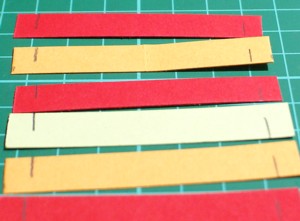 Cut along the lines you have drawn, making sure you don't cut through the whole strip. Stop cutting in the middle of the strip or just past the middle, like so: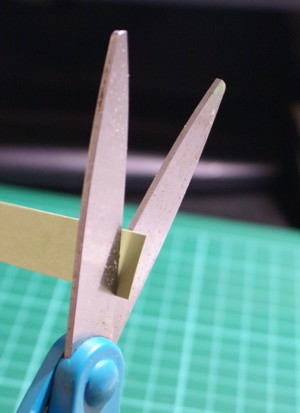 Form a circle with the strip, then overlap the ends so the end winds up inside the link, and then slide the other slit you cut into the first one.

You can now add a piece of tape or a staple to the joined edges if you wish, but try it without the adhesives first and see if your string of links will stay together without it. Mine is working well!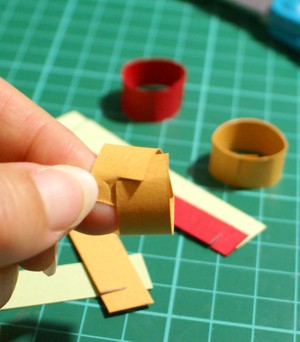 Insert the next strip of paper inside your first link, and then slot it together
Keep repeating the last step until you have the length of chain you want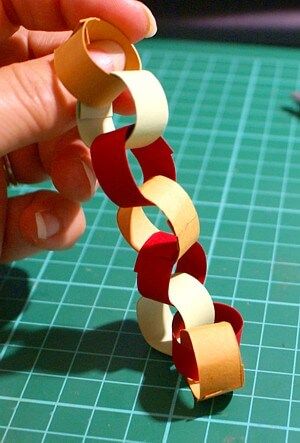 And there you have it - How to Make a Paper Chain Without Using Any Adhesive!
Now you know how to make these, you might like to make a Paper Chain Christmas Tree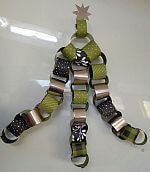 ---
---