Paper Shirt Card

Written and Created by PaperCraftCentral Susan

Make an easy paper shirt card for the man in your life. I find it a great design to use for masculine cards.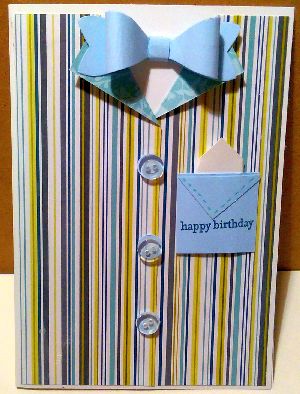 ---
The beauty of this paper shirt card is that you can customise it to suit your recipient's personality or the occasion. Imagine a relaxed, Hawaiian Island escape. The shirt becomes a Hawaiian flower print one! Imagine someone just being granted membership to his favourite club. The congratulations card has a shirt on it in the club's colours! It even has a logo on the pocket! Imagine a graduation or formal occasion. The shirt has a tie or a bow tie! Imagine you have a man who always wears a certain shirt and you find just the designer series paper in that pattern. You can make that shirt out of paper!
Customisation is only limited by the demands of the special occasion.

Paper Shirt Card Instructions

For this paper shirt card project, I started with a normal sized card base (10.5cm x 15cm, or 4" x 6") in Whisper White cardstock. Then I gathered the following supplies:
Designer series paper in the pattern desired for my special occasion (I used retired dp)

Plain cardstock to coordinate with my designer series paper (Soft Sky)

Scraps of Whisper White cardstock for the handkerchief

Buttons (mine are clear)

Tombow liquid glue

Stamp set sentiments
Stampin' Write! marking pens
Bow Builder Punch

Here's what to do:

Here's what I did, step by step:

Cut a piece of designer series paper at 10.5cm x 14.5cm (4" x 5.75")
Cut the designer series paper in half portrait-wise, to make the two halves of the shirt
Fold out at the top middle of the two sections of designer series paper to make the shirt collar
Adhere the two pieces of designer series paper to the front of the card with Tombow, overlapping them in the middle to make the shirt close properly
Make a bow tie with the bow builder punch, then adhere it to the card front with a glue dot or two
Add buttons to the shirt front, adhering them with glue dots too
Make a pocket out of your coordinating cardstock, cut to the size you like (mine is 3.5cm x 3cm or 1 1/2" x 1 1/4" ) and draw a flap on it with your Stampin' Write! marker. I added faux stitching too, then stamped my greeting on my pocket and adhered it to my project with Stampin' Dimensionals

Make a handkerchief for your pocket. I made mine out of Whisper White. Start with a small square  (3cm x 3cm or 1 1/4" x 1 1/4") and fold two corners under, leaving a point at the top of your handkerchief. Just as though you were folding a real. cloth handkerchief. Then add your handkerchief to your pocket with a glue dot
Add sentiments to the inside of your card
Take a picture of your card to upload and show me your project (see form below)

You're all done!
I hope you have a good time with this fun way to make a special paper shirt card for your favourite man. And I hope you show me what you make. I am sure I have not thought of all the special occasions this idea would suit (get it? Suit. I crack me up). Remember you can use this idea on a scrapbook layout too.

By the way, if you need instructions to make an Origami Shirt Card I found a great example of this on Pintrest for you.
For other types of masculine cards, I have some more ideas to help you.
And if you need supplies, be sure to visit SusanSalutations if you live in Australia, or the main Stampin' Up! site to find demonstrators in other countries.

Do You Have A Favourite Handmade Card to Share?
Do you make greeting cards? Please do share it with me.
---
Return to PaperCraftCentral Home Page | Return to Special Occasions | Return to Creative Challenge

---