Stampin' Up! Paper Trimmer

Written and Created by PaperCraftCentral Susan

Do you have a paper trimmer?
If you are just starting out, maybe you don't have one yet.
If you have been a papercrafter for awhile, you probably already do have one.
Are you happy with the way your tool cuts through cardstock and designer series paper? Is your original tool lasting the distance or does it need replacing?
Either way I urge you to compare the cutting tool released from Stampin' Up! Australia at the end of 2012. I just bought one and oh my, I am very happy with it. I'll tell you more about it.
Scroll to the bottom of the page to find out how to get one now!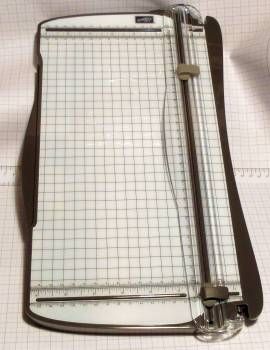 ---
A paper trimmer is one of those essential items when you are making your own cards or creating pages for a scrapbook album, or even when you are making three dimensional items where you need a lot of accuracy to make everything meet where it is supposed to.
Poor tools can really discourage you from making things.We don't want that.

That's why I like to have a good cutting and scoring tool on hand, anyway. I then have a fighting chance of turning out something I like, or can gift to someone.
Features of Good Paper Trimmers

So what are the features of a good paper trimmer?
By experimenting with a few different cutters, I now know I need mine to have the following characteristics:
Lightweight for taking to crops and classes, and even for personal crafting at home
Fits in a desk drawer or carry bag quite easily

At least 30.5 cm cutting length available to cover full sized scrapbook cardstock

Measures widths up to 39.4 cm for the same reason as above

Makes straight and precise cuts

Has a cutting and scoring blade handily available on the same tool and one does not get in the way of the other when not in use

Has a swing-out arm for easy measuring and compact storage

Durable, smooth surface on cutting platform marked for accurate measurement and marks will not rub/wear off with use over time

Replacement cutting blades easy to obtain
Both cutting and scoring mats under the runner (you just flip it to make it a cutting or scoring mat)

A place to store often-used tools underneath the cutter is a BONUS
Guess what? The Stampin' Up! Paper Cutter has ALL of these features and more Are you surprised and delighted? I was!

Stampin' Up! has made a video that explains even more about this amazing essential item that you might like to review. It shows the features I mentioned above and shows you how to use it as well:
So what do you think? Do you want to have one of these babies?
If you live in Australia, I can help! This great tool is featured on the shop at SusanSalutations if you want to order one.
If you live in one of another nine country, you might be pleasantly surprised to find a Stampin' Up demonstrator near you to order from. Search the Stampin' Up! site in your country to find out if products are available in your country.
The other countries where Stampin' Up! is already available are: USA, Canada, New Zealand, Germany, Austria, France, The Netherlands, the UK and Japan.


If you make lots of items requiring scoring, such as boxes, envelopes and bags, Stampin' Up! has scoring tools for you. Browse around and check them out too.
---
---