Scrapbook Journaling
Written and Created by PaperCraftCentral Susan

Do you have questions about scrapbook journaling? This project was all about what makes you happy.
"We all live with the objective of being happy;
our lives are all different and yet the same."
~Anne Frank
Happiness Is....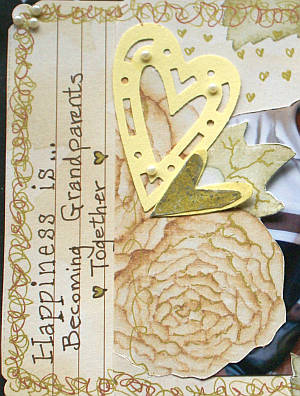 ---
Scrapbook Journaling Tips

Scrapbook Journaling provides a wonderful outlet to show how you feel about something. It also helps those who look at your album in years to come to understand more about what was happening when the photos were taken. It is a little door into someone's heart and history. Even reading something written in your own handwriting can make a page very special to people who love you.I personally cherish hand written letters and poems written by hand from my now departed ancestors.

Journaling doesn't have to be long or complicated. Sometimes less is more.

For this layout I wanted to show something that represented Happiness to me. In the last couple of years, I have become a grandparent, so it wasn't hard to decide what to scrap about. The picture was important, but the words I wanted to put down were what really mattered this time.
Because we are talking about the written word here, I am going to concentrate on the written aspects for this page now instead of the photo aspects.
The page reads "Happiness is becoming Grandparents together" and it includes a picture of my husband and I and one of our grandchildren. I wanted to highlight the feeling we have as grandparents so that is what I wrote about.
If you were scrapping about happiness and what it means to you, you could make your own quote up, as I did, or search for one that suits your own feelings about it. I often go to the web to find a suitable quote, or to my bookshelves for favourite author or, poets. You may have a favourite poem or part of a play or a song that says it all for you.It's amazing what quotes you can find by Googling the key idea for what you want to say. Try Googling 'love quotes' or 'grandparent quotes', for example.

Here's How I Wrote on the Page:
A scrapbook journaling box with plain lines on it was all I needed for the sentiment which I wrote freehand using an archival felt pen in a rich brown colour. I added this to the frame, then doodled around the edges with copper and gold archivally safe pens. I chose colours for both the text and the doodles that would coordinate with the designer series paper colours.
Writing for me includes freehand doodling. Next I used a paper punch to make the hearts and added a piece of designer series paper to the smaller heart, then used the gold pen to highlight it.
After adhering the hearts I picked out parts of the flowers and leaves on the designer series paper with gold pen. I added some little hearts freehand as well at the top of the photograph between my husband and I.
I added some pearls to the top left and bottom right corners and to the largest heart to balance it out and add interest.
Some Other Ways to Journal:
You can write words on the background paper of your layout, using it almost like a border for the page or for some of the photos

You could add hidden tags that slip behind photos or other elements to the page like tags and add an interactive element to your pages. My layout on the paper flowers page uses both a hidden tag and some writing around the circle element

You could write on any of the elements you use on your pages

Make a paper bag album and add your written stories, emails, love letters or other bulkier story telling items to the pockets
There are so many different ways to pour out your story or your heart! 
I think the act of scrapbook journaling brings the feeling apparent in the whole page into focus. Without the words, the photo would only tell part of the story.
Over to You

Do you use this method to value-add to your photos with your own words or quotes? Journaling does not have to be lengthy in order to be effective! I would love to see an example of a page that you have made where there is special meaning because of the words on it.
Do You Have Scrapbook Page to Share?
Please do share your scrapbook layouts and projects below.
---
---