Tiny White Flowers
Written and Created by PaperCraftCentral Susan

Tiny white flowers look so pretty on a card or scrapbook page. Here's how to make your own.
"Where flowers bloom so does hope."
~Lady Bird Johnson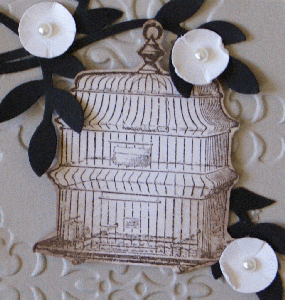 ---
A string of little blossoms can look ethereal, delicate, and definitely pretty, just as they do in the above elegant vintage scene inspired by Monica Gale.
You can spend a fortune buying such sweet little blooms at a shop, so why not learn how to make your own?
Then you can have as many as you want, whenever you want.
So let's get started.
How to Make Tiny White Flowers

All you need are a few basic supplies for these particular blooms.
I used all Stampin' Up! supplies for this project:
BasicWhite cardstock
The largest circles on the Stampin' Up! Owl punch (retired)
A flower shaping tool or round nosed container such as your Tombow Glue

Some mini glue dots
Pearls with sticky backs
Here's what to do:
First punch out some little circles. I used one layered flowers in one of my cards but two layers in another. Let's do the one layered ones first.
Take your flower shaping tool or any suitably rounded ended object such as a nice pen (one of my friends does that at card class!) or your Tombow Glue bottle nose and place the punched circle on your palm.
Shape the circle into a little cup, using the give in your palm and your preferred flower shaping tool.
Use a mini glue dot to affix the cup to your project.
Now add a single pearl to the cup, and voila. You have made your first bloom.
To make a two layered blossom:
Punch out two circles. Shape the first one as before.
Take the second circle and scrunch it up, crumpling and rolling it between your fingers till the fibres in the paper break down and you can separate the layers of the cardstock.

Turn one layer of peeled cardstock up and use it as the second cup for your little bloom. Adhere it with a mini glue dot, then fold and ruffle the edges to look like freshly opening petals.
Adhere a little pearl to the centre and it is done.
This method of adding a soft texture to paper is known as the Faux Suede Technique.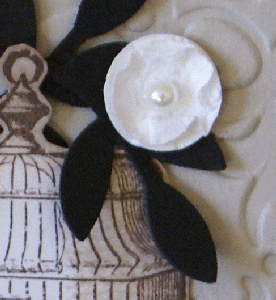 You can probably see how addictive making these tiny white flowers could become,  especially when you realise you can actually make them in ANY colour you want to! Lol!
Seriously, you can make quite a few blooms with few supplies and little time, so go ahead and adorn your project with sweet little blossoms today.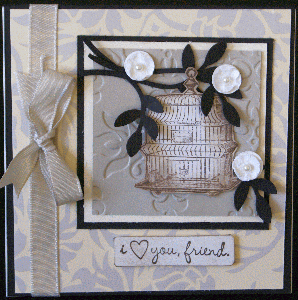 TIPS: Use another shaped punch, such as one with scalloped edges, to make your tiny flowers. Or make them square, heart shaped, triangular - any shape you want! Flowers on craft projects don't always have to be round. :)
Go to nature for inspiration. Google 'tiny white flowers' and see all the beautiful blossoms that come up in your search. You can often make flowers with basic punched shapes to mimic nature!
Want to grow some flowers in your garden so you have inspiration on your doorstep? Here are some suggestions for the best little flowers to plant.

---
Return from Tiny White Flowers to Paper Flowers | Return to PaperCraftCentral Home Page
---