September 2012 Challenge: Christmas Punch Art

Written and Created by PaperCraftCentral Susan

The September 2012 Challenge was all about punch art and maybe even making Christmas Cards for the Troops.
Sound a bit odd?
Well, the deadline for making Christmas Cards for the Aussie Troops was fast approaching, so I wanted to add a gentle reminder people could still contribute to the card drive if they wanted to, and give them a challenge at the same time.
Scroll down a bit further to see what I meant.
Oh, by the way....Did you know there are heaps of new ideas and supplies available all year round with the Stampin' Up! Ideas Book and Catalogue? Click on the catalogue image in the right hand column to go to the latest one and browse for ideas, or shop awhile!

Hmmm. I'm still not being very helpful about the requirements for the challenge, am I?
OK, here is the information you are probably looking for.
September 2012 Challenge Details:

I had been playing with some new punch art images lately. I needed some little boy birthday cards so came up with a Dragon and a Bug, both inspired by other lovely Stampin' Up! demonstrators.
I called the first one the Dragin' Dragon, and the second one the Punch Buggy: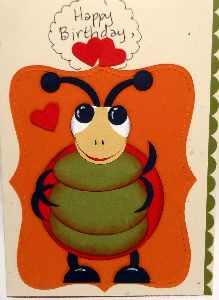 Is what I wanted you to do this month getting any clearer? No?
Alright I will stop teasing. Lol!

Here's my idea - combine some punch art or Big Shot die shapes  with Christmas and  create a project!
You could make a card, or a series of cards, a scrapbook page, a 3d papercraft idea, or even an ATC or two or three.
As long as it is made of paper and follows the requirements in bold above, it is allowed.
How to Make Paper Punch Images
I am constantly amazed by what you can create using simple circles, ovals and rectangles.
If you look at the above example images, you will see that most of the punched shapes are just circles and ovals, with an occasional novelty thrown in.
Oh I did use the Stampin' Up! Petite Pennants Builder Punch (NLA) to make the Dragin' Dragon's spikes, by the way, but the rest of him is simple shapes.
It was the same for the Punch Buggy. He is mainly circles and ovals with circle borders cut to size for the antennae, arms and legs.
When you want to make a new shape, you can study other people's projects and CASE them, or you can study actual pictures of things and work out the basic shapes that they are made of, then cut those shapes with your punches or dies.
Or you can just use an already designed punch or die set to create something you admire.

Make your September 2012 Challenge Project for a Cause:
If you want to make some punch art Christmas cards for the Aussie Troops, please do, but don't feel it is a requirement to do so for this month's creative challenge. I just want to make a way for you to have some fun with all of the ideas together.

You needed to upload your new Stampin' Up! Punch Art Christmas project using the form below by the end of October 2012.
Enjoy the September 2012 Challenge any time of year now and happy punching or die-cutting!
Submit Your Challenge Entry Here
Please do show me your entry for the Challenges, with a picture or two or three, and a few words about how you made your creations.
---
---