Using-Sketches-For-Cardmaking
Written and Created by PaperCraftCentral Susan

Using-Sketches-For-Cardmaking is a great way to get your mojo up and running again if yours has gone missing lately.
Definition: Card sketches have many other names and are also known as card layouts, card patterns, card templates and card maps. The basic principle of using a sketch is very simple and that is to provide card makers with a design layout for a card.
I find that after making loads of Christmas cards, it is sometimes hard to think of making a different type of card using not-so-Christmassy (read non-traditional) colours.
This year was no exception. I needed inspiration to make six birthday cards for some friends this month. So I made a sketch to inspire my cardmaking session. !
You can make sketches with pencil and paper, starting out with a scrap of paper the same size you want your finished project to be. That way you can get your measurements easily too. Just copy the design elements you draw and make them out of your true cardmaking materials.
You can cut out elements you want to use and lay them on your sketch without drawing them. If you want to keep a certain arrangement in mind, and you can also take a photo of it with your phone to refer back to.

You can get fancy, formal and accurate and use a computer program to make your sketches. Some people use Adobe Photo Elements or Paint. Even Microsoft Office Word has a drawing program.

I just drew this one kind of free-hand with a pencil and paper.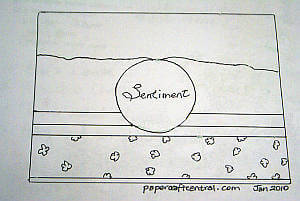 Now having a sketch is one thing, but how about inspiring yourself with colour? For this month, I challenged myself to use colours I don't normally use for birthday cards.
With that idea in mind, I consulted my sketch, then my colour wheel, then bravely winged it and decided to use some Stampin' Up! More Mustard ink (retired) to brayer onto the top of my card to correspond with the wavy line.
Next I selected some papers from the Stampin' Up! Patterns Pack II Designer Series Paper (retired). I made a grey paper ribbon and a yellow one and adhered them down in a similar place to the sketch lines. I added some faux stitching in Bravo Burgundy (retired) along the brayered edge.
NOTE: You don't have to slavishly follow a card sketch. It's there to inspire, not to imprison your poor little mojo! Use it as a jumping off point to make your card, and alter it as you see fit. You can even turn sketches upside down, make them landscape or portrait orientation and you can also make them a lot fancier. The idea is simply to help you get started cardmaking with a bit of a plan.

Now it was time to choose an image to carry my sentiment and add some interest. I picked out an intricate circle stamp and stamped three of them in More Mustard, Bravo Burgundy and Not Quite Navy. I stamped the sentiment in Not Quite Navy or Bravo Burgundy to make a contrast with the inner circle colour.
NOTE: If you would like to purchase any of the supplies I used here, you can search for current ones at my SusanSalutations online store, but only if you live in Australia. If you live in another country and know Stampin' Up! exists there, do contact your Demonstrator or go to the Stampin' Up! website in your country to search for a Demonstrator near you.
If products I used are retired, there are bound to be some new, up-to-date colours that could appeal to you instead. I am showing you a process on this page, not trying to keep all the products absolutely current as they do change with regularity!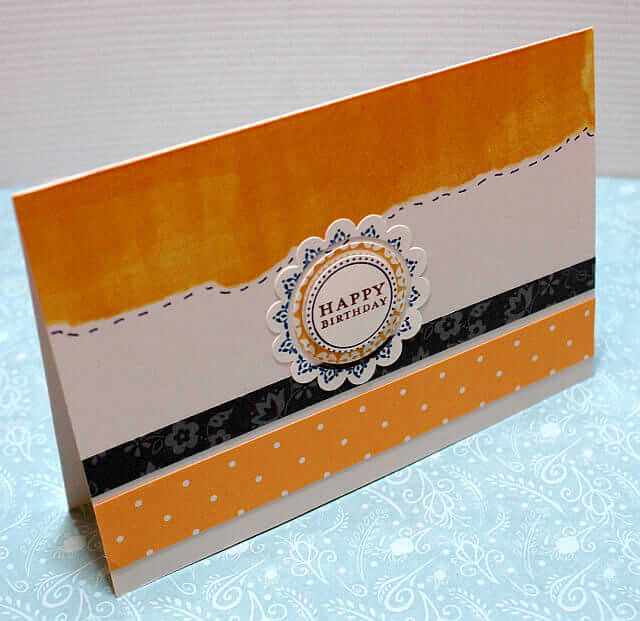 Now it's Your Turn to Create by Using-Sketches-For-Cardmaking
If you feel inspired to make a greeting using any of my suggestions, I sure would love to see your project. I would especially love to know if you make a card using my example sketch. Maybe you stepped it up and made it more fancy, or you changed the orientation. Maybe you used Designer Series Paper instead of the plain ink colours I used.
Maybe you make your own card sketches and would like to show us how you made a card using one of them.

However you have been Using-Sketches-For-Cardmaking, please do take a photo and add your card here, or show me a sketch of your own and a card you have made from it. :
Do You Have A Favourite Handmade Card to Share?
Do you make greeting cards? Please do share it with me.
More Ideas about  Using-Sketches-For-Cardmaking

Using-Sketches-For-Cardmaking does not mean you have to create your own. You can Google to find many sites where there are card sketches galore.
Sketches for Scrapbooking can also be easily found.
Or why not get together with crafty friends and challenge each other to make a sketch that can be shared in your group? You could create a challenge within your team or craft community to make cards using each other's sketches!
---
---