Acetate Cards
by Ronell
(South Africa)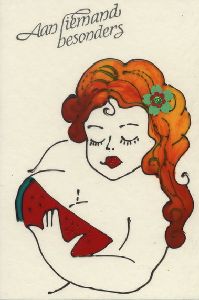 For Someone Special
Good afternoon Susan

Just a short note. About 8 years ago I made 1000+ acetate cards. They started off as Fat Ladies cards and eventually - just ladies. Here are only 4 of the many different once I made. The English ones were all given away after the markets.

That's why I can't post any of these cards to you. They are all in Afrikaans and there are no blank card left. Fun to make and I have +-200 left. So teachers etc. still receive them from me.

Have a lovely day
Regards
Ronell


*****************************
Good afternoon, Ronell
I am so impressed, first that you made 1000+ cards, and then that you seem to have made each one differently! Did you put the image on acrylic and colour it, then attach it to your card base? I have not tried too many cards like that. Did you use Copics to colour the images? Did you draw the images yourself or are they stamped?
I always have so many questions about your cards :)
The only acetate card I have on PaperCraftCentral is at the bottom of
this page
. I made it to celebrate my daughter's engagement a few years ago. I used
hand made rubons
on that.
Your women remind me a little of my punch art
Hearty Ladies
too.
I gather that you made your cards to sell at a market stall? That is something I have often thought of doing but I seem to give all of my cards away so they do not seem to add up to many over time.
How convenient to have 200+ cards in your stash, all ready and waiting to be given away. I love that idea too.
Thank you for sending me your cards, Ronell. I do love to see what you are making :)
You have a lovely day too.
Susan
https://www.papercraftcentral.com
PS:
I took the liberty of using Google Translator to find out what your greetings said so I could put them in the image titles.