Baby Boy Photo Album
Written and Created by PaperCraftCentral Susan

Here's a  Baby Boy Photo Album that is really an off-the-page wonder!
"To be in your child's memories tomorrow,
be in his life today"
~Anonymous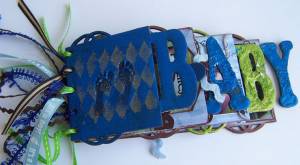 ---
A wonderful scrapping friend of mine, Tanyah Payne, sent me a series of pictures of the most adorable baby boy photo album she created. Here is what she said in her email:
"Hi Susan
Here is a Off The Page (OTP) album I did up of my nephew of his first few weeks. I have double embossed using opals /stamps on the front cover and for the letters 'b' 'a' 'b' 'y' I have used opals and a foil technique that I have a step by step of on my blog (the link is below).
Kind regards
Tanyah Payne"

In the first picture, you can see how the word 'baby' is spelled out in chipboard letters. Each page gets gradually longer as you work through the book. Albums like this don't have to be very big to contain some very special memories and photos. Journaling about baby is one of the best ways to preserve memories of their early days, ones that a young infant could probably not remember without such prompts.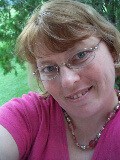 You may enjoy these ideas for making your own scrapbook.
Tanyah is well-known in the scrapping world and has been published in various paper craft magazines. Here is what she says about her scrapping on her blog:
"Scrapbooking has been a big part of my life for the past 5 years
I enjoy to be creative and share with my friends & Family.
I have been fortunate to have a few layouts published and Off the Page projects in scrapbooking memories and have an honourable mention in 2007 Masters.
You will find most of my scrapbooking comes from the inspiration of my family and friends. My children are my main focus in my scrapbook pages.
I am passionate about my scrapbooking and also helping my fellow scrapbookers gain skills and techniques to help with their pages.
My other passion is designing products and my aim is to hopefully have my own design label in the future."
Isn't she wonderful? I count it a great privilege to be given some fantastic examples of Tanyah's work to share with you!
You can see Tanyah has chosen lots of ribbons, chipboard elements, frames and rub ons to decorate her pages.

Baby Boy Photo Album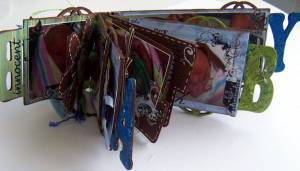 Tanyah's work is so different to my own, and she sent me such beautiful pictures, with her permission I just had to share them with you. Isn't this an adorable album?
Tanyah sent me a picture of a cute detail of the little feet on the front cover: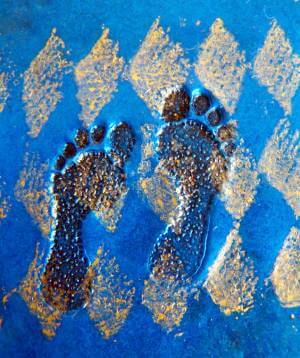 You could make a similar footprint with your own baby's foot and plaster of Paris or even perhaps with a modeling clay that hardens. It would probably have to be a bit thin though to add to your album. And you would have to be sure it would not harm your baby's feet.
I believe there are kits available to create moulds of a baby's foot or hand, made with safe materials for doing so.

Another idea is to use a tiny foot rubber stamp and create a faux metal element. Even if it isn't of your own baby's foot, such a detail can remind people of the smallness of a newborn. Perhaps you could record the size f your baby's hands or feet in one of your journaling elements.

Tanyah uses a technique with opal powders that she describes on her blog ScrapNCraft with T. She also used a foiling technique to make the monograms spelling out the word 'Baby'.
Here's a detailed image of one of the letters: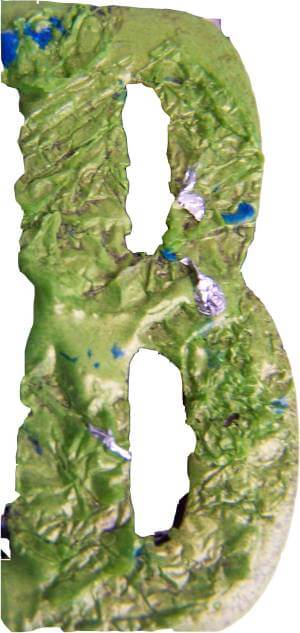 You can see what texture the opal powders create, and how three dimensional the letter looks. I personally have not used opal embossing powders so it is good to see what Tanyah has done with them.

And here is a picture of the entire project altogether: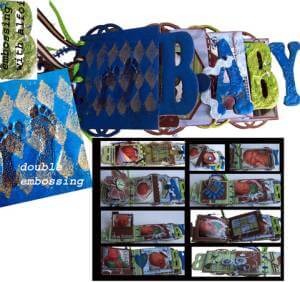 Tanyah said she used double heat embossing on the diamonds for the front cover. You could also use a stencil or die cut to add a raised shape with embossing paste, then add ink or embossing powder on top of the dried paste.

I so appreciate Tanyah agreeing to share her project with us here on PaperCraftCentral.com
Thank you, my friend.
I hope this idea has inspired you to make an album for a new baby in your life. Like Tanyah, you could make one for your newest niece or nephew, or create one for your own child or grandchild. It is sure to be a special project that baby can look back on as they grow up!
For more scrapbook and card ideas, you could try some of these projects or maybe an idea on one of these pages will spark you to create:
---
Return from Baby Boy Photo Album to Scrapbooking |Return to PaperCraft Central Home Page
---