Card Spinners
Card spinners add a lot of interest to a card and are so easy to make!


"If you love someone,
put their name in a circle; because hearts can be broken,
but circles never end."
~Karen Amanda Hooper, Grasping at Eternity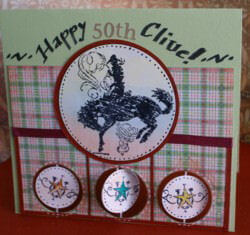 ---
I had a 50th birthday card to make for a friend, and this card came together pretty quickly once I remembered the spinner idea. I already knew I wanted to make a bucking bronco card for my friend as he was having a cowboy birthday party, and the spinners 'git' right in with that theme in my own head!
Oh and these cards are also called Suspension Cards.
Here's what I used:
Stampin' Up! 'Bronc Buster' stamp set (retired)
Certainly Celery & glossy white cardstock
Black Stazon ink
White, copper, gold and green gel pens
Rust coloured cardstock
Ink spot pads in cocoa, lemon yellow and green
Dental floss
Double sided tape
Black calligrapher's pen and black fine felt tipped pen
Gold letter stickers
Designer series paper of choice
Two circle punch
Step-by-step instructions for making Card Spinners:
You don't have to use the particular paper punches I used to make your spinners but do make sure you have circle punches that allow you to make two different sized circles that are not too different in size for layering them together
Decide on your topper paper and punch your largest hole in the paper where you want to put a spinner
Now lay this topper cardstock on your card blank front where you want the holes to be. Pencil in the circles so you will know where to punch next
Punch the holes in the front of your card blank
Stamp the images you want to make into spinners, front and back. (You will need two of each image)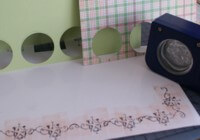 Now colour in your spinners and punch them out
Get out the double sided tape
Place tape at the top and bottom of the holes on your card front, and then to the back of one of the spinner pairs. Place the tape horizontally across the circles instead of vertically. You will want the tape to catch the floss you are going to apply next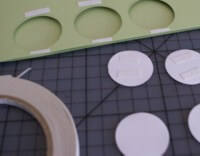 Take out the dental floss and cut enough to fit across the larger circles you punched in the card front. Stick down the floss vertically as shown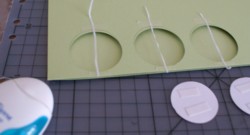 Carefully place the spinner pairs behind and in front of the floss so they align well
Now cover the front of the card with your punched designer paper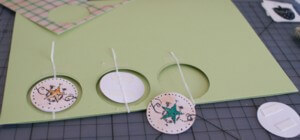 Go ahead and finish your card!

Other things to try
Try just using one spinner cut out with larger punches so it will be a real stand-out feature
Use other objects than cardstock to layer as spinners - try stickers, light chipboard, cardboard, etc
Use clear plastic as a spinner, and sandwich other flattish objects in between such as dried flowers, glitter, small buttons etc
Try using other shapes than circles. Three little hearts would look lovely on a Valentine's Day card for example.
Enjoy making your Card Spinners!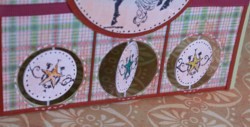 ---
Return from Card Spinners to Card Making | Return to PaperCraftCentral's Home Page
---