Cherry Blossom Time
by Vanessa
(Atherton, Queensland, Australia)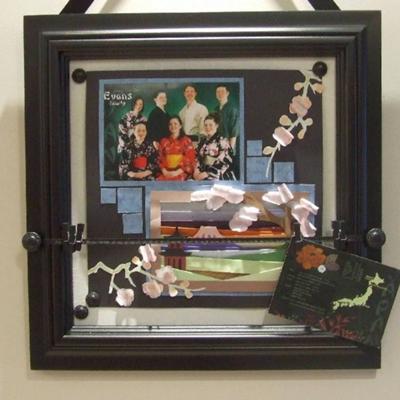 Japanese Themed Display
Hi Susan

I made a special layout to show off a friend's family photo from Japan. I made the flowers look like cherry blossoms on branches by hand cutting the branches and shaping the punched paper flowers. I think the magnetic frame really sets it off.

What do you think?

Vanessa
*************************************************

Vanessa thank you so much for uploading your page.

What a beautiful photo and how cleverly you have made the paper flowers. You picked up on the kimono flowers with your cherry blossoms, didn't you? I think you must have curled your flower shapes around something like a pencil to make them a bit frilly and delicate. Very nice.

I absolutely love the little Japanese scene you made under the photo. The crossed papers add depth to your Mt Fuji scene.

The small squares of paper look distressed, which makes them look more like rice paper. I like.

You are so right about the lovely dark frame really setting the image off. I like how you pegged a journaling card on the line across the photo too.

I hope you will share some more of your pages with us soon :)

Happy Scrapping
Susan

PS: You may enjoy trying these flowers out one day:

Join in and write your own page! It's easy to do. How? Simply click here to return to Do You Have A Paper Flower Idea To Share?.