Retro Layout
Written and Created by PaperCraftCentral Susan

This retro layout also features a sponged background and a way to make paper flowers
"Retro: Involving, relating to, or reminiscent of things past; retrospective"
~American Heritage Dictionary

This retro layout has been made using a very old photograph that was printed in sepia. I had been thinking about creating a layout with it for a long time as I was not sure how I wanted to scrap it, or even if I was brave enough to do so, but one day I laid a piece of my Soft Suede cardstock alongside it and it seemed so right, I was encouraged to take the next steps.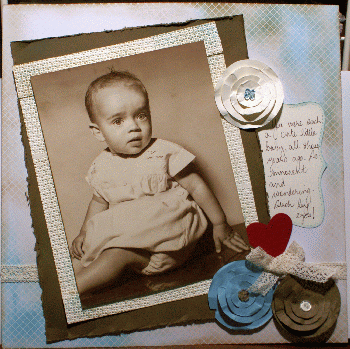 ---
---
How I Made my Retro Layout

It can be daunting to scrap older original photographs yet so satisfying if you make something that pleases you. I finally decided I could wait till the last minute to adhere the photo down if I went ahead and created a background for it, and I could also scan and reprint the photo if I decided I still didn't have the heart to adhere it to the page. There are always options in papercrafting, and that is something I love about this hobby.
I decided the frame needed to have texture for this picture. I ran some Very Vanilla cardstock through my Big Shot with the Square Lattice Textures Impressions embossing folder. (This embossing folder is now unfortunately retired. It was a favourite of mine). I trimmed it into strips of paper to form a frame which I then sponged with Marina Mist and Soft Suede inks.
I distressed the edges of my Soft Suede cardstock and bent it around a little.
Then I found some Whisper White designer series paper that had been heat embossed in a diagonal pattern. I used my sponges and inks to make the background pop and seem weathered.I used Soft Suede and, since this was a photo of a little boy, Marina Mist ink. Pink would have worked wonderfully with the subtle colours in the photo but I just couldn't choose pink. Perhaps I could have used Crisp Cantaloupe (retired) or another peachy though? Oh well. I chose the blues instead.

Then I wanted to make some tattered flowers that were still simple, like the background and the photo. I didn't want to overwhelm that photo. So I took some graduated circles cut from both Marina Mist and Very Vanilla cardstock by my Big Shot machine and scrunched and distressed each circle.
Then I stacked the circles together to make the flowers, ruffling them up till I liked the look and sticking the layers together with mini glue dots.
I finished the middles of the flowers off with some stamped and punched mini Itty Bitty shapes and their matching buttons (both now retired).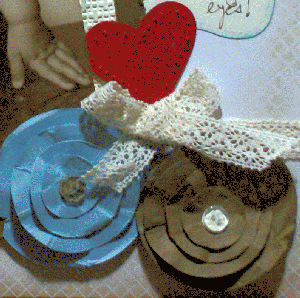 You can see I finished the main embellishment off by punching and paper piercing a heart and finding some Chantilly Lace (retired) to tie into a sweet little bow. The journalling block was cut with the Big Shot using the Top Note die, (retired) then sponged.
I was happy with my retro layout in the end. I hope you agree that the photo has not been overwhelmed. I wanted it to be the main focus of the page and think that happened, happily!
Stepping It Up

On reflection, I might add another smaller heart to the red one, to make the red stand out less. I think I need to emboss it too and will probably make it out of that embossed Whisper White and grunge it up a little with some Soft Suede ink. I would also add some retro embellishments to the joins in the frame. I think I may have some little bronze metal embellishments that might work.
What do you think? Should I do that?

---
Return from Retro Layout to Scrapbooking | Return to How to Make Paper Flowers | Return to PaperCraftCentral Home Page
---