Easy Chocolate Pudding
Written and Created by PaperCraftCentral Susan

Make a last minute easy chocolate pudding gifts for Christmas, or change the colours and make a special treat for any occasion - pink hearts for Valentine's Day, a sugar flower or jelly bean for a birthday, sprinkles in any colour to suit the day. You are only limited by your imagination for decorating possibilities.
Don't forget to package your treats in wonderful handmade papercraft wrappings. Try a cellophane bag and a bag topper.
"There's nothing better than a good friend, except a good friend with chocolate.
~LindaGrayson, The Pickwick Papers"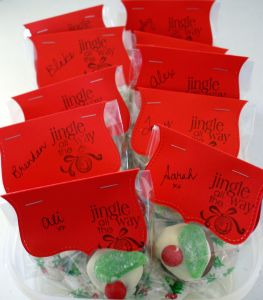 ---
Easy Chocolate Puddings for Christmas or any other special occasion are quick and simple to make at home. You won't believe how quick these are to make. And they look wonderful, all packaged up in cellophane with a decorated bag topper.
I made some of these at the last minute for a Christmas event.
There's a place to upload pictures of your own special treats at the bottom of the page. Scroll down to see. I hope you will show me your variations on decorating these for different occasions.
How to Make Easy Chocolate Pudding Treats

Here's what you need to make 12 Favors:
A package of 12 Chocolate Royale biscuits/cookies, but any chocolate covered marshmallow cookie with a biscuit/cookie base will do (Chocolate Royales are found in Australian supermarkets)
About 4 tablespoons of white chocolate melts
12 x Jaffa lollies (again, these are Australian. You could use maraschino cherries, halved, or any round red candy that looks like a cherry)
12 x Spearmint leaf lollies (yep, Australian, though they may be harder to find these days. I heard Allens stopped making them! Use green coloured jellies or perhaps some strips of angelica instead to make them look like leaves)
A snap lock bag and a pair of sharp scissors
Here's what to do:
Place the biscuits out on a cookie sheet or some baking (parchment) paper leaving a little space between each.
Take out the lollies so they are within reach of the cookies. You will need to work quickly.
Place the white chocolate in a microwave safe bowl and melt it in 20 second bursts, stirring between heatings. Only melt till it is smooth enough to pour or spoon into a bag.
Spoon the melted chocolate into the plastic zip lock bag. Snip one corner of the bag with the sharp scissors and use the bag to squeeze the melted goodness onto the top of each cookie. Allow it to run down the sides of the biscuit a little so it does look like custard. (If you need more hints or tips about how to cook with chocolate, go see my friend Angie at Chocolate Candy Mall)
Quickly take a Jaffa and hold it on the custard on top of a cookie. Only let go of it when you can feel it will not slide off. Quickly add a spearmint leaf and hold it there too till it is safely anchored
Place the completed puddings into the refrigerator to set.
While the puddings are firming in the refrigerator, eat some of the leftover lollies and die cut some bag toppers with your Big Shot (I used the now retired Top Note die but you could use circles, ovals or squares too, as long as they can be folded in half and fit the top of your cellophane bags) out of cardstock and decorate them as you wish.
I added each recipient's name to the topper. Then add one or two decorated biscuits to a small cellophane bag and staple it closed with your topper.
Now you have your Easy Chocolate Puddings all ready to give as special favours.
Let me see how yours turn out when you make them by adding them below.
PS: Keep them away from other goodie lovers around you. They can disappear fast!
PPS: If you need some more recipes for things to put in your decorative boxes and containers, see my Chocolate Favor Recipe board on Pintrest.
Do You Have A 3-d PaperCraft Project To Share?
Do you make 3-d PaperCraft items? I'd love to see your work. Please do share below.
---
---