google.com, pub-5059501654592326, DIRECT, f08c47fec0942fa0
Eliminating a crease on folded cardstock
by Monica
(Cincinnati. Ohio, USA)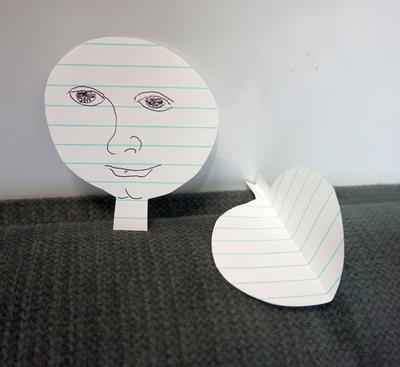 Cut two pieces the same, one with a face.
I have a card stock pop up: full stand up figure, in a homemade book. The figure is folded right down the middle and is glued across the two open pages to stand upright when the book opens.

Although I need the card stock to fold, or at least gently curve closed so as to close the book, I wish the face of the figure would not crease so rigidly.

Is there something I can put on the back of the card stock that would allow the face to fold in half without the crease? A line of rubber cement?

On the front of the card stock I glued a face (printed on a regular sheet of paper). That also has been creasing rigidly, although I hope it will not if I deal with the card stock crease.

Any suggestions would be so appreciated!