Embossing or Stamping paper flowers
by Tanyah Payne
(Lismore , Australia)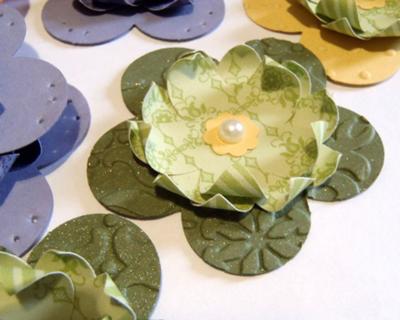 Punched, embossed, and shimmer paint sprayed flowers
I love embossing paper flowers using my embossing folders. They turn out awesome and also you can use a little extra ink gently over the embossed parts to highlight.....
Also Stamping and embossing onto your paper flowers can bring a unique touch and give a wow look!
Tanyah
*****************************
What great ideas for making unique embellishments, Tanyah! You could use your own sentiment stamps to really personalise a card or scrapbook layout with this idea. I had to try some of your ideas out right away.
I had this vision of running a really large flower through the Big Shot machine and coming up with a beautifully textured one, but it would work for smaller flowers too I was sure. In fact, I embossed my cardstock before punching shapes from the one I pictured above, and then I sprayed them with alcohol diluted shimmer paint. It worked very well. I have since stamped on my flower shapes and inked them too but haven't taken photos yet.
Thank you for sharing these fantastic ideas with us. If you have photos of any altered flowers you have made, I would love to see them one day :)
Susan
PS:
You may also enjoy making these types of paper flowers: