Fathers Day Greeting 2
Written and Created by PaperCraftCentral Susan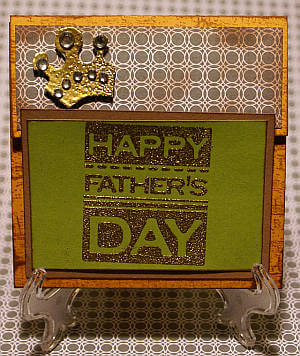 How to make the Fathers Day Greeting 2 card

This Fathers Day Greeting 2 card is made using the same template mentioned in Paper Twists issue 4. It follows the same basic format except the whole card is smaller so the stamped sentiment looks larger, and I made an embossed gold crown to use as an embellishment.
First I made my card base. Then I distressed my background cardstock with Crumb Cake ink by dragging the ink pad across the surface.

Then I drew the crown using a Versamark Pen and heat embossed my crown image in gold embossing powder. Then I took my paper snips and carefully cut it out close to the embossed image line.
I distressed my designer series paper a little with a sponge dauber and some Crumb Cake ink before adhering it to my card front. Then I popped my completed crown up with some Stampin' Dimensionals so it would cast a small shadow and create a focal point.

The crown is blinged up with Kaiser crystals. I was really tickled to be able to find an excuse to use bling on a masculine card! There must be other ways to add bling. We shall have to explore them. I think a glossed image like a fish would require a little bling along its side, perhaps. Now I am imagining a funny face with a gold tooth which could have a crystal set in it. Oh, stop me! Lol!

If you have trouble drawing a crown, do use a stamped image, or trace around a crown shape in a colouring book, or cut one from a magazine and place it on cardstock or on some cardboard cut from a cereal packet, (full points for using a recyclable product or two!) and decorate it how you would like. There are some cute chipboard shapes that may be suitable as well in the craft shops. You could paint or spray the chipboard with a glittery or metallic paint and still add your bling. Of course, you can also emboss chipboard.
I heat embossed my stamped sentiment in gold as well. The black line you can behind the sentiment layers see is the flap for this card. The sentiment layer acts as the anchor for the flap.
I filled the envelope inside this Fathers Day 2 card with handmade tickets that I made out as vouchers. One said I would cook a favourite treat for my Dad, and another one said I would vacuum his car, and so on. You will know what your Dad would like to see in the card you give him.  Maybe add a gift card as well to allow him to buy something from his favourite fishing and camping or hardware store, whatever his hobby is.

I think this card winds up being as unique as the crafter who makes it!
---
Return from Fathers Day Greeting 2 to PaperCraftCentral Home Page