Romantic Ideas
Written and Created by PaperCraftCentral Susan

Want some Romantic Ideas for a chipboard scrapbook album?
"I love you - those three words have my life in them."
~ by Alexandrea to Nicholas III 

Are you looking for something to make for your special someone this Valentine's Day?
Is there a special anniversary you would like to commemorate?
Do you just want to tell someone you love them?
This idea is one I used to celebrate Valentine's day with my hubby. It is a special day for us because that was the first day we ever went out together.
Your special day may be another time of the year, of course, but this idea will work for any date.
I like this project as it is a masculine one. You can use other embellishments than flowers and lace and still please your romantic partner!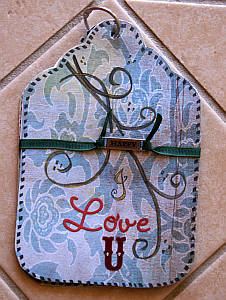 ---
Romantic Ideas Using a Chipboard Scrapbook Album
I found a chipboard tag album that I could add to or remove pages from. It was held together with a bookbinding ring and was in its 'raw' state, ready for me to decorate as I wanted.
You can probably find one of these in a craft store near you, or online.
They come in lots of different shapes as well.
Or use an Art Journal and just add to the pages as the events you want to remember unfold.
Then I thought about a photo my hubby and I had taken when we were holidaying at a special spot for us, where we had had lots of fun. I used that as my main front page.
Then I made up the words that I put on the album cover with a view to making my sweetie laugh. Making each other laugh is something that keeps the romance alive for us!
I added paper, velvet lettering, ribbon, and a thin metal key. You can see that I wound up with quite a colourful page for the album. And yes, he did laugh! Lol!
Inside the album, I placed more photos and some hidden tags that listed five things I love about my man.
The words on the tags are a little private, naturally, so I haven't put any of the tags up to show you. I hope you understand.
Scroll down to the bottom of the page to see a sneak peak of the pages though.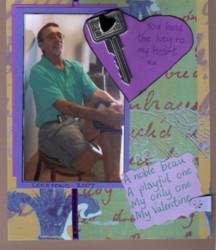 So that's one of my romantic ideas.
You could customise a similar album to suit your own relationship and any special occasions.
The beauty of this chipboard album is that I can now add a page for each Valentine's Day, for each anniversary or special holiday we take.
I can easily add more pages, tickets, souvenirs from restaurants or motels, maps and small pieces of ephemera as well, as the album will take pages that are not smooth and flat.
It should last us a few years before the ring can't take any more pages, then I will start another one.

I really like that this has become a special album I can add to each year.
I hope this gives you some romantic ideas for how to make some special chipboard albums of your own.
Remember you can always include a handmade Valentines Day card or a handmade chocolate heart box as part of your gift or series of surprises for your sweetie.
Show me your Album
If you are a romantic at heart and make special pages or albums for the special people in your life, I would love to see them.
Please tell me a little story about your project and include up to four pictures.
Happy crafting!

Do You Have Scrapbook Page to Share?
Please do share your scrapbook layouts and projects below.
What Other Visitors Have Said
Click below to see contributions from other visitors to this page...

How do I make a Family Tree Scrapbook

Hello I want to make a family tree scrapbook but don't know how to start. I want to include both my parent's sides of the family. All I can think of …
How do you make a scrapbook without too many pictures

I would love to make a scrapbook for my boyfriend for our first Christmas together. The only problem is, neither of us take many photos so I have a limited …
---
---