What is a Rub On
What is a Rub On?
"Here's a way to add pizazz to your pages without using any glue!"
~Susan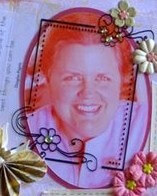 ---
It is a form of sticker, transfer or decal that you can place anywhere you like on your paper craft projects. They can be found in most scrapbooking or craft stores. Unlike stickers, rub-ons usually do not have a peel off top and a sticky back, however. They are usually printed on the 'wrong side' of a piece of smooth, clear acetate.
I used a frame one for the photo above. It was easy to apply right over the photo.

What is a Rub On Used For?

The print in itself is a little sticky so the rub ons will be resting on a non stick backing sheet when you buy them. Keep them on the backing sheet till you are ready to use them, then carefully cut away the one you want to use at the time. Leave the backing sheet intact to continue protecting the other rub ons for you.
When you want to use one of the words or graphics, simply and carefully cut around that image and remove it from the backing sheet. It is then very easy to apply pressure to the 'right' side of the acetate to encourage the words or graphics to adhere to another surface.
The way to apply this type of decal is to use a firm, smooth pressure with something like a clean, dry, Popsicle stick or your bone folder to rub the words or pictures on to the surface you want them to appear on.
You can apply them to flat paper, cardboard, plastic, smooth wood surfaces, anywhere that is smooth, hard and relatively non-porous.
I used some on a hard plastic chocolate box that I decorated inside with tissue paper.

I advise you to be careful when using Rub Ons as they are delicate. It often takes very little pressure to make them adhere to another surface. Some can be harder to adhere than others. I sometimes find white ones harder to adhere than black ones, for example, so do be sure to check that all of the image has been applied before you totally remove the acetate. Just lift a corner of it to see if any of the image is still attached to the acetate, and replace it exactly where it was for more rubbing if need be.
Here's a final example of how to use them below. I added some little alphabet layers to the background here.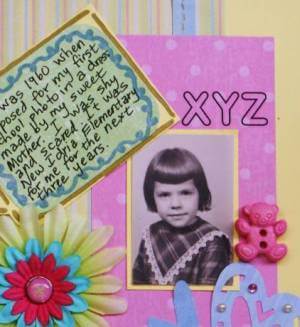 I wrote a page showing more about what is a rub on and how to them if you want to explore some more.
---
Return from What is a Rub On to Ask Susan | Return to PaperCraftCentral Home Page
---