World Cardmaking Day

Written and Created by PaperCraftCentral Susan

World Cardmaking Day is a day to celebrate handmade card making!

"Keep Calm and Make A Card"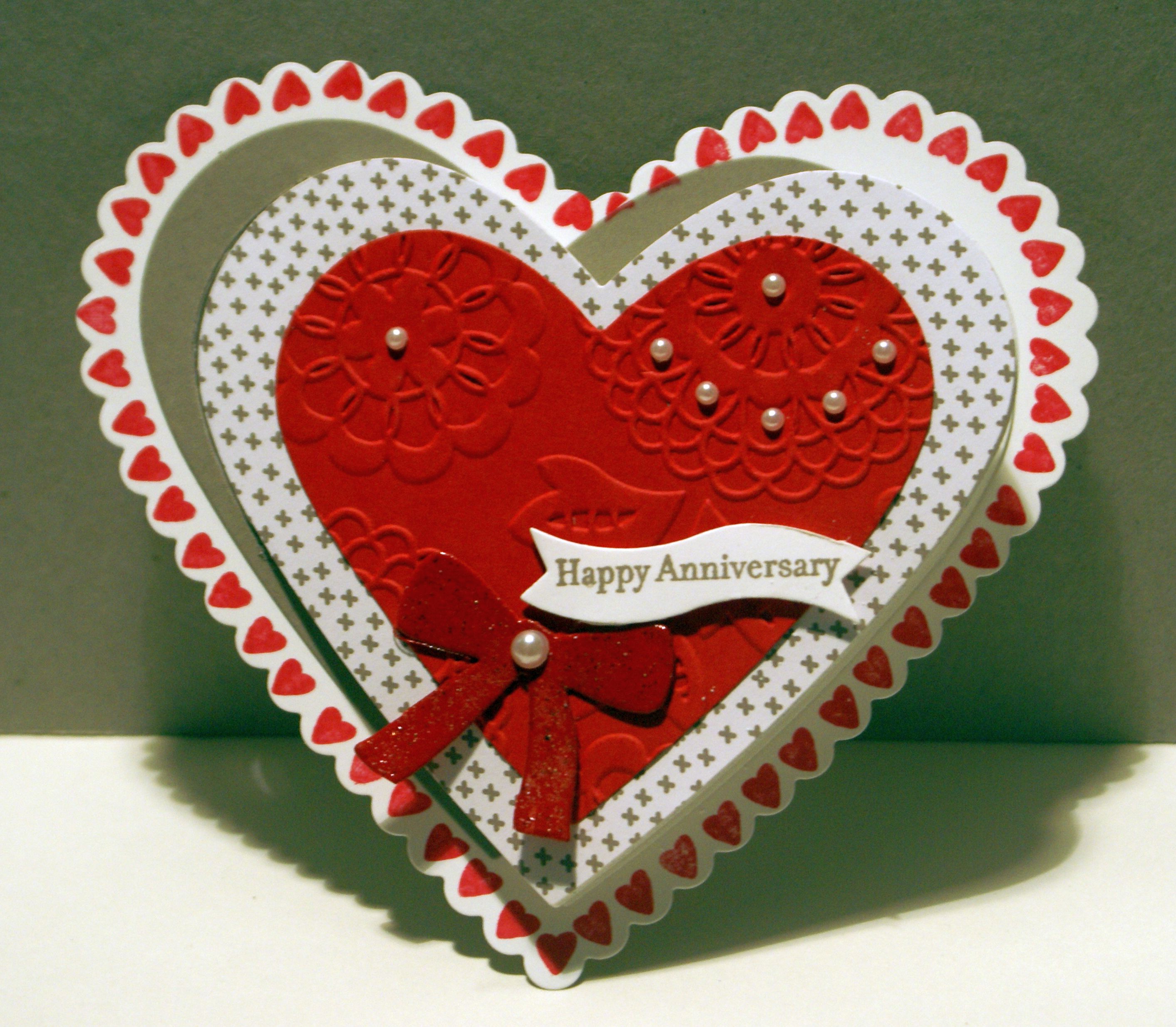 ---
---
What is World Cardmaking Day?

World Cardmaking Day has some interesting beginnings. It was said to have been started by Paper Crafts magazine on October 7th, 2006 and was originally just for subscribers to their magazine. They were pleasantly surprised by the response of so many and it quickly became a holiday for all card makers from then on. A company called Two Peas which is no longer operating had a group of people who made the first challenges. Sandy Allnock, crafter extraordinaire, was a member of that group and explains more about the history of the day.

However it started, WCMD is now  celebrated every October, the first Saturday and/or Sunday of the month.

It is a day dedicated to the making of hand made cards. A store bought card just doesn't have the same love and care behind it as a personally made, customised greeting card.
When I make a special card for someone, every choice and element is made with the thought of that person in my mind. I love that part about card making.
It's also a great time to start making Christmas cards!


Celebrating this day can be done is so many ways. You can make a card just on your own, at your own craft desk. That can be satisfying, can't it?
If you would rather socialise and celebrate with special friends and food, why not invite people to an event at your own home? Crafty friends can bring their own tools and supplies to work on and share the day with you. Have a party! Like these penguins! I used the Confetti punch in the background. That sounds like a party punch to me

If you have few crafty friends or they live too far from you to come on over, look for special events organised and held by people like Stampin' Up! demonstrators near you. Many demonstrators hold special events like Stamp-A-Stacks on this holiday. A Stamp-A-Stack is when you get to make three or four cards of one design, and you may make 12 to 20 cards in a day. The demonstrator supplies all the makings and the design ideas. It's a great way to come away with a stack of cards for your stash.
What Should I Make?

This time of year is always a good time to get together some Christmas cards. Many Stamp-A-Stacks are based around a Christmas theme for that reason.

There are other holidays celebrated in different countries in October, however. You could make Thanksgiving or Hallowe'en cards, for example, or consider this list for making cards for friends from around the world:
Armed Forces Day: South Korea.
Goodwill Day: Namibia.
Independence Day: Cyprus, Nigeria, Tuvalu.
National Day: Botswana.
National Day: China.
The official reception and celebration are held in the Great Hall of the People while various kinds of performances and operas are shown at all theatres.
Unification Day: Cameroon.
United Nations Day: Barbados.
It is my wedding anniversary in October so I never have any trouble thinking of a card that I want to spend time on to make for our special day. Of course, there are also birthdays and weddings and all the events of our lives that happen in October, too!
However you celebrate and whatever you make, have a great day celebrating World Cardmaking Day. Let me know how you do it by leaving a comment below

World Cardmaking Day 2017

Did you make a card this year? I was in my caravan traveling and came across a lovely sketch idea I wanted to try out. I needed some birthday cards so that is what I made with the sketch. The first one was a birthday card using my Balloon Celebration stamp set from Stampin' Up! and some masking: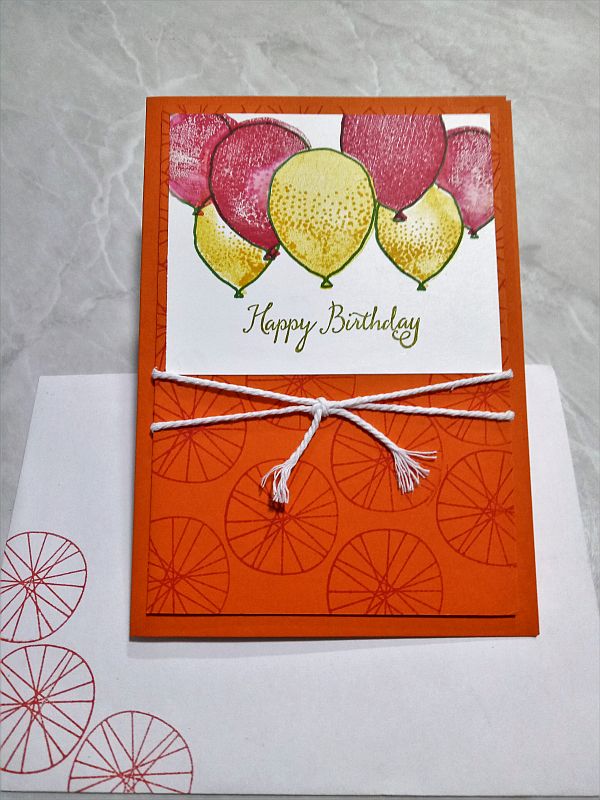 The next card was made using the same card sketch with the Dragonfly Dreams stamp set and some copper embossing powder (heat embossing):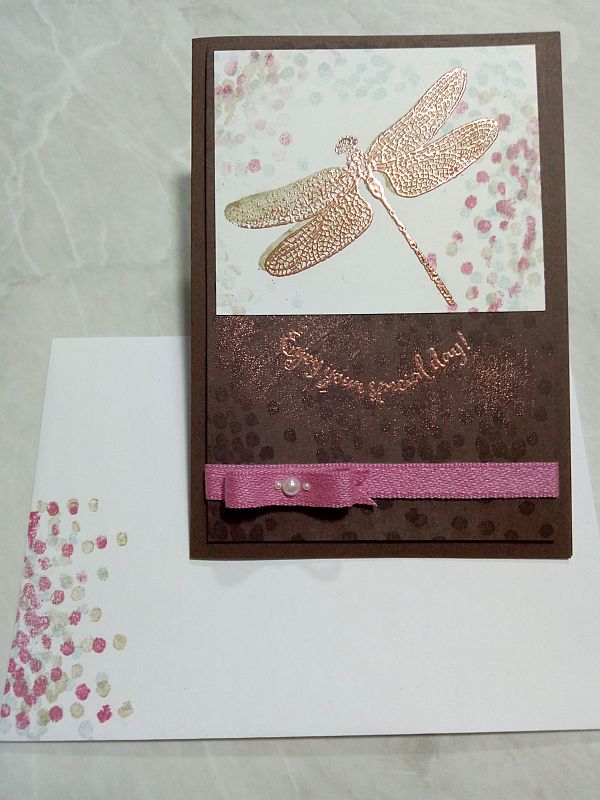 Finally I got out my In The City stamp set and created this one by using some heat embossing (silver embossing powder) and the Softly Falling embossing folder (dry embossing)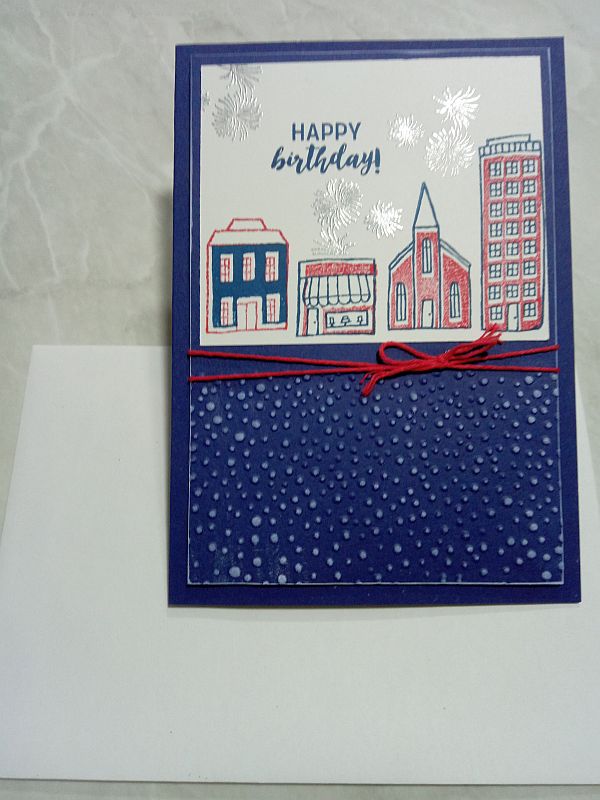 Didn't they all turn out differently? You could use any stamp set or occasion with this sketch, even if your stamped image was very large. You could always use a partial image on the feature spot of your card.
I might make some Christmas cards with this sketch now too. They were fast and easy to whip up, which might also be what you are looking for this year?
However you celebrated WCMD, I hope you had a great time. Next year's special day will roll around on October 7th, so maybe you can join in then too!
Happy crafting!

---
Return from World Cardmaking Day to Special Occasions/Holidays | Return to PaperCraftCentral Home Page

---