World Cardmaking Day

Written and Created by PaperCraftCentral Susan

World Cardmaking Day is a day to celebrate handmade card making!

"Keep Calm and Make A Card"
World Cardmaking Day 2023
It's almost World Cardmaking Day! We're getting very close to it now for this year it falls on Saturday October 7th,
Have you decided to hold a special event that day, or to attend one? There are plans afoot from all over for how to celebrate.
The most important thing is to make a card that day, of course. You can do that with friends or at your own craft desk.
It might be time to introduce a friend to the wonderful world of cardmaking. Can you think of anyone you would like to do that for?
I hope you enjoy the day, however you celebrate World Cardmaking Day this year.

World Cardmaking Day 2022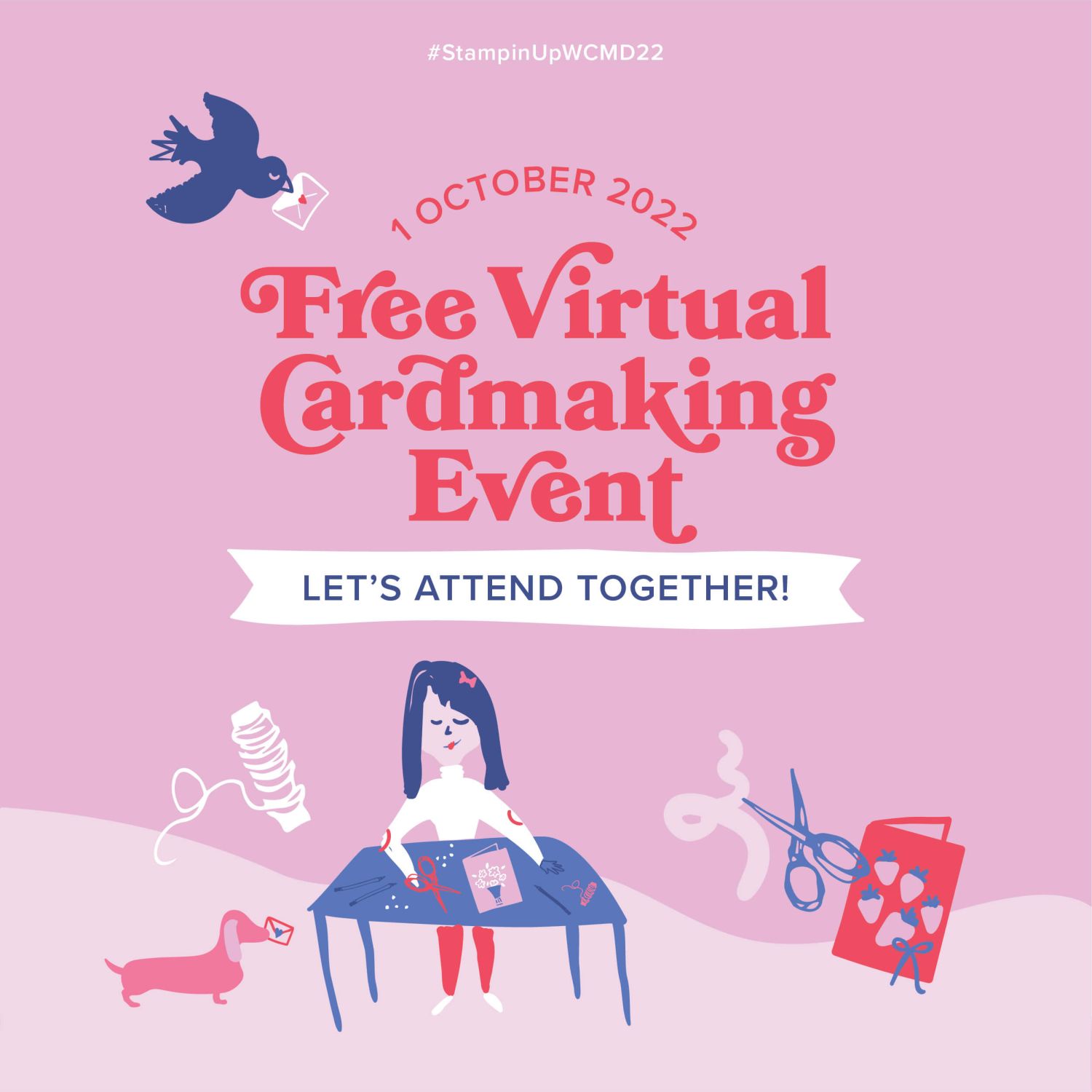 If you registered for the Stampin' Up! free virtual cardmaking event, you will have forever access to the videos and instructions for their projects created on the day! How good is that? Stampin' Up! is so generous with sharing like that :)
On World Cardmaking Day 2022 I spent time with my team and some new crafters, teaching, creating, and being taught!
It was the best day <3
Virtual events are great but being in person with friends who craft is even better Here I am with a group of wonderful friends at Studio Shabazz, where Sharon and I both supplied kits for our friends and taught them how to make the cards we prepared.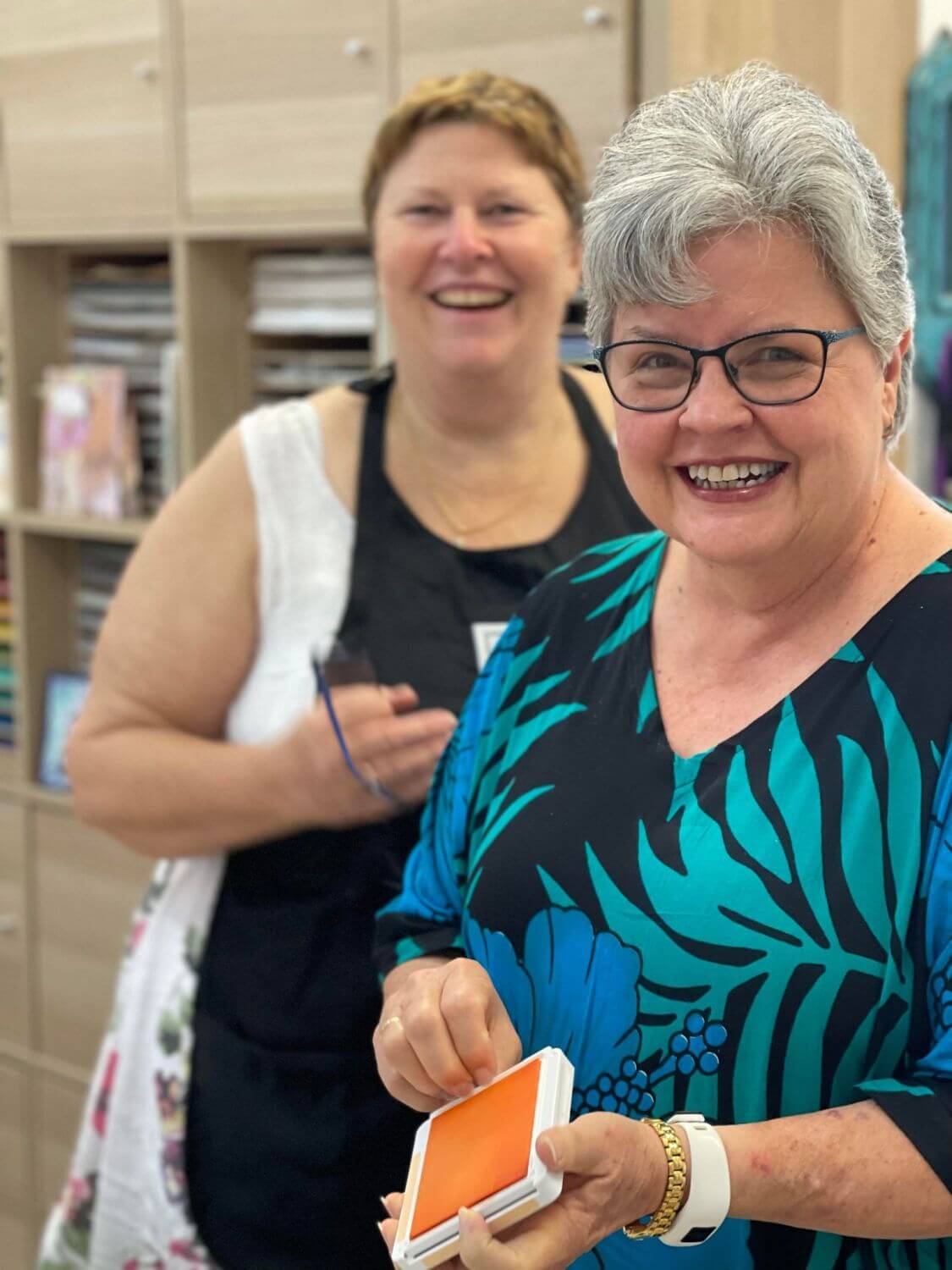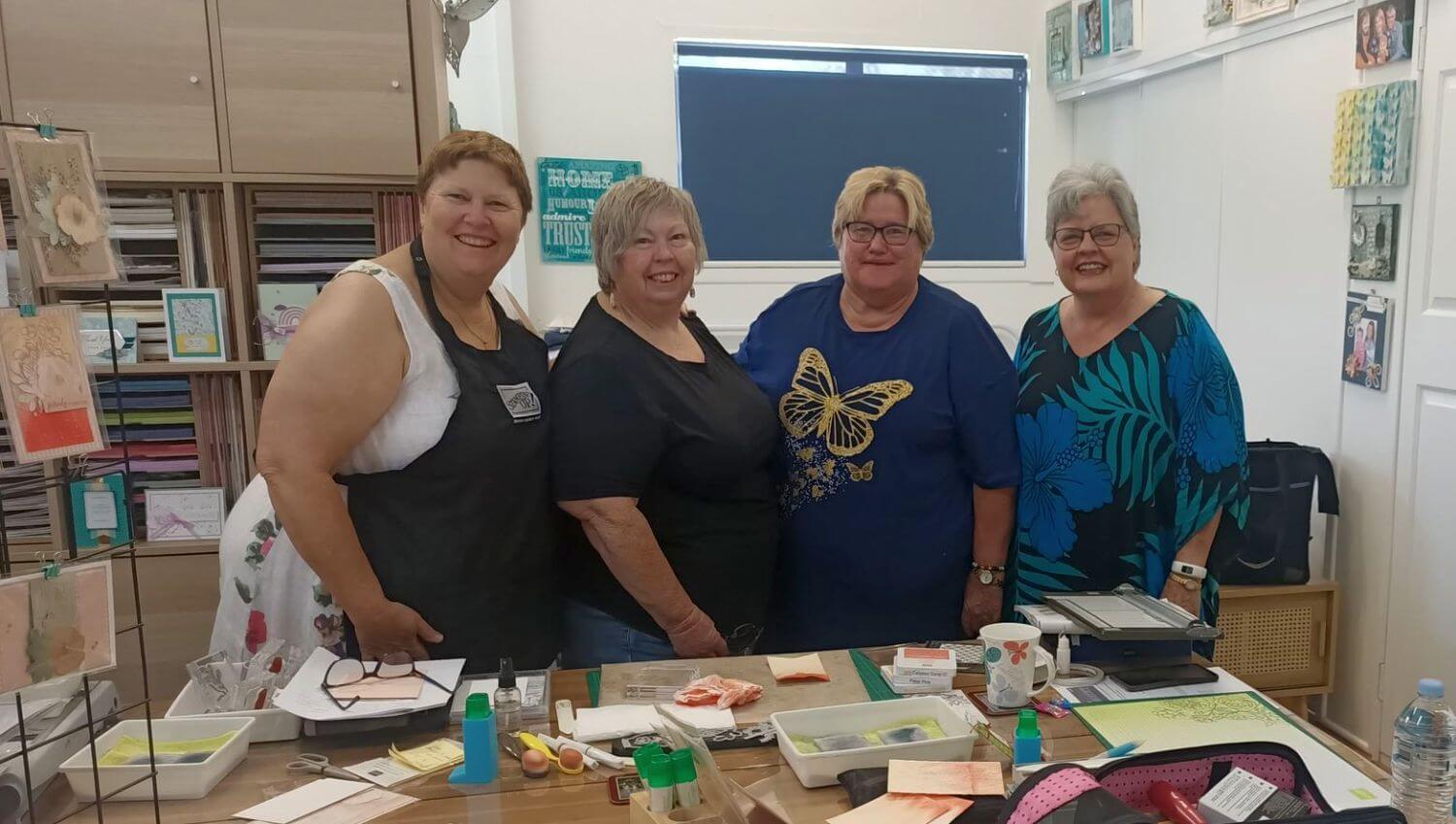 Aren't they all lovely? And what fun we had!
Now here is the project I taught to the group, as promised, just for you.
Centre Step Card – Christmas 2022 Stamps & Dies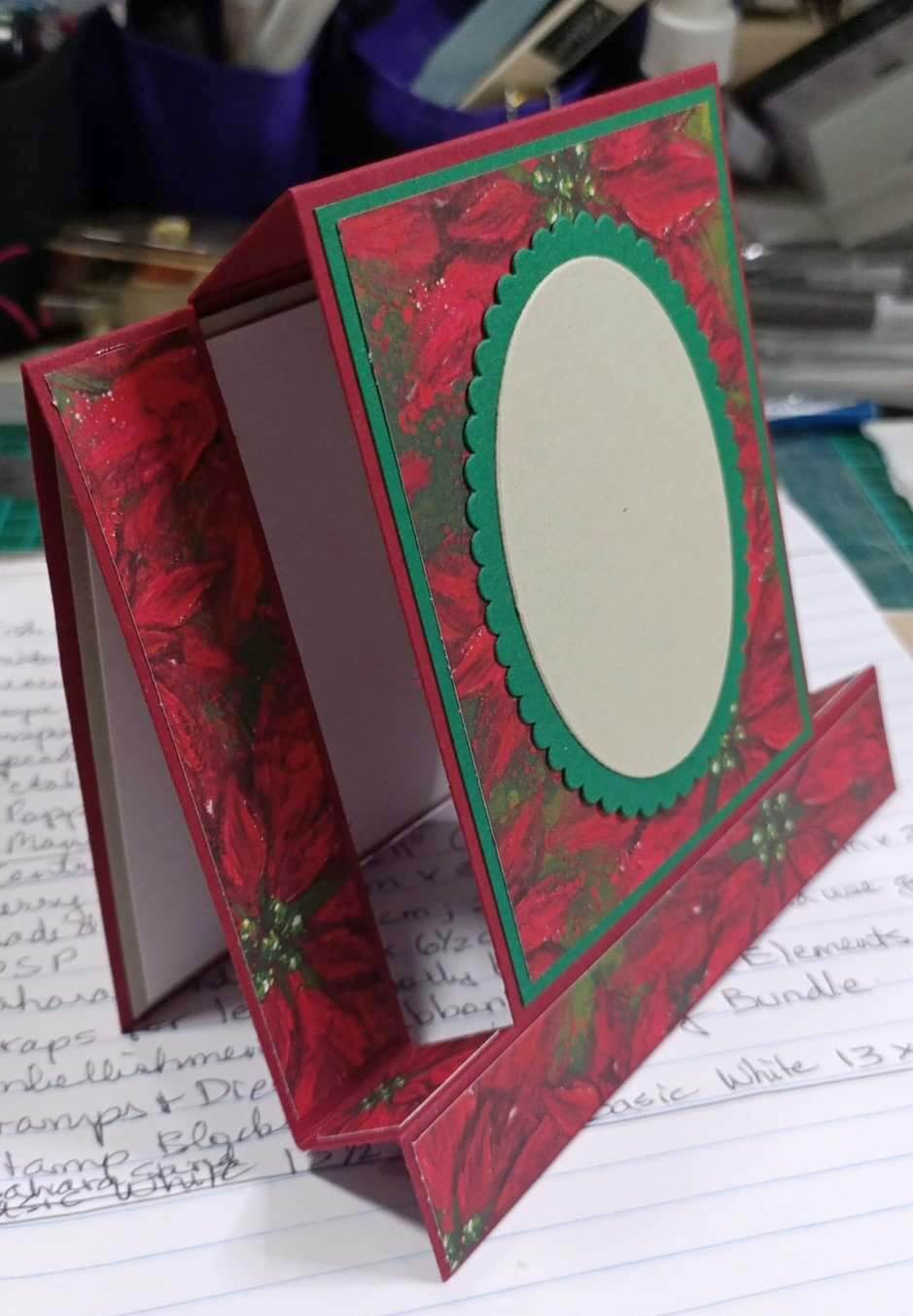 The card pictured above was my World Cardmaking Day Card. I taught it to my home class members then to some of my downline and some new crafters who had never stamped before!
It looks complicated but if you can follow a diagram and written instructions, it's not.
Here's what you need to make a similar card (use what you have!) :

Leaves of Holly Bundle Cardstock & Designer Series Paper
Cherry Cobbler cardstock 5 1/2" x 11" (14cm x 28cm)
Shaded Spruce cardstock 11 x 8 ½ cm; 8 x 10 cm
Designer Series Paper : 10 ½ x 8cm ; 2 10 ½ x 2cm ; 13 ½ x 2 cm; 8 x 10 ½ cm
Sahara Sand cardstock 9 x 6 ½ cm; 13 ½ x 11 cm
Basic White cardstock 13 x 10.5cm; 10.5 x 15cm (for stamping)
Scraps of cardstock for leaves, holly berries and  tags
(You could use distressed gold for your tag?)
Possible Extras:
Rhinestones, ribbon, Open Leaf Trinkets
Stamp blocks, die cutting machine, adhesives
Basic Instructions:
Score and cut as per diagram below. Fold along fold lines – Right to Left - mountain, valley, mountain, mountain
Decorate as desired. I chose the Boughs of Holly Bundle of products to make mine. Another lovely crafter made one in purples and yellows as a congratulations card. This design is perfect for any occasion!
Here's how one crafter made her card, with the Boughs of Holly designer series paper, dies and stamps: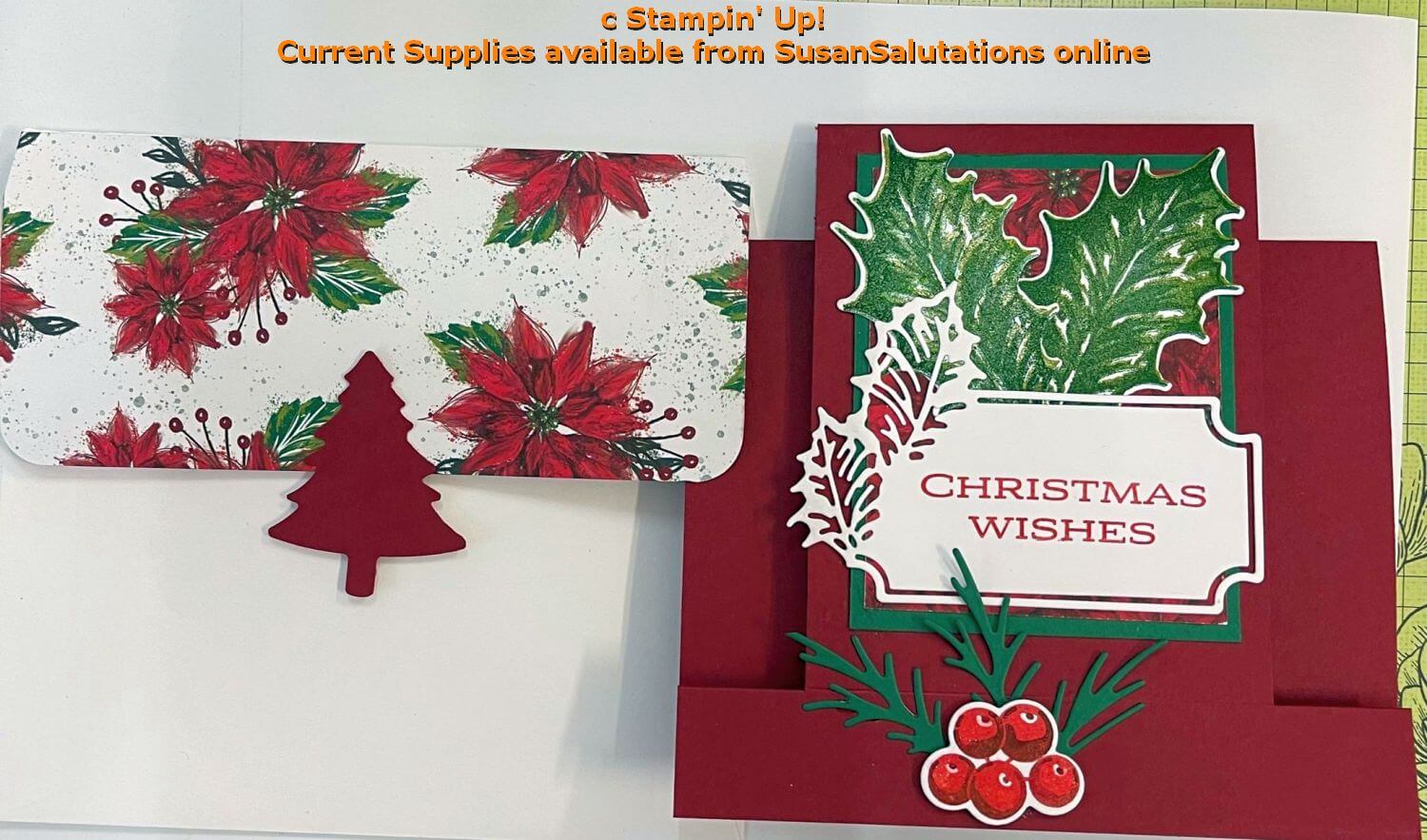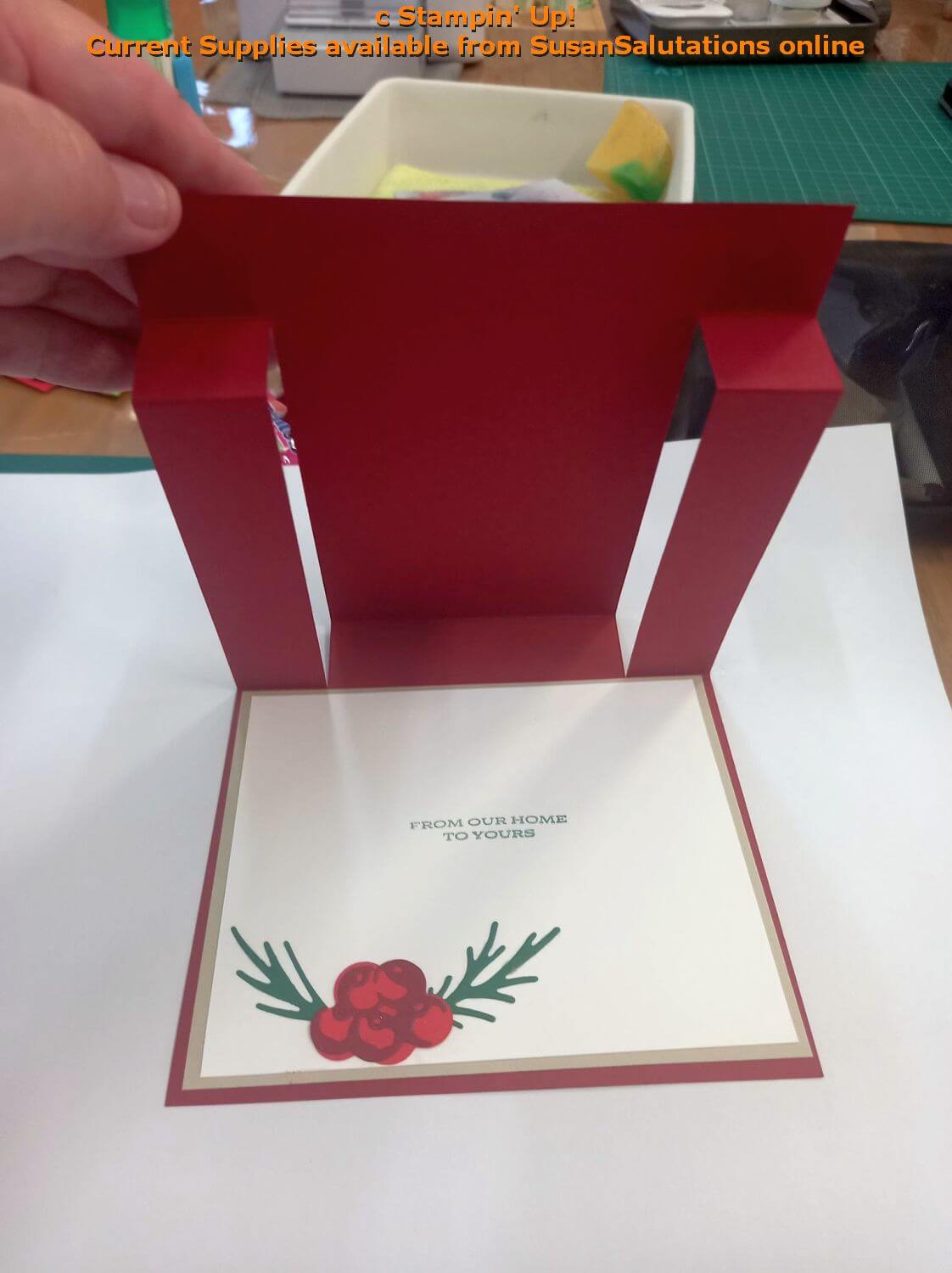 I hope you do find time to make a card using the template and instructions above. If you do, contact me with a photo so I can add it to this page for you!
About World Cardmaking Day
See how to make this frame on this Card Ideas page.
---
What is World Cardmaking Day?

World Cardmaking Day has some interesting beginnings. It was said to have been started by Paper Crafts magazine on October 7th, 2006 and was originally just for subscribers to their magazine. They were pleasantly surprised by the response of so many and it quickly became a holiday for all card makers from then on. A company called Two Peas which is no longer operating had a group of people who made the first challenges. Sandy Allnock, crafter extraordinaire, was a member of that group and explains more about the history of the day.

However it started, WCMD is now  celebrated every October, the first Saturday and/or Sunday of the month.

It is a day dedicated to the making of hand made cards. A store bought card just doesn't have the same love and care behind it as a personally made, customised greeting card.
When I make a special card for someone, every choice and element is made with the thought of that person in my mind. I love that part about card making.
It's also a great time to start making Christmas cards!

Celebrating this day can be done is so many ways. You can make a card just on your own, at your own craft desk. That can be satisfying, can't it?
If you would rather socialise and celebrate with special friends and food, why not invite people to an event at your own home? Crafty friends can bring their own tools and supplies to work on and share the day with you.
Have a party!
You could order elements of the Plaid Tidings Suite from the new Holiday catalogue but bear in mind the dsp is already sold out. See what is available in more detail and order from my SusanSalutations Shop.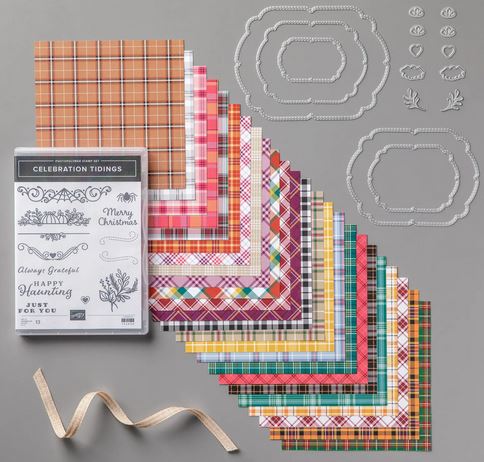 Then challenge each other to make a certain number of Christmas cards with these supplies. Have a door prize for whoever makes the most! I know you can make at lease 75 cards with the designer series paper stack if you cover every card front with a sheet, so no one should run our of paper!

If you have few crafty friends or they live too far from you to come on over, look for special events organised and held by people like Stampin' Up! demonstrators near you.
Many demonstrators hold special events like Stamp-A-Stacks on this holiday. A Stamp-A-Stack is when you get to make three or four cards of one design, and you may make 12 to 20 cards in a day. The demonstrator supplies all the makings and the design ideas. It's a great way to come away with a stack of cards for your stash.
What Should I Make?

This time of year is always a good time to get together some Christmas cards. Many Stamp-A-Stacks are based around a Christmas theme for that reason.

There are other holidays celebrated in different countries in October, however. You could make Thanksgiving or Hallowe'en cards, for example, or consider this list for making cards for friends from around the world:
Armed Forces Day: South Korea.
Goodwill Day: Namibia.
Independence Day: Cyprus, Nigeria, Tuvalu.
National Day: Botswana.
National Day: China.
The official reception and celebration are held in the Great Hall of the People while various kinds of performances and operas are shown at all theatres.
Unification Day: Cameroon.
United Nations Day: Barbados.
It is my wedding anniversary in October so I never have any trouble thinking of a card that I want to spend time on to make for our special day. Of course, there are also birthdays and weddings and all the events of our lives that happen in October, too!
However you celebrate and whatever you make, have a great day celebrating World Cardmaking Day. Let me know how you do it by leaving a comment at the bottom of the page.
World Cardmaking Day 2021
I took part in a cyber crop for World Cardmaking Day in 2021, and I show you all the projects I made on the Card Ideas in 2021 page.
Look for October/November card ideas to see what I made!
My favourite was the card I made by sing some light and dark blends to create an interesting background:

World Cardmaking Day 2020

This year World Cardmaking Day falls on Saturday October 3rd! I am already in planning for the day.
Because of COVID-19 and social distancing rules, I am having an appropriately set out craft area for my church ladies to come and make a card on the day. We have been meeting using social distancing rules anyway for our Sunday and Wednesday services, so I am going to follow the church's COVID-19 safety plan:
Only 10 people can come at once

I will have hand sanitiser at the door
I'll keep a record of who attended and how to contact them
Everyone will get half a craft table each, seated on opposite sides of the tables and catty corner to each other (no one will be breathing in anyone's face)
I'll have hand sanitiser readily available if we share any supplies
Everyone will have their own set of basic tools like scissors and adhesives
I plan to do the die cutting before hand and can stamp for them on the day if needed, so fewer people handle the tools we might want to use in common
People can wear masks if they want to
My bathroom and kitchen will be thoroughly cleaned before and after, and disinfectant wipes will be made available in those areas
The windows and doors of my garage (our craft space!) will be open to allow fresh air and a little sunshine in

Everyone will be reminded of the rules for social distancing when they arrive
We will use disposable cups, plates and cutlery and only one of us will serve the others with gloves on
I think that will do it! If you are having at home events, be sure to check your area's COVID-19 safety plan too.

I have planned a Mystery Card to make on the day, online, for my customers. I started giving daily clues during the week before World Cardmaking Day. If you are my customer, you will be granted access to a secret SusanSalutations group on Facebook so you can follow along. It's a fun group!

It should be a fun day!
Make a card, send a card! For any reason!

World Cardmaking Day 2019

You could use any stamp set or occasion to make cards for World Cardmaking Day, but many people choose this day to make Christmas cards. It's a great way to get a start on your Christmas mailing list.

I might make some Christmas cards too, but I like to make cards that say I am thinking about someone, then go mail my card to someone within 24 hours so they know I am thinking of them.

This year I am going to play with the new Nature's Beauty stamp set. It is coming out in the September 4th, 2019 to January 2nd, 2020 Holiday catalogue. It also happens to be our Making a Difference stamp set as $4.25 of the sale price goes toward Mental Health Organisations.
Once September 4th rolls around, you can order it with item code 150528 in my SusanSalutations Online store in Australia, or from your Demonstrator in your own country.
You could have it in time for World Cardmaking Day!
Here are my card ideas for the day: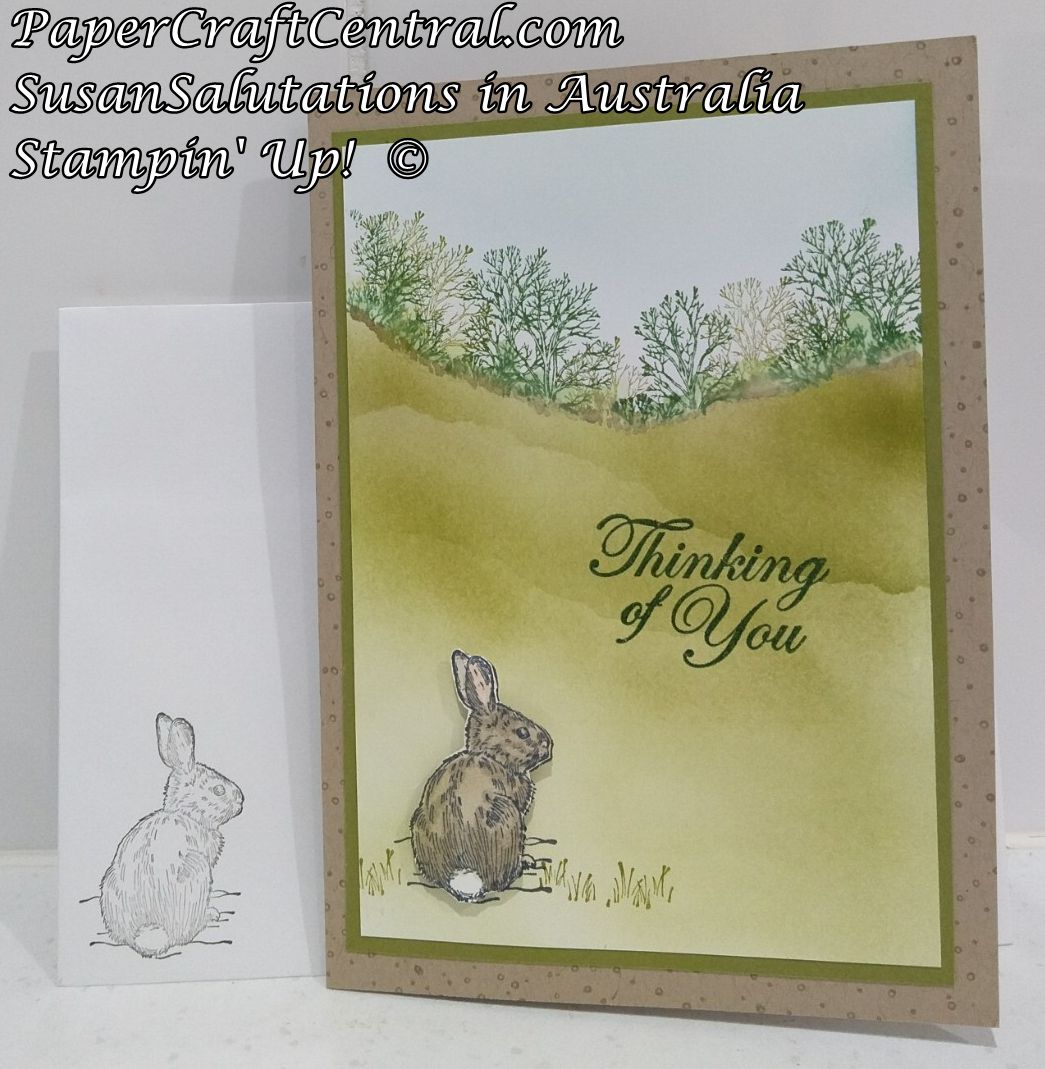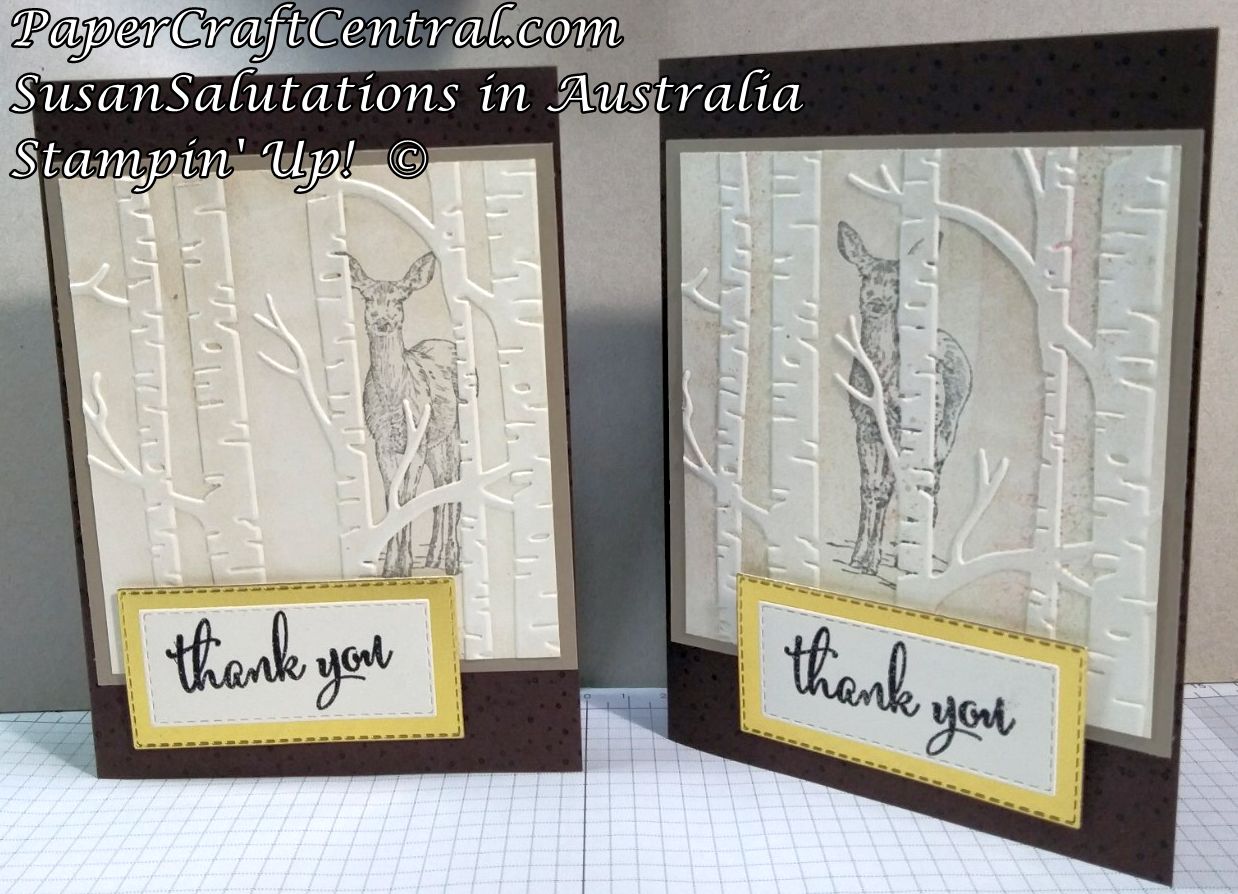 Why not get together with your own crafting friends to make cards on Saturday, 5th October or Sunday the 6th?
I plan to do just that on the Saturday. I usually have a class that day anyway (I hold them at home the first Friday and Saturday of each month, barring incidents and accidents. Lol!) so I am going to treat my friends to a special day with extra projects just for WCMD. There will even be a prize or two for them. And they all bring food to share.

Here's where we usually meet for our classes:
If you are planning an event or an informal get-together for the day, I would love for you to share pictures and stories about it here. Imagine, we will all be crafting together, somewhere in the world! You could send out cute invitations to your friends before the day, featuring the theme of World Cardmaking Day. That way you will get to craft around the theme a little bit longer than just one day or weekend.

So c'mon, get together for a day of crafting and share with us! We'll be thinking of you!
I'll try to remember to take a photo of our group on the day to share with you while we are crafting. Our time zone is Australian Eastern Standard Time, so depending where you live in the world, you will already have had your get together or it is going to happen in the next 24 hours. Regardless, I'd love to see a bit of what you do on the day.
Do You Have A Favourite Handmade Card to Share?
Do you make greeting cards? Please do share it with me.
However you celebrate WCMD, I hope you have a great time.
Next year's special weekend will roll around on October 3rd/4th, so maybe you can join in then too!

Happy crafting!
---
Home

›

Special Occasions

World Cardmaking Day

›

---