Zettiology
Written and Created by PaperCraftCentral Susan

How do you describe Zettiology?
"Could you say it is sustained confusion?"
~PaperCraftCentral Susan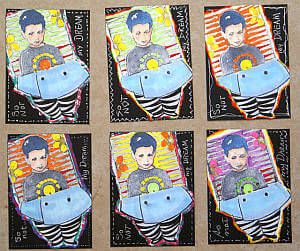 Zettiology art is an intriguing style of papercrafting.

I was challenged to try something new one month. The challenge was to to make some ATCs (Artist Trading Cards) in Zetti style. Now I do enjoy making ATCs so decided to play along.That meant at least the size of my piece had been determined as ATCs are always 2.5" X 3.5" (64 X 89mm) in size. I started with a layered black cardstock base by glueing several little cards together to make my piece sturdy,

I had never heard of this style of art before though, so off I went on a search of all things Zetti. It was very hard to find anything written about the art form but I did get some intriguing glimpses of wings, stripey legs, pointy hats and a mixture of black, white and brightly coloured images on Teesha Moore's website.
That was it. I was hooked. I was fascinated and determined to find out what this art form was all about.
---
If you would still like to know more about what makes this art form unique, I have written an article about the discoveries I have made so far. Feel free to add your own comments to the discussion to help more people understand this interesting way of crafting.

What is Zettiology?

While I probably hadn't fully grasped all that is bound up in the idea of Zetti when I joined the challenge, I did come up with the idea of taking a puzzled boy's face and torso and mixing it together with the legs of the retired Voila! chef stamp from Stampin' Up! using the masking technique.
All of the examples of the art form that I had seen sported fairy-like legs and figures of myth and legend, some of which I am sure haven't yet been written. I decided to put my own spin on the matter by showing a boy's dream that had not come true.
Maybe you can relate to having a dream as a child that did not materialise quite the way you wanted it to? That's what happened to this poor young man as well.
He dreamed of elegant striped Zetti legs, but instead, look what he got. Be careful what you wish for! His face with that expression of confused  surprise says it all for me.
Maybe I should have put my own face on there. It would kind of express how I felt about Zetti before I understood a bit more about it. Lol! At least my entry was accepted by the challenge organisers.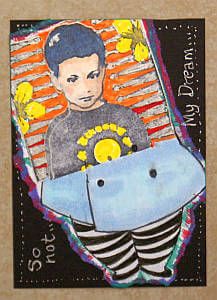 I took some license with the idea of Zettiology as I latched on to the notion that it was meant to be a little bit of fun and silliness as well as a chance to try out a new art form.That sounded like a great challenge to me so I plunged right in.

One of the first things that drew me to papercrafting in general was the chance to enjoy expressing myself and playing with different techniques and ideas. This challenge covered all of those attractants for me.
I will probably only occasionally dabble in the whimsical world of papercrafting called Zetti, but I sure did enjoy the experience of taking part in the challenge.

If you have some examples of your own experiments with Zettiology, I hope you will share them with me.
Have A Favourite Altered Art Piece?
Do you have a piece of altered art you have created? I'd love to see it.
---
---