Black Magic Card or Chalkboard Card

Written and Created by PaperCraftCentral Susan

Make a black magic card (also called a chalkboard card) to create a dramatic tone for your next handmade greeting card. I made this sample up to show at one Brisbane Papercraft Expo and now I can share it with you.
---
How to Make a Black Magic Card:

I also call this technique the Blackboard technique because it creates a chalkboard like finish for your card, a bit like the drawings we used to make in primary school before whiteboards and whiteboard markers came along. (Oh dear I am revealing too much about my age! Lol!)
You will need:
A card base 30cm x 10.5cm, folded in half

Some black or dark coloured cardstock
Chalk Pastels plus some chalk applicators
White Craft ink
Stamps of choice (I used the both retired Stampin' Up! sets Flutterby and also the flowers from Blessed Mother)
Here's what to do:
First, ink up your stamps with the white Craft ink and stamp them onto the dark cardstock. This creates a light background for your chalks to 'pop' off the page.
Before the ink dries, use the chalk applicators to colour the images the way you want them. Apply the lighter colours first. For example, I added the yellow flower centres first then swept the darker colour of the petals and stems in toward the centre.
Use the chalk eraser that comes in the kit of Pastels to remove any chalk that winds up outside the image you are colouring, but I find being too perfect isn't necessary as some smudging adds to the charm. This is a personal choice for you to make, of course.
Add more colour till you are happy with the result. Allow the ink to dry naturally or help it along with a heat tool after it has been coloured to your satisfaction.
Now use your image to finish your Black Magic card.
Another more DEFINED way to create the Blackboard Effect:


You can use heat embossing with white embossing powder and black cardstock to create a less smudged blackboard effect. That's what I did when I made up kits for one of my card classes. The card on the right has not been smudged, but the card on the left has had the Embossing Buddy dragged over it once the words and images were heat embossed: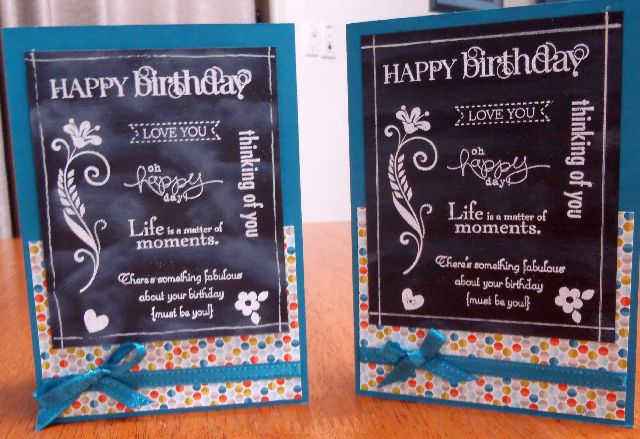 The degree of smudging you use all depends on the effect you want to create for your own project.
Isn't it great that we have so many choices when it comes to being creative?
Now go forth and create a blackboard card of your own!
---
---