Embossed Candle
Written and Created by PaperCraftCentral Susan

Making an Embossed Candle is fun and the results can be stunning. Cathy from the USA asked me how it to make one. Thank you for the question, Cathy!
"I wanted to buy a candle holder, but the store didn't have one.
So I got a cake".
~Mitch Hedberg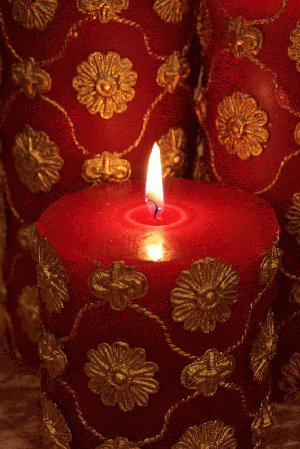 (©iStockphoto.com/15018639)
---

How to Make an Embossed Candle


There are a couple of ways I know of to make an embossed candle.
Here's how to heat set your image into your candle with embossing powder (EP):
First, find some candle decal paper and work with that. The only place I found it on the web is at a site called Candle Decal Paper but maybe you could find some at your local craft shop. Make sure whatever you use is safe enough to have around a burning flame. You don't want your creation to cause a house fire!

Start with the decal paper flat on your table. Stamp your image on the decal paper in Versamark ink or something similarly sticky, and then add your glitter or EP.

Heat set it with a heat tool.

Once you have the image looking the way you would like, carefully cut it out and moisten the back with a little bit of water. You don't want to saturate it, but the water will help it to stick to the candle wax. Try misting with a fine spray of water from a little spray bottle.

Place your image on the candle, and then cover it with waxed paper. Hold that in place while you use your heat tool to melt it into the candle. Make sure the heat tool is always about 6" (15cm) way from your image. Move it evenly over the outline.

Tilt the candle away from you a bit while you are embossing so any hot wax falls safely onto your work surface and not on you

The decal will disappear into the wax and the image will remain. Allow your project to cool for awhile, then peel off the waxed paper.


Here's How to Emboss with a Hot Glue Gun:


You can get some pretty glitter glues these days and they would look nice using this method. Using plain glue is good too as you can paint it afterwards.
First, decide what sort of raised image you would like to have on your project. You could draw your own design and transfer that onto the wax by tracing it on with a stylus and some tracing paper, or go freehand and not worry about drawing. Or you could stamp a simple image and follow the outline of that

Then see the tips I wrote about making your glue gun work properly so you don't get too many messy strings of glue. Allow your hot glue gun to heat up properly and be aware of safety issues when working with the super hot glue

Slowly lay a track of glue along the outline of your image, straight onto the candle, being careful not to smudge it as you go. You might want to work on one side at a time and wait for the glue to set hard before decorating the back of the taper

If you like, paint or colour the cool, dried glue
Embossing with 3-d Objects


Another way to emboss candles is to embed 3-d objects into them. You can choose natural shapes such as shells or leaves, being careful again not to choose anything flammable.
You can also use objects such as bone buttons (plastic ones might melt or catch fire) sequins, beads or glitter. Again, be sure you know if the objects will catch fire or not.
TIP: If you just want a decorated candle that is never burnt, trim the wick down to its very base, making sure none is left above the wax, certainly not enough to be lit. Then it will not matter what your embellishments are made of.
I hope this information helps you get the Embossed Candle finish you are after.
---
---