Framelit Anniversary Card

Written and Created by PaperCraftCentral Susan

Make a framelit anniversary card in a jiffy using your Stampin' Up! nested heart dies and your Big Shot machine.
"Marriage is the most natural state of man, and... the state in which you will find solid happiness".
~Benjamin Franklin
---
Making a framelit anniversary card can take some thought, but in this case, it didn't take too much thought!
I know we have a whole year between anniversaries to think about how to make our loved one feel special, but sometimes the date rolls around and we find we're not really prepared.  Or maybe you don't get much time without your spouse being in the house, so it is hard to surprise him/her.
The nested heart dies from Stampin' Up! and your Big Shot can come to the rescue in situations like this.
Here's the sweet greeting I made for my husband with some of them: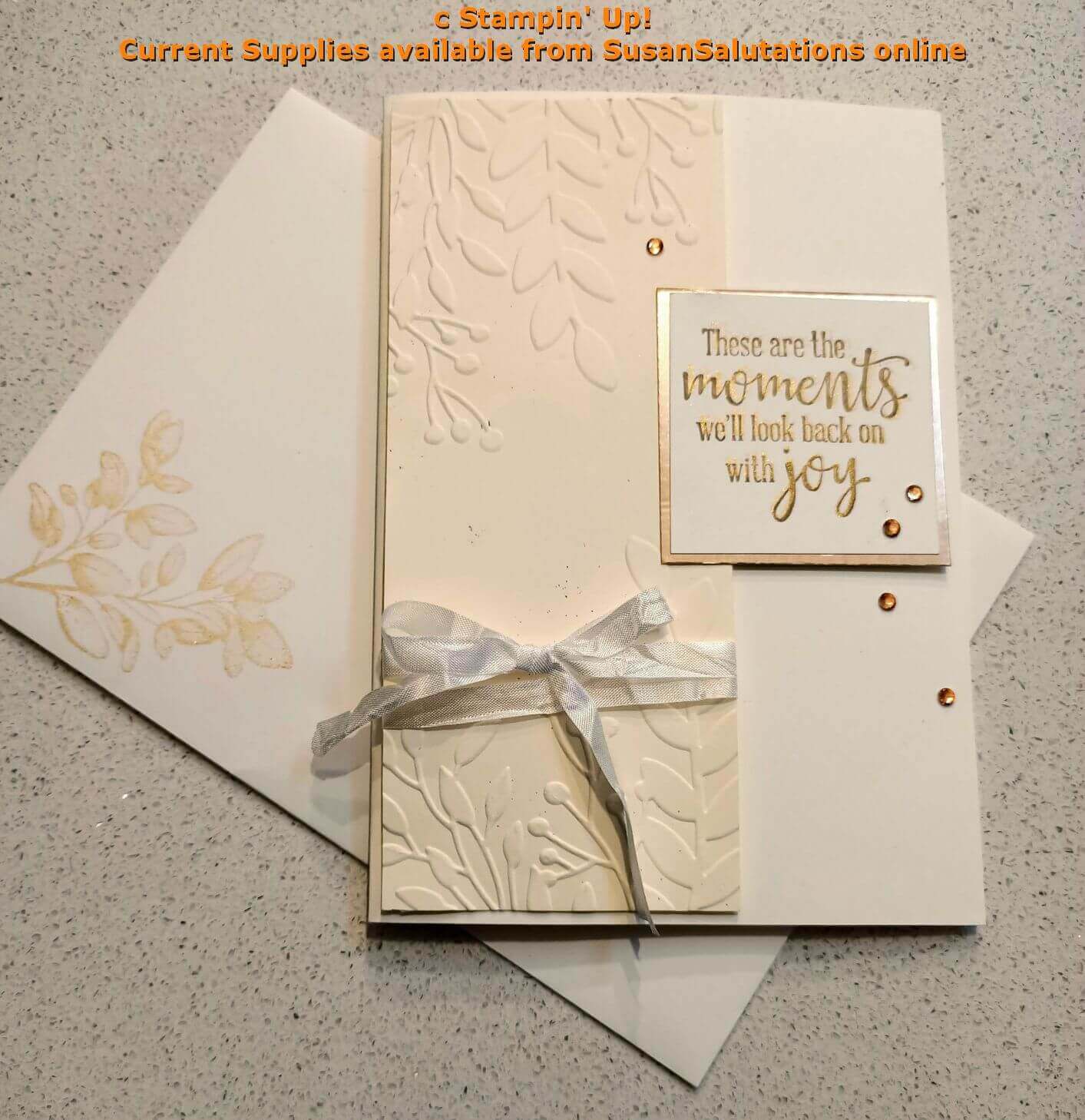 Here's How I Made my Framelit Anniversary Card:



All of my supplies came from Stampin' Up! and can mostly be ordered from my SusanSalutations shop.
Timesaving Hint: You can secretly assemble everything you need before you start making your card. This makes it easy to go ahead and make all the layers, and it saves time if you have limited time to craft before your spouse sees what you are making.
But hey, you can always quickly hide the unfinished (or finished) card under your craft mat if you hear him/her coming! Lol!

You will need:


An A4 sheet of Whisper White cardstock

A

quarter A4 sheet of Crumb Cake cardstock

A quarter A4 sheet of Real Red cardstock

A scrap of Cherry Cobbler cardstock for the bow


Designer series paper of choice

Embossing folder of choice (I used the Lovely Lace Textured Impressions embossing folder, now retired)


Nested Heart Framelits (now retired), Bitty Banner Framelits (retired), Wonderful Wreath Framelits(retired)

Sentiment and heart stamp sets (I used the heart out of Project Life Let's Get Away and sentiment from Teeny Tiny Sentiments, both retired)


Basic pearls

Big Shot machine

Papercraft tools, inks and adhesives
NOTE: If you don't have the suggested supplies, you can substitute using any other stamps and patterns that appeal to you. The basic instructions for this card remain the same. Yours will therefore be a unique design

Here's What to Do:
Start with a normal card base made from half a sheet of A4 cardstock, scored down the middle. Fold the card base closed and lay the large, scalloped heart on it, allowing the edge of your heart to overlap the fold a little so you will still have a connecting hinge for your card. Cut out the scalloped heart shape and you have your card base prepared.

Cut a full scalloped heart from the other half of your Whisper White A4 sheet. Stamp little hearts on each scallop in Real Red ink.

Cut a large, smooth edged heart out of Crumb Cake and another one the same size out of your designer series paper. Adhere them to your scalloped and stamped heart, making them slightly off centred and overlapped.


Using the next sized down heart framelit, cut a Real Red heart out. Run the red heart through your Big Shot with the embossing folder. Adhere this to the front of your designer series paper heart.

Cut out a bow from scraps of the Cherry Cobbler cardstock using the Wonderful Wreath bow framelit.

Stamp your sentiment on a scrap of Whisper White cardstock then cut it out using a Bitty Banner framelit.


Adhere your bow and sentiment to the embossed heart, popping up the sentiment banner with Stampin' Dimensionals.

Add pearls to accent some of the embossed design and bow.


Adhere your card front to your card base and then you can add your own secret and romantic message to your loved one to the inside. Or go funny. My man loves it when I make him laugh.
Variations:
You can
add a real ribbon bow instead of the framelit bow,

 pop up more of the layers with Stampin' Dimensionals,

add another layer to the card back,

vary the colours you use,

add sparkle instead of pearls with rhinestones,


use this idea for Valentine's Day,

 add a lacy paper doily instead of or as well as the designer series paper.
Make this card your own!
Adding to your Framelit Anniversary Card with a gift: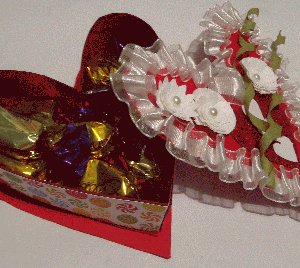 Make a pretty heart-shaped box with the same framelits and fill it with chocolates or something that your love just loves. Mine loves pistachio nuts, so I could add a little cellophane bag of them to the inside of this box, for example. Tie your framelit anniversary card to the top.

Make a romantic album to give your love and add your card to it.
Make a chocolate slider sleeve as a gift and attach it to the envelope you put your card in. Make your own envelope to put your card into.

---
---