Paper Piercing Tutorial

Written and Created by PaperCraftCentral Susan

You can add so much to cards and papercraft projects with paper piercing.
"Creativity is piercing the mundane
to find the marvelous."
~Bill Moyers

I use my tools and mats quite often to make lines of paper piercing to embellish my handmade greeting cards. This technique can be just right for when you feel a card 'needs' something more but you can't quite decide what that something is.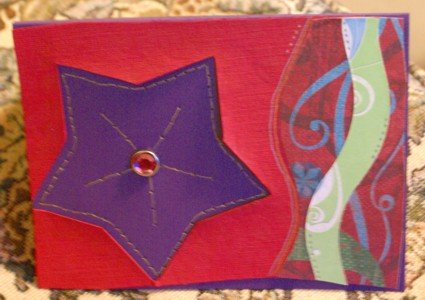 ---

Paper Piercing Tutorial

You could be using this technique for your handmade cards and scrapbook pages in a hurry after reading the following little tutorial.
You will need:
A card base 6" x 12" (30cm x 10.5cm) scored down the middle but not folded
A Paper Piercing Tool from Stampin' Up! which is a hole reamer with a fine tip, sort of like a thick needle

A paper piercing template such as the Eclectic Paper Piercing Pack from Stampin' Up! Here I used a star shaped one I got from a sewing shop but you can use circles, squares, oblongs, or just lines or rows of lines
A self healing soft mat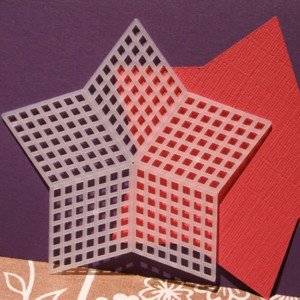 What to do:
Decide where you would like to place your lines of perforations
Open the card blank or prepare a shape to be embellished. WARNING: If you leave your card closed you will wind up putting holes in the front AND the back of the card base
Position the card you want to embellish over the mat right side up, and place the template over it where you want to place the lines of holes
Take your paper reamer tool and punch even holes in the cardstock, using the template as a guide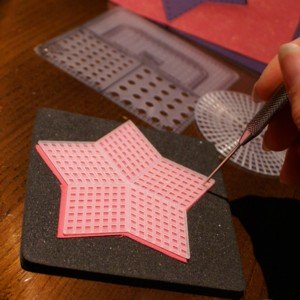 Continue placing the holes in the cardstock until you have the desired effect
Be careful to line up the template accurately if you want the line of holes to continue around a corner, to ensure the lines come out straight. I do that by overlapping the holes I have made with the template, so I am sure I have the line straight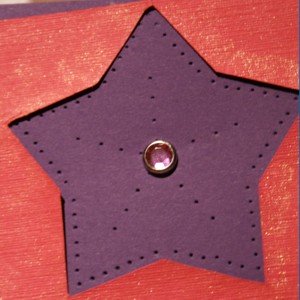 Other ideas to try:
Make double or triple rows

Vary your piercings. Punch some holes in a line and then leave a gap before making any more
For a spikier and tactile effect, punch the holes on the wrong side of the cardstock
Ink the spikier holes after you have made them
Draw lines between the holes to resemble stitching. A white gel pen is very effective on dark cardstock and vice versa, or use metallic (gold, silver, copper) pens to make the 'stitches' show up
Create a 'running stitch' effect by drawing a line between every second hole like this ._. ._. ._.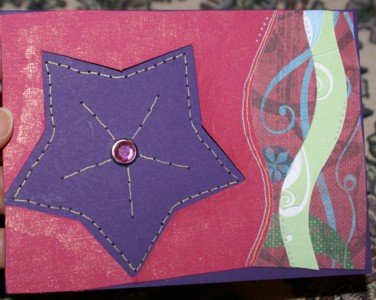 Even More Things to Try
Investigate your local material shop to see if there are any dressmaking templates that appeal to you for cardmaking projects. Some shops have star and circle shaped templates, for example. Craft shops and stamping outlets also have kits to make this technique a breeze. Stampin' Up! usually has the tool, templates and some mats as well. 
Use real thread or other fibres to lace between rows of holes and form new pattern.
Punch borders of holes around your scrapbooking layouts.

Once you have started

 

I believe you may find many uses for this embellishment technique. It will be another skill you can readily incorporate it into your regular papercrafting repertoire at will! 
If you enjoyed this technique, you may like to try custom colouring your own ribbons or you might enjoy making a blackboard card.
---
---