Paper Wallet
Written and Created by PaperCraftCentral Susan

Make a paper wallet for the next wedding you go to, especially if there is a Wishing Well!
I know wedding cards are very beautiful and when you are giving a gift, nothing is better than a handmade wedding card custom made to suit the theme and/or the gift. These days many brides and grooms are choosing to have Wishing Wells instead of Gift Registries though, so for those occasions, why not make a handmade paper wallet instead? Your gift will be that much more memorable.
"As the purse is emptied, the heart is filled"
~Victor Hugo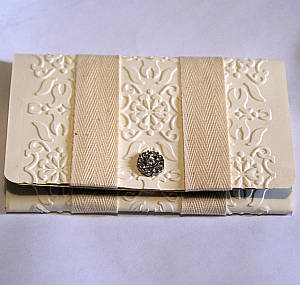 ---
I found this idea on SplitCoastStampers and decided to change it to a Vintage theme to suit the pretty wedding I went to.
There's a greeting suggestion to use inside the purse further down the page too. Scroll down to see.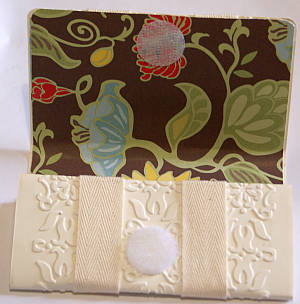 How to Make a Paper Wallet or Purse

You will need:
Very Vanilla Cardstock
Greenhouse Gala designer paper (NLA)
3/8" Twill Tape (NLA)
A pretty, sparkly brad
Velcro Dots
Antique Wallpaper embossing folder (NLA)


I cut out the following pieces:
One 5 1/4" x 8 3/4" (1.5 cm x 22.5 cm) piece of Very Vanilla cardstock
One 5 3/16" x 8 11/16" (13.4 cm x 22.4 cm) piece of the designer paper
Two 2" x 3" (5 cm x 6 cm) pieces of Very Vanilla cardstock
Then I used my corner rounder punch to round the corners that would become my paper wallet front, on both the Very Vanilla and designer paper pieces.
Next I ran the Very Vanilla piece through my Big Shot die cutting machine twice, lengthwise, matching up the embossed design so it ran down the bag back.
I used my twill tape and adhered some pieces equal distances along the entire length of the bag, making sure to leave enough on the ends to fold over and be well-hidden once I added the designer series paper piece.
Then I adhered the designer paper piece to the inside, covering those twill tape ends.It looks much neater that way.

I accordion pleated and scored the two smaller pieces of Very Vanilla cardstock and added them to the end of the purse that still had square corners. I folded up the bag to allow the accordion pieces to meet the other side of the bag, thus forming the pouch that would hold my gift.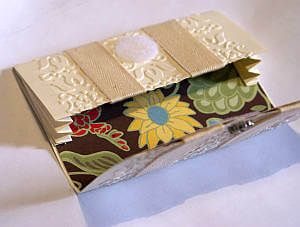 Then I punched a hole with my Crop-A-Dile where I wanted to add my sparkly brad and added it to look like the purse clasp. I covered up the folded pins of the brad on the inside with a Velcro Dot.
Note: Be sure to keep the Velcro Dot pieces together while adhering them to your project so they will perfectly match up when you separate them.
Now my paper wallet was done. But what should I put inside?Just adding some money or a cheque or a gift card was not enough. I needed some nice words and perhaps a reason for the bride and groom to treasure my little paper purse for years to come.
 
Then I had an idea!
What I put inside
I made a special little story up for the inside. I thought it would not be out of place to suggest a way to use the paper wallet in the future for a special purpose.
One of the ways my husband and I have kept our marriage strong is to put aside a little money each year to have a special anniversary weekend or night out to look forward to. So that was the idea I decided to explain.
You may have your own ideas for how to share some wisdom with new brides and grooms, but this is one that works for us.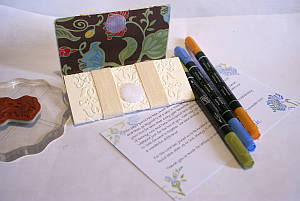 I printed out the following message, then stamped a pretty image or two on the corners of my message, made a decorative edge with a punch, and added it to the pouch. Here are the words I used, more or less. I forgot to photograph the final piece:
"This paper purse has been made with love to help you celebrate your wedding day, and then go beyond to be a help in strengthening your marriage and growing your love for each other every year thereafter. Use your purse to put aside a little bit of money now and then throughout each year to spend on a special night or weekend just for the two of you. That way you will always have something special to look forward to. We have always done this and it really does make such a wonderful difference.
For the Lord has joined us to be husband and wife, together. We need to deliberately build each other up in love, always. It really is a choice.
Thank you so much for letting us share your special day."
Then I cut out a coordinating scalloped envelope (NLA) with my Big Shot and added our monetary gift to it.These days I would just make an envelope with my Envelope Punch Board.

Don't forget to wrap your handmade wallet in something before you take it with you to the wedding. I made a sleeve of paper and decorated it too. I wanted to protect the little bag as much as I could so it would be fresh and pretty and also the bride and groom would be the very first to see it.
There are more wedding card ideas for you here:
---
---