Sticky Strip paper
by Donna H
(Nashville, TN)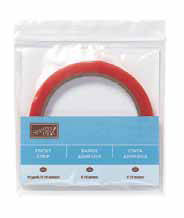 Here is some Sticky Strip
Hi Susan

Where can I buy this sticky strip paper? Do they sell it at Michael's?

Donna


**************************
Hi Donna
As I live in Australia and we do not have Michael's stores here, I am not sure if that store sells double sided tape for scrapbooking and card making, or how strong their product is if they do. You could certainly check the store for a similar product.
Before you do check, you may like to know that
Sticky Strip
is a strong, double-sided tape (not really a paper) with a red plastic backing that gets peeled off when you apply it to your paper surfaces. It used to be sold by Stampin' Up! demonstrators like me. Now it is called Fast Fuse and comes in a dispenser.
Now if you lived in Australia I would be delighted to have you as a customer and to order some Fast Fuse for you :) but alas I can only sell within Australia.
The good news is, since you live in the USA you can find a Stampin' Up! demonstrator in your area by going to
this site
. Click on the 'Find a Demonstrator' link at the top of the page to the right.
I hope that helps and thanks for asking about this fine adhesive product!
Susan
PS:
You may like to read more about
Adhesives
in general and how to use them for your papercraft projects.
Sticky Strip is now Fast Fuse
by Nancy Varkonyi
(AZ USA)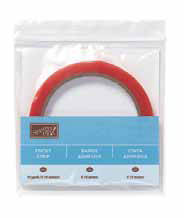 A roll of Sticky Strip
Susan

I am interested in buying some sticky strip, this is the item number 104294

Let me know how much it is. Thanks so much for your help!

Nancy Varkonyi


************************
Hello Nancy
Thank you so much for your interest in Stampin' Up! Products. I would love to be able to be your Demonstrator, but the company rules say we have to live in the same country for that to happen. I live in Australia, 'way across the Pacific Ocean from you.
The good news is, you can still order Fast Fuse (which replaced Sticky Strip) from a US Demonstrator! If you go to the
US Stampin' Up!
website and click on 'find a demonstrator', you should be able to locate someone who lives nearby.
When you find a US Demonstrator to help you, tell them I sent you OK? :)
And please do keep on coming back for inspiration and ideas, and to share your own with me, here on PaperCraftCentral.com
Happy Stampin'!
Susan
PS:
Please do let me know when you have found a US demonstrator. I would hate to think you were left without being able to get what you are wanting.
When you have some Fast Fuse, do try these ideas out: