Paper Punch Bunny
Written and Created by PaperCraftCentral Susan

See how to make a paper punch bunny in time for Easter cards, scrapbook pages and baskets!
"The great gift of Easter is hope - Christian hope which makes us have that confidence in God, in his ultimate triumph, and in his goodness and love, which nothing can shake."
Basil C. Hume
I learned how to make this paper punch bunny at a Retreat for our Stampin' Up! team. It is so quick and easy to make you could have a whole rabbit warren going in just a few short hour if you wanted to. If you only have a few minutes to craft, you can turn one of these little guys out in very short order.
I thought I would share this little project with you so you can make a cute little rabbit whenever the mood takes you. This hand made embellishment could adorn a scrapbook page about Easter, spring, your pet rabbit, a handmade greeting card for a child, a greeting card for Easter, or even embellish an Easter basket made to hold eggs for your children or grandchildren.
---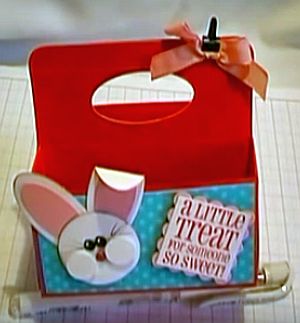 How to Make a Paper Punch Bunny

Paper punches: 1 3/4" Circle, Large Oval, 1/2" Circle 
Cardstock (mine is from Stampin' Up!) in Whisper White, Basic Black and Rose Red
Adhesive of choice, but make it strong!

Stampin' Dimensionals
Black Stampin' Write! journaling pen and white Signo gel pen
Rose red split pin brad or similar

Even though it is easy to make this rabbit face, it is always easier to see it made on a video, right? So I made this one for you. I hope it shows the instructions clearly for you. I did use slightly larger paper shapers or punches in the video than I used on the example basket, so do adjust the sizes to suit your own purposes.
After I made my embellishment, I attached it to a double basket I made using two Box #2 Big Shot dies (NLA)  adhered back-to-back. I left the boxes open and adhered the open lids together, then made a handle with my Large Oval paper shaper. I decorated the whole thing with scraps of designer series paper and a stamped saying from the Stampin' Up! Got Treats stamp set (NLA). It was popped up on Stampin' Dimensionals too. Just CASE the odeas with current supplies

Do let me know if you make any paper Easter goodies yourself, especially if you decide to make a cute little rabbit like mine. Check out the Stampin' Up! catalogue for current punching, embellishing, cardstock and adhesive supplies.

Do You Have A 3-d PaperCraft Project To Share?
Do you make 3-d PaperCraft items? I'd love to see your work. Please do share below.
---
Bunny Face Punch Art

---