Paris ATCs
Ahh, Paris ATCs! What a good idea!
"Paris is always a good idea"
~The movie Sabrina
---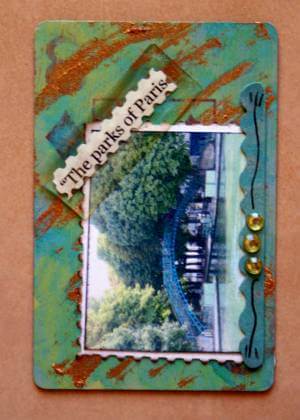 How I Made my Paris ATCs

I took part in an ATC swap with this theme.

For this swap, I had to try to make my little cards romantic and all about Paris. Now please understand, I have no first hand knowledge of France, let alone its capital. But my swapper friend loves all things Parisian, and that was enough for me to get started.
As I live in Australia, for awhile I thought of combining an Australian koala climbing on the Eiffel Tower, but that just didn't seem romantic enough somehow. I could see it in my mind but the romance just wasn't coming with it! Lol!
Then I got an idea. Why not make some postage stamps images of Paris?
I found some images of famous places, reduced them in size and printed them on cardstock. I used some deckle edged scissors to cut them out and then edged them in gold and Stampin' Up!'s Chocolate Chip ink.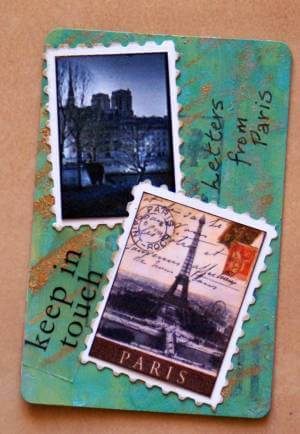 The base of each of my project cards is an ordinary playing card. I sponge-painted them directly in various blue-green shades with Radiant Rain Daubers, then used a paint brush to apply diagonal sweeps of gold paint. This also added texture to the cards. I decorated them further by using a gauzy ribbon, a rubber ribbon, some rub ons, some printed and gold stamped words, some off-cuts from the painting process, and I also wrote and doodled on some with a fine tipped black felt journaling pen. There are some rhinestones, a vinyl butterfly, and a transparent dome on some of them as well.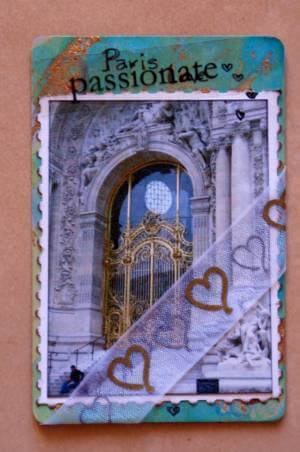 I finished the backs of the cards by partially stamping an image of a decorative teddy (as in a piece of clothing teddy, not a soft cuddly toy teddy) randomly on it, then applying the signature stamp I found in a local craft shop. I edged the cardstock with the same ink as I used on the teddy stamp then adhered the finished pieces to the backs of the playing cards, remembering to number them all as well.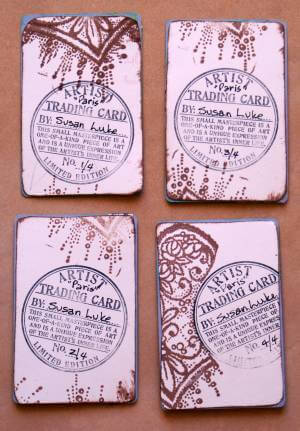 When I sent them overseas, I placed each one in its own small, sealable plastic bag that I found at a jewelry stand at a local market, so they would become damp or wet in their travels. I expected they would also be opened by customs on their way to their destination so the little bags helped them all stay safe during that handling.
What do you think of my Paris ATCs? I think my friend enjoyed them :)
I would love to see any Parisian themed cards YOU have made as well.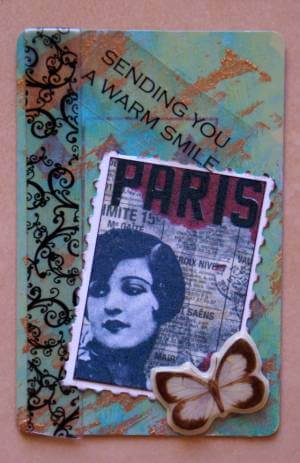 Have A Favourite Altered Art Piece?
Do you have a piece of altered art you have created? I'd love to see it.
---
Return from Paris ATCs to ATCs | Return to PaperCraftCentral Home Page

---