Fourth Challenge of 2010 - Make A Paper Punch Bear!

Written and Created by PaperCraftCentral Susan

For the fourth challenge of 2010, I invite you to play with your papercraft punches to make a papercraft bear in your own style. Full challenge instructions are below.

I made the pink, mauve and yellow bear below to be a baby card embellishment for a little girl. Do you like how it turned out? I was happy with my she-bear once I saw her all finished on my craft desk.
You don't have to make your teddies all pink and girly though. Scroll down for a more masculine bear example. This bear could be anything to anyone! You can even change his/her expression if you so desire. You are in control of how your bear turns out.
Are you ready to hear about the inspiration instructions?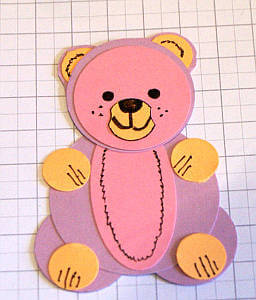 ---
Fourth Challenge of 2010 - Instructions

Make a paper punched bear:
In the colours of your choice, and
With the sentiment you want it to say, and
So you can use your finished bear on a card, handmade box or in a scrapbook layout, and
So that you can post it up to PaperCraftCentral using the form below
That's all!
Oh yes. You can find the punch art bear instructions here too.

And another thing:  you should also have fun while you complete this challenge and go ahead and be as creative as you can be
Use other mediums if you like (e.g.: paint, ink, glitter glue), choose your own embellishments, change the size of the bears, anything goes, as long as I can see that you used my basic pattern for your bear once it is finished.
Here's that other example of a bear made using different colours and sentiments. I think it looks totally different to the pink girly bear I first showed you: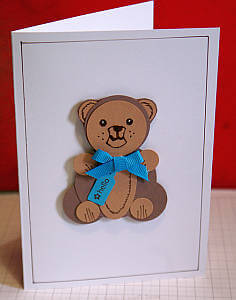 Don't you think this little guy could be used on a boy's page in a scrapbook, or to say hi to a friend, or to send a warm hug to just about anyone?
You could even change the decorative bit. Imagine him holding a sign that says 'gone fishing' or 'A gift for you' or 'Get well'. This teddy can say anything!
Or how about putting him inside an explosion box card or album?

Are you inspired yet? I hope so! I would dearly love to see how your papercraft bear turns out.
Thanks for taking the challenge! Here's the place for you to show me your own handmade papercraft teddy:
Submit Your Challenge Entry Here
Please do show me your entry for the Challenges, with a picture or two or three, and a few words about how you made your creations.
Have fun with the fourth challenge of 2010 to make a punch art bear and do share if you make a bear! (Hey, that rhymes!)
---
---