Stamps Craft 2 - CASEing

Written and Created by PaperCraftCentral Susan

In Stamps Craft 2, I show you a card I made after being inspired by another stamper's card
"There Is Nothing New Under The Sun"
~Ecclesiastes 1:9-14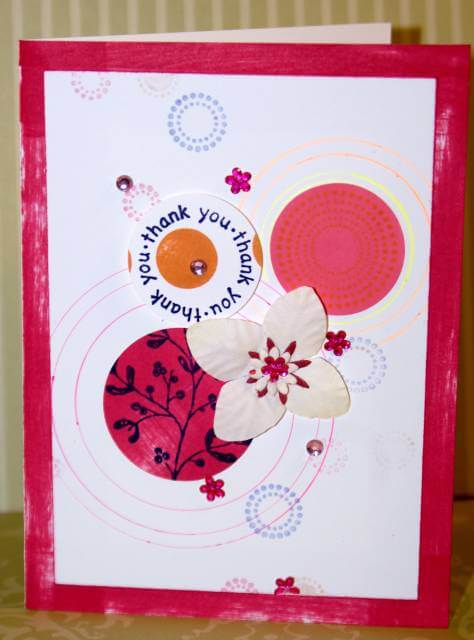 ---
In Stamps Craft 2 I have shown you a card I made after viewing another person's lovely creation.
Not only can you use sketches to inspire you, you can also use a completed work!
This is called 'scrap lifting' or 'CASEing' (Copy And Share Everything). Lots of crafters use other's work as inspiration. As long as you are not copying a layout too exactly, you will not be taken to task for 'stealing' another person's idea, especially if you acknowledge the influence another crafter has had on your work. That is the ethical thing to do.
Be inspired by others, but make your crafting your own. It's much more fun that way anyway, in my opinion. You never know how something will turn out till you let your creativity loose!
A Thank You Card for Stamps Craft 2

So how did the inspiration card work to help me make this one?
First of all, the original card was made in shades of blue and green and the sentiment said 'Hello'. I changed the colours to shades of pink and orange, and my sentiment is a 'Thank You'.
Second, the original card maker used various sized circles to make the background so I chose out some circle stamps I had to give a similar (but not the same) effect. I used a combination of inks and pens to colour the background and the stamps to try for a random effect, with the main focus being on the larger circles in the lower right hand side of the card front.
Third, there was some bling on the original card so I looked for some, too. It doesn't take much for me to splash on some bling! Here I used some single crystals and some little crystal flowers I had.
Fourth, the original crafter had used a paper flower and popped it up. I found a flower that suited my card and added that, and popped up the sentiment too, just as the original crafter did.
Fifth, instead of using a coloured card for the card base, I started with white card and inked around the edges of the front with a deeper pink.
The feature was then done on white cardstock and adhered over the inked background. This left the inside of the card white. I think it is so much easier for a person to write something in a white card, but I could have chosen all pink cardstock and just added an insert of white paper so the sender could write a visible message there.
Learn how to stamp with bleach in Stamps Craft 1
So the main ideas I used from the original card were:
the general layout
the use of bling and
the frame idea 
My Stamps Craft 2 card therefore turned out to look quite different from the inspiration piece.
I had made it my own.
Before I saw the original card, I was having trouble thinking of an idea for my own card so had not been able to start crafting. The inspiration came from viewing another's work.
So how about you? What inspires you to make cards? Have you ever used another crafter's card to inspire you? I'd love to know!
Do You Have a Papercraft Hint or Tip to Share?
Do you have a hint or tip to share about papercrafting? Please do share it below.
If you liked this technqiue, you may like to try making a reflections card, or to try masking.

---
---