The Kissing Technique
Written and Created by PaperCraftCentral Susan

The Kissing Technique is a fun way to combine two or more images to create beautiful effects for your cards or other paper craft projects.


"Is not a kiss the very autograph of love?"
~Henry Finck

You can adapt this idea for use on paper or stampable surfaces anywhere. Try it on your scrapbook pages to make special embellishments and borders (Note: be sure to use archival, acid free ink in your scrapbooks, especially if you are using the ink near your photos so the chemicals in the ink do not harm your photos). Try it on 3d projects such as boxes, bags and handmade gift wrap.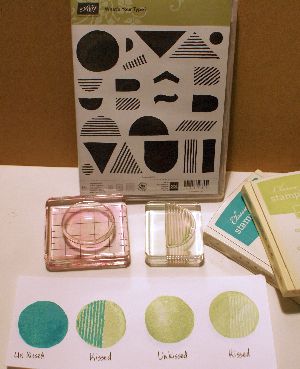 ---

How to Do the Kissing Technique

All supplies used are from Stampin' Up!

You will need:
Some cardstock. Here I used Whisper White.

One solid shaped stamp plus one line stamp (such as a rectangle for your solid and a flower image for your line stamp). I chose the What's Your Type stamp set (retired) to show you how
Ink of your choice. Here I used Certainly Celery (retired) and Bermuda Bay
A stamp-a-ma-jig or Stamparatus can help here to get your images lined up on your project where you want them

What to do:
Choose your mounting paper. Now ink up the solid shaped stamp, such as the circle I used in my demonstration. 
Before making your image with the solid shape with just this one colour on it, use the uninked line stamp (the stripes here) to kiss the solid stamp thus making line images on the solid image. See the image on the far right for this effect. You can see that the whole image is inked in Certainly Celery and no Whisper White shows through.
Or you can ink the line stamp up in a different colour to create a contrasting coloured image, like the image second from the left. Again, the Certainly Celery ink shows through behind the Bermuda Bay ink.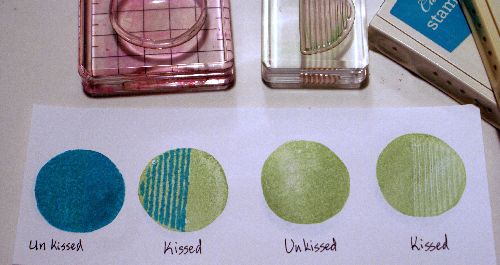 Now you can press your solid, kissed image on to the mounting paper, using the stamp-a-ma-jig or Stamparatus if you like to line it up
Trim, mount and use your image to finish your card
More ideas:
Try different stamp combinations and colours to get different effects
Try a metallic ink with the line stamp image
Use more than one line image on your solid image, or more colours of ink

You can get a softer effect if you spritz your doubly stamped stamp with a fine mist of water before impressing it on your surface
Twist your line stamp as you impress it on the solid stamp for an interesting skewed effect
Try loading your line stamp with bleach instead of another colour of ink before impressing it on the solid stamp
Whatever you decide to do, enjoy playing with the Kissing Technique. I hope you will share your projects with me when you have tried this idea out.
Do You Have A 3-d PaperCraft Project To Share?
Do you make 3-d PaperCraft items? I'd love to see your work. Please do share below.
If you liked this ink technique, you might like to try the emboss resist technique, or try something different and use your inks and stamps ot make a decorated candle.
---
---